A few tree-related items have popped up this week and I thought it would be worth sharing.
The first is both frustrating and hilarious. I got an email from 311 in response to a request I submitted to the NYC Department of Parks and Recreation on June 22, 2018. Yes, that's 2 years ago??
"Thank you for your street tree planting request. Pending inspection for utility conflicts, we have determined this to be a suitable location for a new tree.
The next update is due within 180 days. We'll notify you when the updates have been made. You can also check the status online.
Thank you,
NYC311"
And you didn't read this wrong: Next update… 180 days… City agencies at their best.
After I took my tree pruner certification course with trees.org (great class btw), I extensively walked around the neighborhood noting dead trees for removal and requesting new trees to be planted by the city. I've gotten one other response maybe a year ago and now this.  I don't know what else to say but … wow.
If you dare bother, you can visit tree-map.nycgovparks.org to report areas where you feel new trees should be planted; where dead trees need removal; and you can document trees not listed on the "tree map" by providing species details. The documentation map is actually pretty neat, so if you're a tree person, definitely check that out.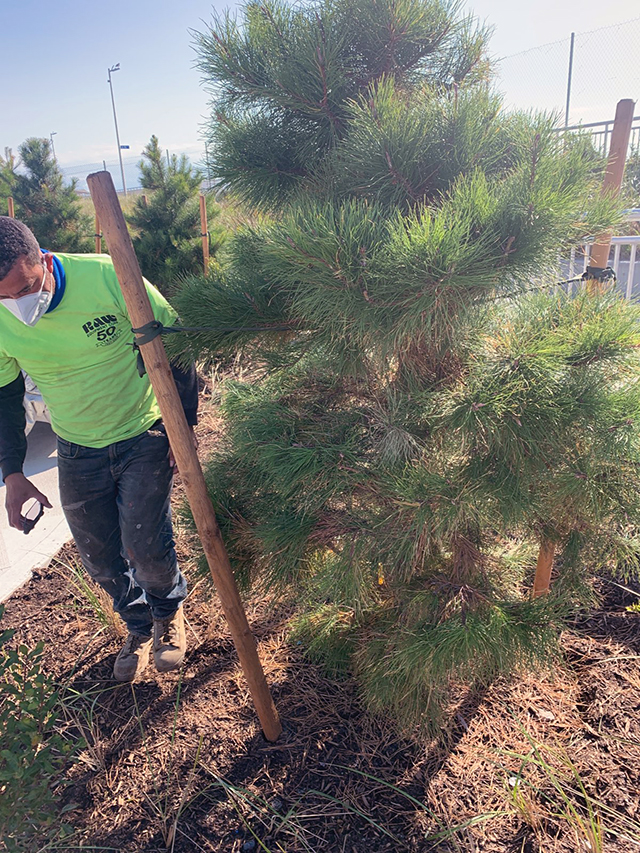 The other noteworthy tree update: Plantings have begun at the skate park on 91st Street and the boardwalk. As this is my block, I've been watching (and hearing) the whole buildout for the past 1 1/2 years. I see some appropriately planted pine trees. I went across the street to further inspect. I only discovered a yellow NYC ID band. No specific name but I believe the trees are some kind of North Eastern Pine, perhaps a Connecticut Slate or a Black Pine – which I know has been planted in other areas around the boardwalk. (I really need to get that plant identification app already).  The pines look full and robust. Pines normally are salt tolerant so that's a plus.
The other trees planted along the bike path, also not labeled, are a bit concerning. Trees this time of year without leaves are hard to identify. You have shape and bark to go by. This tree looks similar to the trees NYC Parks planted in front of my house, which died, twice. Sophora japonica 'Regent,' is identified as a great tree for urban areas, deals with pollution and poor soil quality but it's not salt tolerant. Here in Rockaway that's a big problem, as I've rambled about many many times.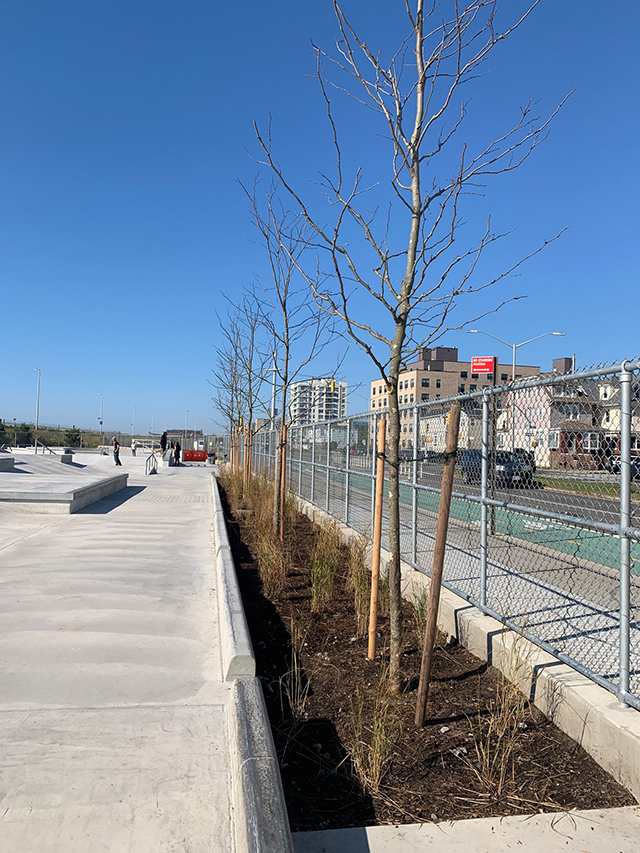 Another issue is water. Any newly planted tree needs 20 gallons of water per week, give or take based on the age of the tree. I've seen so many trees planted around town, then they turn brown because of lack of water and ultimately die. What a shame. Luckily we've had a lot of rain the past few weeks so I have hope for these newbies. And don't put it past me to run over to the park for hours, back and forth with a watering can.
There's an exciting bit to share in closing. Last week as I was inspecting trees, being a total weirdo in front of the construction workers, I asked them when the entrances will be open and when will the fences come down? One construction guy answered, "Friday." That's today!