by Paula D.
on
May 25, 2020 12:11 pm
in
Gardening
Every Italian family I know has at least one statue in their garden. We have our reasons. We need to have the blessings of the saints around our home. This is a connection we've retained from our pagan past. Statues remind us of the homeland. Rome is beautifully littered with ancient sculptures, grottos and water features, so it's part of our design DNA. And we have an ostentatious flair – big, bold, loud and shiny. I mean, who doesn't love how stone looks when it's sprayed with a garden hose …
I've had the Blessed Mother watching over my front garden since we moved to Rockaway. Mary centered prominently on the southeast side of my garden. Russian sage surrounds her.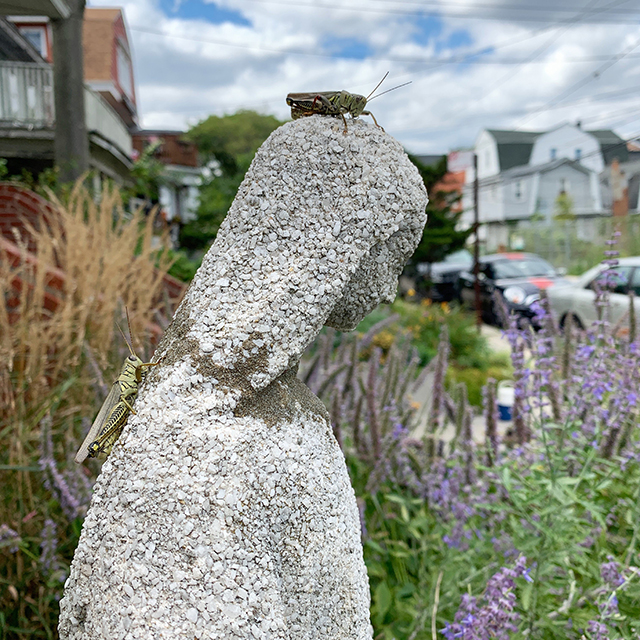 Unlike most Blessed Mothers, Mary is not in a grotto dome, she stands tall and free within the garden. For some reason, grasshoppers like to sit on her in the hot summer months
The sculpture has an old-world feel. She's about 4 feet tall and made of concrete which has weathered, exposing the aggregate pebbles. She is a sight to behold and many neighbors have complimented her uniqueness.
The next logical statue after the Blessed Mother for the garden is Saint Francis of Assisi. He's the patron saint of animals and the environment. We pray he keeps the squirrels and raccoons away from our tomato plants. He's very popular among Italians.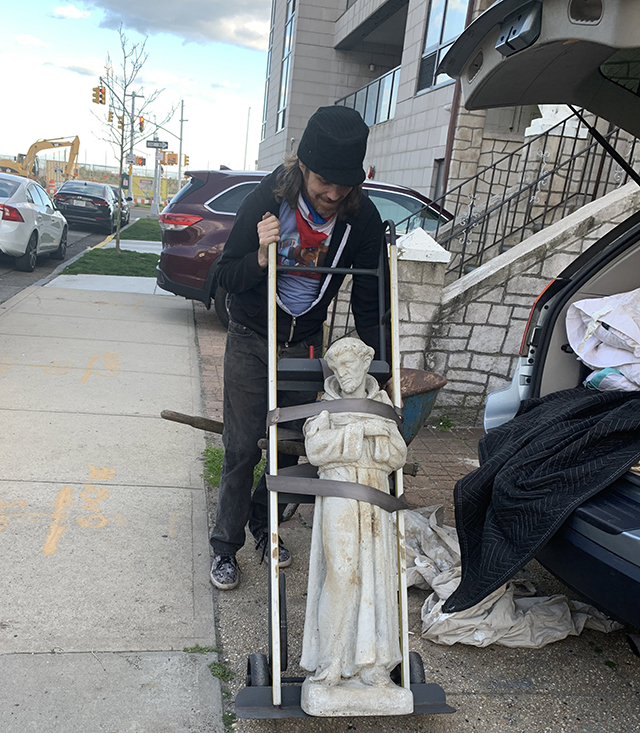 A few weeks ago we started looking for a St. Francis and a bird bath on craigslist and we found both in the same location in Pennsylvania. Bucks County seems to be a "Statue Town USA". Driving through we say many auction houses, quarries and thrift shops selling lawn sculptures, it was overwhelming, I wanted it all!
The bird bath was from one of these auction houses. It wasn't cheap but worth it. It's tall, and the basin is unusually large – 32 inches wide.  It has copper colored concrete with gray which makes it look like marble. The ancient Italian DNA is activated by marble.
Our next stop was to pick up St Francis. He was a steal, only $100. We met some young kid in the parking lot of Walmart for the transaction. This statue is the strangest depiction I've seen of St. Francis and that's why I was attracted to it. His head is oddly sized. His expression is a bit eerie but also humble. There are several birds he's interacting with.
With both sculptures in the car we headed back to New York. Matt and our friend Rob patiently adjusted the positioning of both until I was happy with their locations. St. Francis, I thought, needed to be displayed in the front garden for all to see. He is on the opposite side of the Blessed Mother, nestled between the oak hydrangeas. The bird bath we put in a shady part of the backyard, where we can quietly view the birds that visit.