by Paula D.
on
January 12, 2020 10:44 am
in
Community
I remember being in church at midnight mass on Christmas Eve as a kid. I was probably around 12 years old. Old enough to get the message from the homily—something to the effect of "We have a lot of 'visitors.'" The priest went on to discuss how so many of us only come to church on holidays and when it's convenient for our schedules. I recall thinking proudly, "Oh that's not me!"
Here I am almost 30 years later, and I'm so that person now. After mass at St. Rose this Christmas I decided I want to try to attend mass regularly.
But I'm a drifter. In church I find myself thinking about random things: Did I leave the stove on? I have to feed the cats. Ooh, I just got a notification —better check Instagram. And other stuff like that. I know going to church every Sunday is going to be a challenge for me. Then I had the idea to "church-hop." I've done this before. You visit a different church every Sunday to keep it interesting, and in the process, you learn about other faiths and religious communities. I think God will be cool with this. He's probably thinking "My child, I'm just glad you're not hungover on Sunday morning."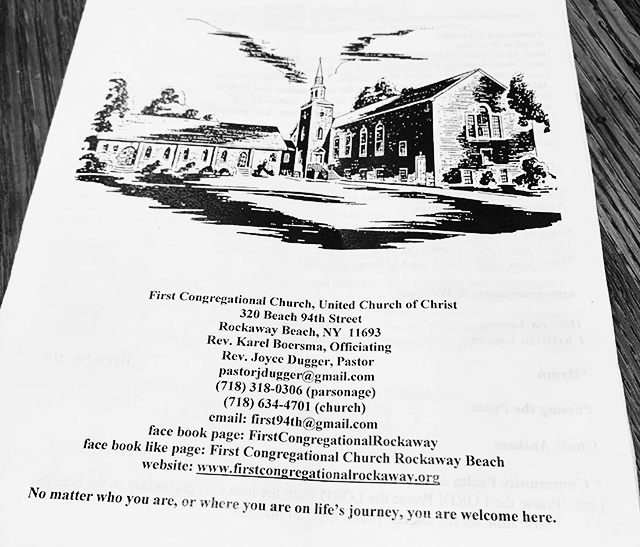 My first church-hop was last Sunday. I attended a service at the First Congregational Church Of Rockaway Beach (320 Beach 94th Street). Interestingly, this is the oldest church in Rockaway. Their website states:
"Founded in 1886, we are the oldest house of worship on the Rockaway peninsula. The origins of the church began in the living room of Fanny Holland where she taught Sunday School classes. Our roots are in the tradition of the Pilgrims giving us independence and authority to run our own affairs."
A few years back I saw an LGBTQ flag flying from the church and I thought that was cool. Also there's a sign outside the church that reads "No matter who you are, or where you are on life's journey, you are welcome here." I like these ideas of inclusiveness.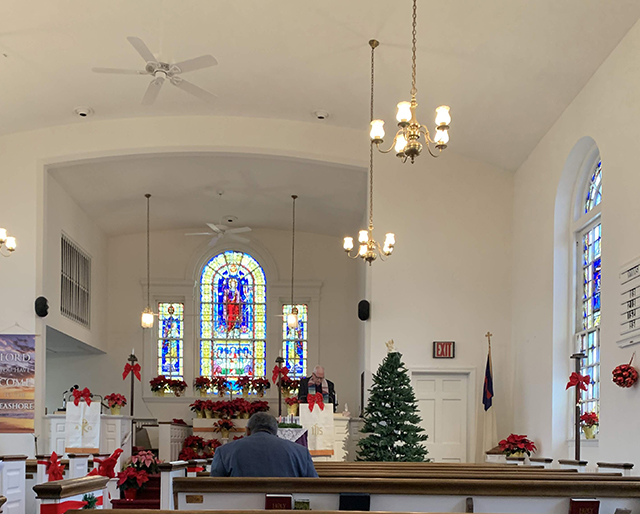 The service was warm and intimate. When it was time for announcements, anyone could stand up and speak. And the same for the prayers. Individuals just called out a name or a group they wanted to pray for and then we prayed. It was a loose structure, interactive, keeping people engaged. The music was upbeat and almost everyone was singing along.

I'll definitely visit again, a great church vibe and very nice people. If you're interested in attending service at the First Congregational Church Of Rockaway Beach, it's held at 11 a.m. every Sunday. Visit the website for more information or their Facebook page.