It's true. I started decorating for Christmas inside the house a week before Thanksgiving. Don't judge! I like to take my time and enjoy the experience. But alas, Christmas traditions never fail and I traditionally have terrible luck with Christmas lights. This year, my indoor tree lights broke. Only half the string would light up. What made this so frustrating was that I bought two new sets only last year. I thought I'd be all good. How do these things break so easily?!
The Grinch in me set in.
I watched a very annoying 20 minute Youtube tutorial on how to fix the broken section but I needed The Light Keeper Pro, apparently.  I tried to find it at CVS but they didn't have it, and on Amazon couldn't be delivered until Wednesday. I didn't want to wait that long. The guy in the video went way too far, reviewing the basics on electrical wiring with detailed diagrams. It all seemed so confusing, even if I had the tool. Frustrated and wanting a quick fix, I begrudgingly made a second trip to CVS to buy more tree lights. I bought shorter, 75 bulb strings thinking that maybe less can go wrong! I also got a bottle of red across the street at Ship To Shore Wines. That would no doubt make the process more easy-going and rewire my brain to get into "happy Christmasy mode".
With wine in hand and the new lights working, my inner Grinch softened. I was back on track for a fun day of holiday cheer, so to speak.
My father taught me how to decorate the Christmas tree. He's always had a knack for it.  On his tree, the lights are always evenly dispersed and the ornaments perfectly placed. As I began decorating my tree I could hear his guidance – put the large ornaments on the bottom and the smaller ones towards the top. Make sure to put some on the inter branches for depth. The ugly ones go in the back!
My father also had a Lionel  train set from his childhood. We'd set that up under the tree. It was a lot of work but once complete, it felt like a magical village. I liked playing with the ice skaters. We set them up on a round glass mirror (the ice rink).  The figures were made of hand-painted metal. Around all the little houses, the church and fire station we'd put cotton balls making the scene a winter wonderland.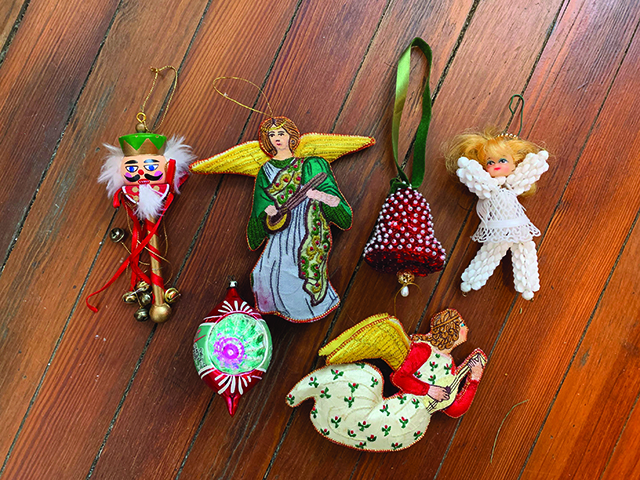 My father gave the train set to my nephew but I've been gifted many vintage ornaments. So much detail in those compared to the ones I see on the shelves. I have a wooden soldier on a candy cane stick which is hand-painted. The face it sort of scary looking but that's what makes it so interesting. He has white hair and a goatee that poofs out from under his green and gold hat. He's adorned with red ribbons and jingle bells. Another favorite of mine is a stuffed handsewn angel playing a lyre. It's trimmed in sparkly gold with gold wings. Her dress has poinsettia embroidered on. You can tell it was made with so much care. These among others go front and center on my tree.
There's more decorating to be done so there may be more columns about Christmas until the big day! I love this time of year!
For more plant talk follow Paula on Instagram @theglorifiedtomato
Previously published in The Wave