I had a plan for last Saturday – clean, then get a jump on some graphic design work, and later, I'd prune the serviceberry tree in my yard (which I was excited to do). 
I'm on the porch shaking out the fourier rug when my neighbor calls me over. There was an injured cat. My stomach dropped. I texted my friend for some advice and she gave me a few numbers for emergency care. I passed them along. I continue cleaning but I couldn't stop thinking about the cat, on the cold cement, unable to move and in pain. 
Then I got really annoyed. My whole day was ruined. If I did nothing, I'd be filled with guilt and worrying all day. If I took action, I was claiming responsibility, which meant potential months of fostering, finding a home and vet bills.
A few years back I passed a very skinny, sickly black cat by Key Food on 87th. I could've scooped him up easily. I had a crazy busy day and thought "I'll pass by later and check on him."   I never saw the cat again and that unwillingness on my part still bothers me. 
And here I was facing that same choice again. I started calling the local vets, there were no available appointments. I called a bunch of other places on my friend's recommendation and found Verg Animal Hospital (196 4th Ave, Brooklyn, NY 11217). My neighbors helped get the cat into a carrier and I was off driving to Park Slope before I knew what hit me. 
I named him Jet for his all-black coloring. Besides his limp back legs and a few small cuts, he looked well-groomed and well-fed.  He was very good and quiet in the car. I tried to comfort him with words he didn't understand but I hoped it helped ease his discomfort nonetheless.
My mind thought of every possible scenario. I'll get him scanned for a chip, maybe he's someone's cat that got out and was hit by a car. Maybe he was poisoned and has paralysis. It would be hard to adopt-out an adult black cat but I have a network of cat-rescue friends. It will be expensive, I can set up a GoFundMe. I was committed and I felt good about my decision to take action.
Verg is run like a hospital. They took Jet into triage and determined it was not a STAT. "Ok, that's a good sign." I thought.  But my mood started to change at hour three, I was still waiting. Other emergencies were taken ahead of me. I had anxiety and worry and I didn't eat at all since running out the door. 
Finally, I was called. I was told it was most likely a broken leg and needed surgery. I signed the consent for the cost of painkillers and an X-ray. I waited for another hour or so. It was getting dark, I felt terrible. I was in the twilight zone. I called my cat-rescuer friend for advice. Having someone to talk to about this was comforting.
I was brought back into a room. The doctor showed me the X-rays. I started crying uncontrollably. "So surgery, definitely, right?." She explained the injuries –  a complete femoral fracture, multiple pelvic fractures with a dislocated hip. I was further informed that if surgery (upwards of 10k) worked, Jet would have nerve damage and most likely would not have the function to go to the bathroom. The veterinarian gently told me that euthanasia was the most humane course of action.
I was hysterical at this point. 
This was one of the hardest things I faced alone for a long time. I was there when the injections were administered. I wanted to give Jet comfort. I petted him and looked into his eyes. 
I don't know why I became so emotional over a stray cat. I do know that sitting in the waiting room for seven hours under these bizarre circumstances gave me a chance to think. It's not about a clean house or a head start on my work-load, or other trivial things I think about. None of that matters, I was reminded.  And if I'm complacent, what's the point of it all. I feel like meeting Jet was a blessing, he had a purpose – helping me connect emotionally to what is truly worth caring about.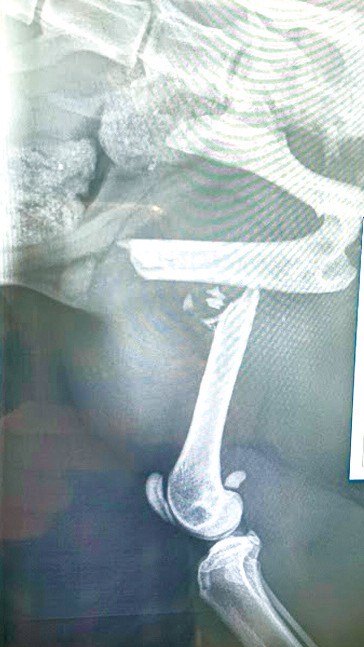 Jet's broken femur
Previously published in The Wave.