by Paula D.
on
July 9, 2019 9:37 am
in
Community
I've wanted to buy a pair of skates since my roller skating birthday party, over two Rockaway summers ago. I would go down the "rabbit hole" of online shopping, trying to find the best quality, and style (style being top priority) for the best price. I'd save searches but in the end, never purchased a pair.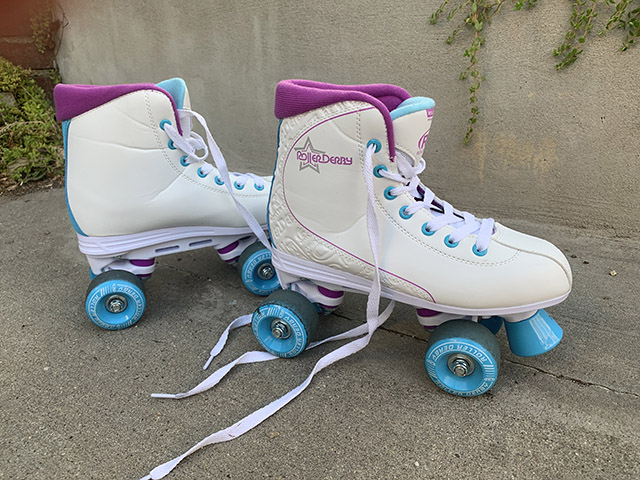 This year, I went online and just bought whatever!
I had the vision of my maiden voyage. I'd gracefully glide along the boardwalk passing all my favorite spots – La Fruteria were my friends would admire my moves. I'd twirl on the dance floor at Low Tide with my ladies, then to Rippers for a beach juice or two. Hungry from all the roller skating, I'd ride up to 106th for a delicious Arepa – well deserved. My hair would be blowing in the wind. My skin sun-kissed.  I'd have my daisy dukes on, and white striped socks, just like Farrah Fawcett. Beach-goers would be giving me the thumbs up, as I stylishly zoomed by.
Boy was I delusional. Roller skating is really hard. And I'm pushing 40, what was I thinking?                                                                                                                                                                                                                                                                       The reality unfolded like this: The package arrived just as my husband and I were heading to Rockaway Beach Bakery for our late morning coffee. I couldn't resist trying on my new skates. I put them on and road the four very bumpy streets to Tracy's, clenching Matt's arm the whole way. He was so pissed, "This is absurd, you're going to hurt yourself." My husband went back to the house to get my flip flops for the way home,  so I didn't break my neck.
After that mishap I was determined to improve. My first ride on the boardwalk was during Rockstock Festival. I was shaky, clinging to the handrail on the boardwalk. The picture was not even close to my Farrah Fawcett fantasy. But my friends and other Rockaway folks at the festival were cheering me on. All positive vibes.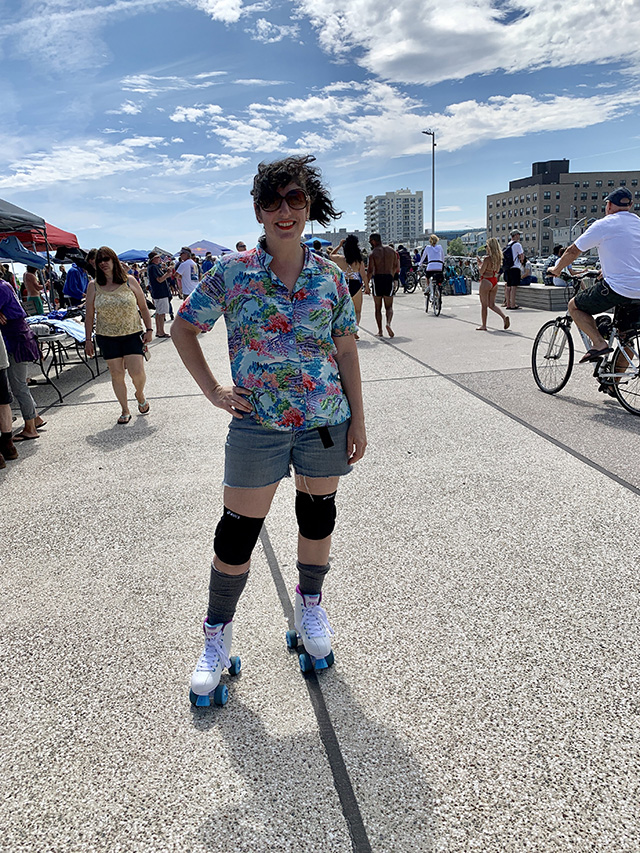 Since then, I've been skating about three times a week, each time improving. A few of my friends have expressed interest in joining me and we're even creating a Rockaway roller skating girl gang! Riptide Rollers? The best spot to practice is the hockey rink on 108th. I was flying! I even did a turn and almost went backwards. The boardwalk is a little bumpy. The bike path linear to the boardwalk is smoother but that's less fun, I can't "strut my stuff" down there.
Summer is here and it's the perfect time to roller skate on the catwalk — I mean boardwalk! If you want to join our roller skating gang, email me (pdigioia[at]rockawave.com). We're just starting to organize. All are welcome (even inline-ers, lol!)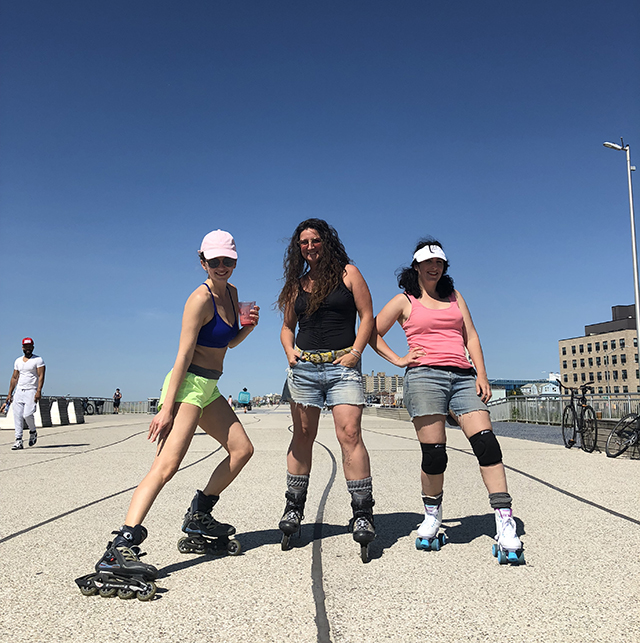 Our first roller-gang meeting. (Left to Right) Olga Krieger, Erin Silvers, columnist of Zingara Van Adventures, Paula DiGioia. Bethany Scott and Melissa Draugsvold roller-gang members absent from photo. Photo by Sasha Okshteyn.jpg