by Paula D.
on
January 28, 2019 8:53 am
in
Recipes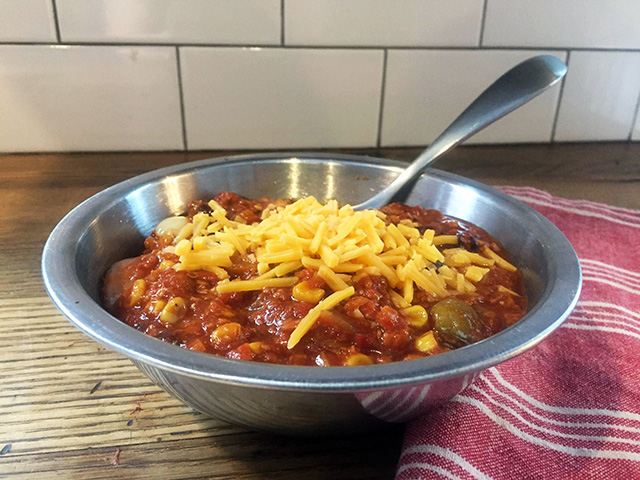 If you remember, a year ago I wrote about my decision to become a vegetarian. Since September though, I've introduced two portions of meat protein a week into my diet. I still hold the same feelings about industrial mistreatment of animals and the effects of meat processing on our global environment. When I do choose to eat meat, I buy the free-range, grass feed, humanely treated products. True vegetarians may see this as a  "step back" but I'm trying my best to be accountable while managing my personal health.
The decision to reintroduce some meat into my diet was because of weight gain. I ended up packing on 7 pounds as a vegetarian – too much cheese and bread. Some weeks I was on top of everything, preparing meals ahead of time, other weeks I was eating a lot of Elegante Pizza. I struggle with self control when it comes to food (and drinks, sigh).
Another factor and challenge was meal variety. Despite many vegetarian recipes online, I found I was bored with what I was cooking. And some of the interesting recipes I did try, took too much time to prepare. My end goal is still vegetarianism, so I continue to look for exciting recipes that are satisfying and healthy.
Last week, my husband ran to Key Food for a few things and picked up vegetarian chorizo. I've seen it before in the refrigerator section to the left, where you first walk in but always thought it looked kind of gross, so I'd pass it up. But it was now in my fridge, so I decided to make vegetarian chili with it — and guess what?? It turned out fantastic! The veggie soy chorizo had a rich, fatty flavor like meat which was satisfying. The texture worked well for chili and it had a nice spice to it!
I want to share the recipe with those of you who  feel similarly to me and are struggling with vegetarianism and also with my meat-eating friends, because either way, this is a delicious winter comfort food recipe, enjoy!

Vegetarian Chorizo Chilli
Ingredients:
1 package of Melissa's Soyrizo
2 red onions
2 orange peppers
1 16 oz can of corn
1 16 oz can of black beans
1  medium bulb of garlic
¼ cup olive oil (I use Colavita)
1 tablespoon of canned green chili pickled in oil
1 tablespoon of sugar
1 28 oz can of crushed tomato sauce (I use Sclafani)
Salt, pepper, oregano to taste (use a healthy pour)
Garnish with cheddar cheese and sour cream (optional)
Directions:
1 Dice the garlic, onions and peppers. Simmer those ingredients in the olive oil on low, until translucent.
2  Open the casing of the soyrizo and put contents into the simmering mix. Stir. Discard the casing.
3  Add all other ingredients mixing together. Bring to a boil and then put on low for an hour, occasionally stirring.
Prep time is only 15 minutes and you can make this in advance to have all week!