There's a party every weekend. Friday and Saturday nights I'm trying to find a sparkly shirt or dress to wear. Preferably not the one I wore last week. I've eaten more cheese and antipasto than normal, not to mention cookies and chocolate, which I don't even really like. I had my own "kick-off to Christmas" party the first week of December, which was a shining success.
Balancing the parties, decorating and shopping with my increased seasonal workload is tough when you're a freelancer working from home. Should I?
A: Wrap Christmas presents with a Hallmark movie playing in the background
B: Start designing the countless "the gift that counts" emails or the holiday menu ads and promotions mounting in my queue.
[Correct answer is A, by the way]
When I do have a minute in the evenings, I sit in front of my glowing Christmas tree, and my mind starts to wonder to the Christmases of yesteryear. Things seemed so simple then. That feeling of being a kid the night before Christmas will never leave me. My sister Maria and I shared a room and we would giggle under the covers with butterflies in our stomach. It felt like the morning would never arrive. But soon enough we'd wake up to a pile of presents displayed on the living room floor, ready for us to tear open.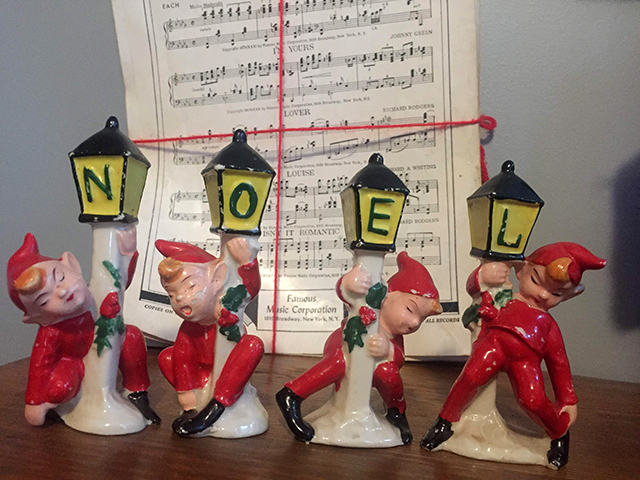 When I look around, I see ornaments that used to belong to my grandmother, another reminder of Christmas past, when things seemed less hectic. On my end table, sits grandma Mary's ceramic drunken elves (Lipper & Mann 1956). Each one his hugging a lamp post, eyes closed, slipping down the pole!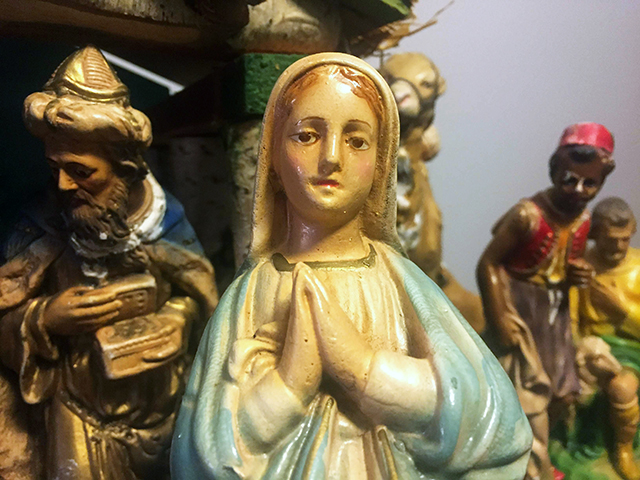 I inherited my grandmother nativity as well, which I really love. I recall being at my grandparents house as a child for Sunday dinners in December. I'd lay on her green shag rug with my head practically under her Christmas tree, where the nativity was. I would play with the sheep and the holy figurines, but this was no toy. It seems the set is handmade. It's not marked with product stamps or stickers and its very unique to the eye. Mary and Joseph's expressions along with the others are vivid and pretty strange actually. Made from plaster, I've had to glue some heads back on and a sheep's tail since I've had it,  but nonetheless, it's priceless to me.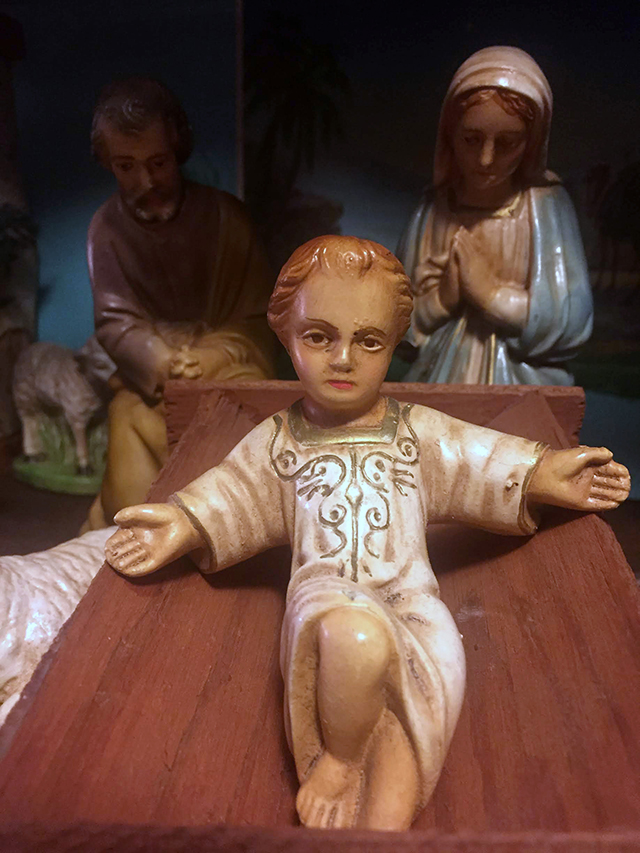 Having these little reminders around my house of Christmas past helps to keep me focused and reminds me to slow down and embrace the season for what it truly is about. Happy Holidays and keep calm for Christmas!