by Paula D.
on
October 1, 2018 12:09 pm
in
Food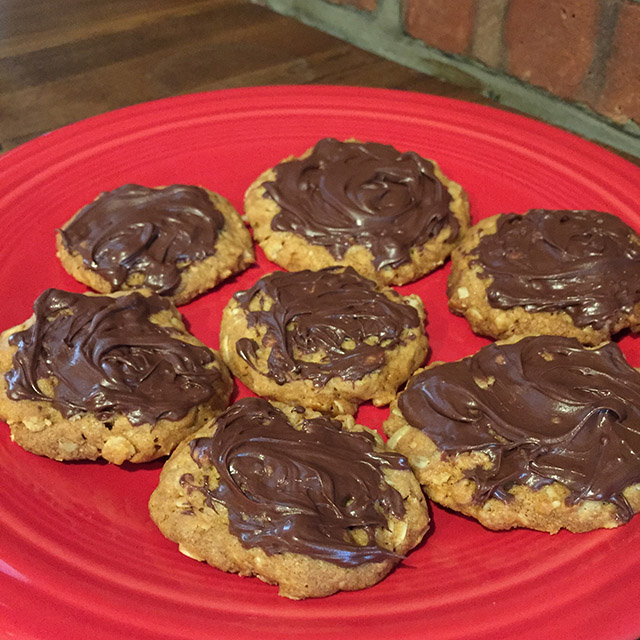 Hobnob v 1. to mingle, usually with the upper class of society.
But more importantly, a Hobnob is the name of a cookie. Wait… I mean a biscuit. From the UK. They're made from rolled oats, jumbo oats and often are sided with chocolate. They're among the most popular of British biscuits.
But why do Brits refer to cookies as "biscuits"? What's the difference? Here in the states we put poached eggs and bacon on biscuits, we don't dunk them in our tea as our neighbors across the pond do. US biscuits are a variety of small baked goods with a firm browned crust and a soft interior. A biscuit in the UK is classified as a small hard baked product which can be savoury or sweet. The term "cookie" typically refers to only one type of biscuit –  a chocolate chip cookie.
I'm still confused.
I bring this up because my husband has become obsessed with Hobnobs ever since his co-worker and our good friend Or Zubalsky brought the biscuits to their office. Or's  first encounter with hobnobs was when he was visiting his friend in London. He and his wife brought a bundle back from the UK. After running out of the addictive "cookie",  Or tracked them down at the Park Slope Food Coop.
But Matt needed his own stash so he ordered boxes in bulk from England. Shipping wasn't cheap and it took a while to arrive. Only a month after the deliver he ran out (sigh).  It happened to be our 9 year anniversary that week and — being the amazing wife that I am — I thought it would be "brilliant" to make homemade hobnobs for my husband as a gift!  I followed the recipe so carefully. I wanted them to be authentic. Matt said they tasted more like a cookie than an English biscuit but he loved them nonetheless. The hobnob is meant to be dunked so enjoy them with your morning coffee or evening tea!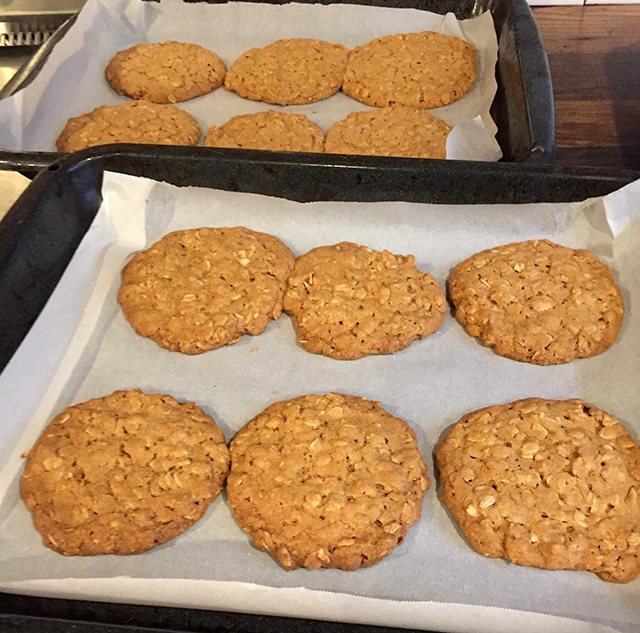 Ingredients:
1½ cups all-purpose flour
1½ cups old-fashioned oats
1½ teaspoons baking soda
1½ teaspoons kosher salt
2 sticks unsalted butter, room temperature
1 cup sugar
2 tablespoons whole milk
2 teaspoons honey
150g of milk chocolate
Directions: Preheat oven to 300°. Whisk flour, oats, baking soda and salt in a medium bowl to combine. Using an electric mixer on medium-high speed, beat butter and sugar until light and fluffy, about 3 min. Beat in milk and honey. Turn off mixer and add dry ingredients; mixing with a rubber spatula. Spoon tablespoonfuls of dough onto parchment-lined baking sheets, pressing down lightly to flatten and space 1½" apart.  Bake the biscuits until golden brown, 25–30 min.
When cooled, melt the 150g of milk chocolate in either the microwave or in a bowl set over a saucepan of barely simmering water.  Be very careful the chocolate doesn't seize (the transformation of chocolate from a fluid state to a stiff, grainy one). This of course is what happened to me. Make sure the bowl and utensils are water free, keep stirring the chocolate and keep the temperature very low.  Once the chocolate is melted, paint the tops of your hobnobs our dip and leave on a drying rack.
Recipe from bonappetit.com/recipe/homemade-hobnob-cookies