by Paula D.
on
May 7, 2018 11:47 am
in
Recipes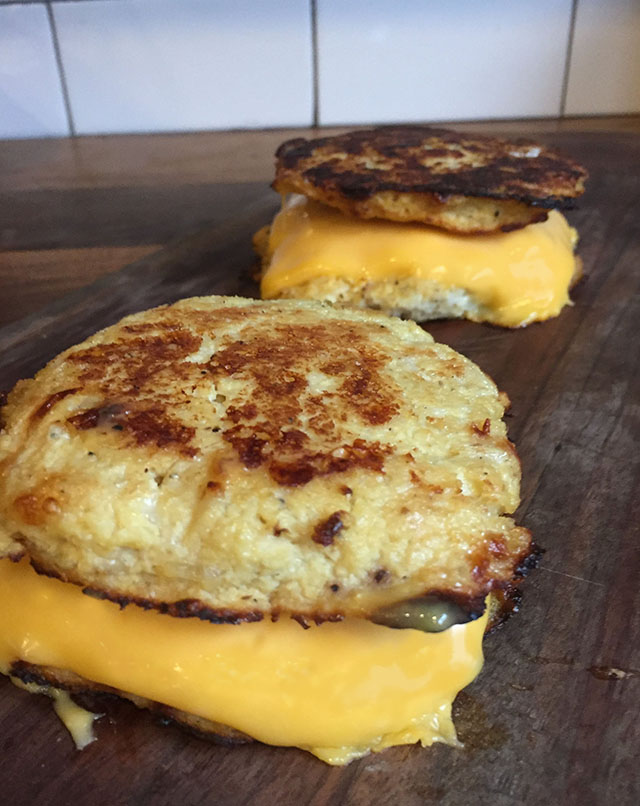 Previously published in The Wave.
A few weeks ago on the drive to my cousin Sarah's baby shower (Yay! Sarah and Dan!), I was talking with my Aunt Brenda about dieting. I told her since I'm not eating much meat, I've been munching on way to many carbs. Brenda said she's been experimenting, using cauliflower as a bread substitute. "It's really trendy now Paula, you should give it a shot!"
And so I did!
If you're looking for a creative low-carb bread alternative, make a batch of cauliflower "bread". I was surprised by how delicious it was and bread-like. The inside was soft and chewy while the outside had a nice hard crust. The basic cauliflower bread/crust recipe can be used to make  bread sticks, stromboli, pizza, a turkey club sandwich or top it with an egg for breakfast. I cooked up grilled cheese with the cauliflower "bread" I made. It took a little time but this recipe is tasty and very filling!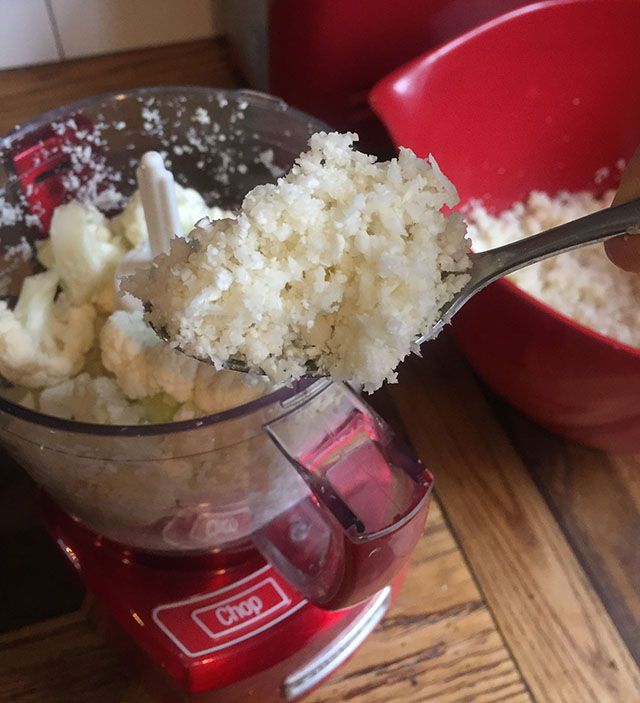 Cauliflower Bread  Grilled Cheese
Ingredients:
(Makes 2 grilled cheese sandwiches)
For the cauliflower "bread" slices:
1 small head of cauliflower, cut into small florets (yields 3 cups)
1 egg, lightly beaten
½ cup shredded mozzarella
Salt, pepper and oregano to taste
For the Grilled Cheese:
1 tablespoon butter, room temperature
2 slices of cheddar cheese (or cheese of choice)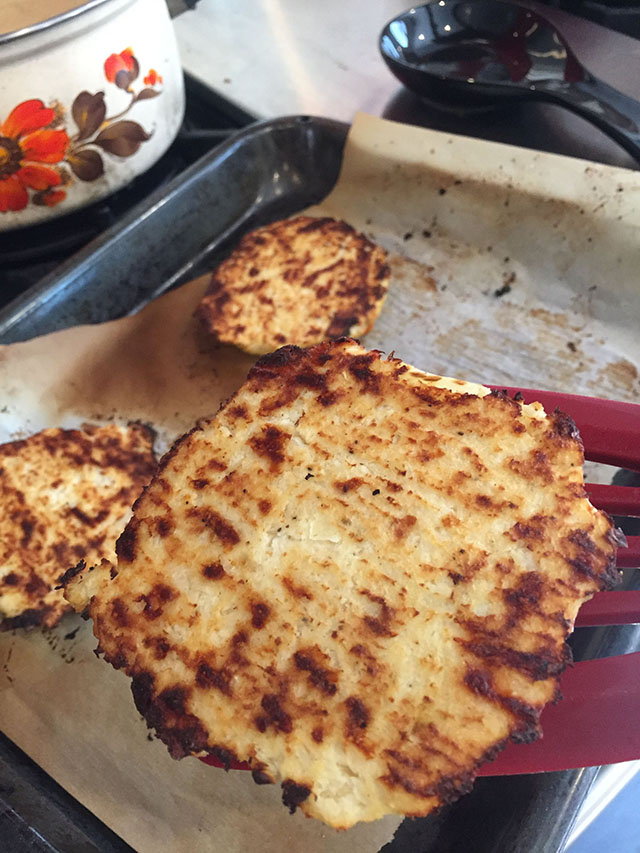 Directions for the cauliflower  "bread" slices:
Preheat the oven to 450°F
Line a baking sheet with parchment paper and liberally grease it with olive oil. Set aside.
In a food processor, rice the cauliflower florets (it should be evenly chopped but not completely pulverized).
Transfer cauliflower rice (about 3 cups) to a microwave-safe dish and microwave on high for 8 minutes. Let it cool for 5 min.
Place the cauliflower rice in a dishcloth (or tea towel) and twist  to squeeze as much moisture out as possible. This is very important. The cauliflower rice needs to be dry, otherwise you'll end up with mush, unable to form the bread.
Transfer the cauliflower rice to a mixing bowl, add egg, mozzarella, salt, pepper, oregano and mix well.
Spread the cauliflower mixture onto the lined baking sheet and shape into 4 patties or squares.
Place in the oven and bake for about 16 minutes until golden.
Remove and let cool for 10 minutes before carefully peeling them off the parchment paper
Directions for the grilled cheese:
Heat a pan over medium heat. Butter one side of each slice of cauliflower  "bread". Add the cheese, making the sandwich. Gently flip and cook until golden brown and the cheese is melted.
I found this recipe on theironyou.com (I modified it slightly).