by Paula D.
on
March 21, 2018 12:05 pm
in
Community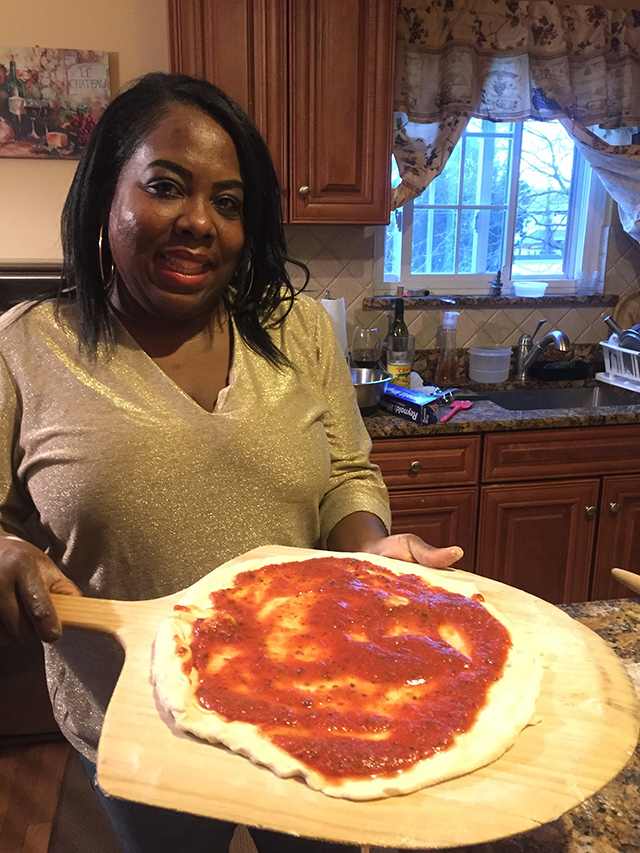 Previously published in The Wave.
"Push the dough out from the center, roll it lightly and don't get too close to the edges," Nicole instructed. "Can you believe I'm Italian and have never made pizza dough before! I'm so embarrassed" I admitted. "I'm Jamaican and I've never cooked oxtail, so don't worry about it," Nicole responded with a laugh. The conversation flowed naturally. I felt like I'd been in the kitchen with Nicole Russell for years.
Nicole is the creator of Last Dragon Pizza in Arverne. We've been meaning to get together for a cooking night forever, and last week it finally happened! I was eager to learn her coveted pizza-making techniques, and Nicole was interested in learning one of my old family recipes.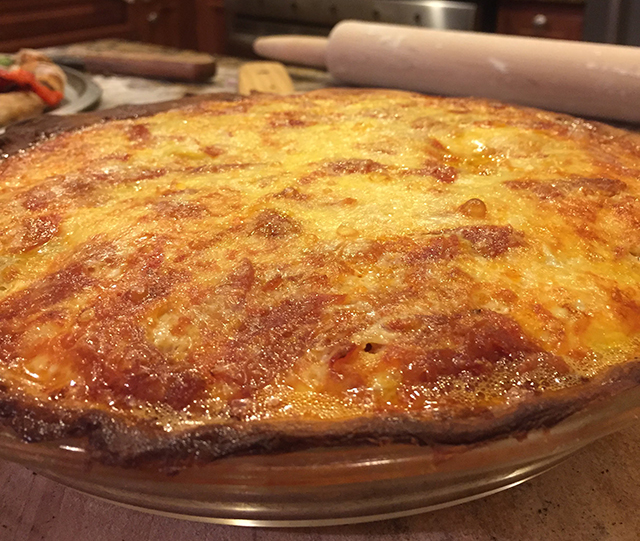 I brought over the ingredients to make my grandmother's artichoke quiche*. Ironically, my family calls it "pie". Nicole and I both agreed it would be fun to experiment using her pizza dough for the crust. As we predicted, the pizza dough worked beautifully and the dish was still authentic to my grandmother's version. I also brought some red bell peppers for roasting. A tasty pizza topping, right? Nicole was unfamiliar with roasting peppers whole. "This way you can save some of the juice, which holds all the great flavor." I explained.
On to the pizza! Nicole gave me a crash course on dough-rolling. The first lesson I learned was there are many variables that determine the final outcome of a pizza dough. The heat source and temperature (industrial oven, home oven, brick oven, etc.), the type of flour used (bread flour, wheat, gluten free, semolina, Caputo 00), the water content of the dough, length of fermentation and the air inside the dough, will all affect the final product. My first dough-rolling attempt went amiss. I was rolling (and sipping wine) when the dough started to stick and break apart. This happens when to much air is push out of the dough. "Dough is forgiving; don't worry about it," Nicole reassured. We sealed the dough (rolled it back in a ball trapping air) and  grabbed a new one. This time I payed more attention – rolling evenly with very light pressure. In the oven it went, par cooking only 4 minutes. We let it cool a few minutes and shortly after, we topped the pizza with cheese, the roasted red peppers we made earlier, spinach glazed in anchovy paste and black olives. Another 4 minutes in the oven and it was time to mangi!
Nicole Russell was awarded a grant for her first place win in the 2017 Queens StartUp! Competition, in conjunction with Citi Foundation. This program was developed by the Queens Economic Development Corporation to provide small business owners and budding entrepreneurs with business education, mentoring, access to funding and skill development.
This achievement illustrates Nicole's dedication to her business and community. She's truly inspirational, proving, if you have a talent to share and you're willing to put in the hard work, you will be successful.
Last Dragon Pizza named after Nicole's favorite kung fu cult film operates out of her home kitchen in Arverne. She's a one-woman show, cooking all menu items herself which include  a wide variety of super fresh pizzas, Italian soul food dishes and 8 different types of wings. Impressively, Nicole also sells frozen pies nationwide. Follow Last Dragon Pizza on Instagram (@LastDragonPizza) and on facebook to learn more about her delicious eats. Order by phone (917.780.2570) or online at lastdragonpizza.com
*I've wrote about this artichoke pie recipe before and the story that goes along. If you missed it, find it here.