by Paula D.
on
January 8, 2018 9:30 am
in
Memories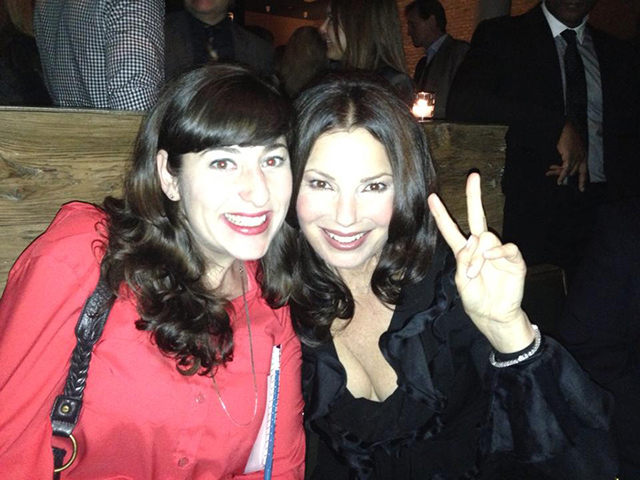 I'm beside myself!
Previously published in The Wave.
She's fabulous from head to toe. She's hilarious, caring, successful, inspiring and everything in between. And she's from Queens. I want to be just like her. My father-in-law Jerry gifted me Fran Drescher's 1996 autobiography Enter Whining. It reminded me of my two extremely fortunate encounters with the flashy girl from Flushing.
My friend Katie Honan and I were out to lunch in the city at [undisclosed location]. We heard whispers that Fran Drescher was scheduled to have lunch there. Wild luck! We were already seated and needed to wait for her arrival but had know idea what time she would appear. We kept ordering course after course. I think it took us 45 minutes to finish our espresso and sambuca. It was getting really awkward with our waiter by this point. Just as we were about to lose hope, she walked in. Fran looked so fine. She was wearing a satin purple and black floral sweetheart dress that fit perfectly. Her hair was straight and to my surprise her makeup was understated. She was glowing and smiling ear to ear. We stood up and approached her. It seemed like a blur. I don't remember exactly what we said but I remember Katie taking the lead and being smooth, closing with "Can we take a picture together?" Fran responded "Come here girls." and we took the picture that cemented the moment forever in time! We spent way to much money on lunch but it was worth every cent to meet my idol.
The second meeting with Fran Drescher was very different. It was 2013, only a year  after my first encounter.  My friend Jen Carlson, Editorial Director of the now defunct Gothamist (so messed up!) asked if I wanted to interview Fran Drescher. She knew how much I idolized the Queen of Queens (an incredibly kind jester!). This was a once in a lifetime opportunity!  (Twice in  lifetime?) I had to say yes, but an interview?!? I was beyond nervous.
After beating uterine cancer in 2000 and undergoing a hysterectomy, Fran Drescher founded Cancer Schmancer, a charity that is focused on the preventative aspects of cancer awareness.   Fran was holding a promotional event for the charity at the bar SEN NYC.  My job was to get information on her favorite New York (hopefully Jewish related) restaurants, food joints or bagel shops. I needed very "New York-y" content. I remember that day at work, I didn't design a thing. I wrote out my questions and researched Fran all day. Then I  rewrote my questions and made several trips to the bathroom so I could pace back and forth and freak out in private.
I had a plus one so I brought my photographer friend Susanne. We had 10 minutes for the interview. I needed a drink at the bar to calm my nerves. Then it came time. I introduced myself and I'm sure she could tell I was starstruck. We continued chatting and I calmed slightly. It was hard to get a word in!  Fran was so passionate about her charity Cancer Schmancer. She began talking about removing carcinogens from our homes. "Be very careful when you brush your teeth girls", Fran Drescher cautioned us! "Why?" "Because normal toothpaste is full of carcinogens!"  She listed several common items that might be of concern: cosmetics, dry cleaned clothing, household cleaners and your couch! The clock was ticking, I tried to get some answers to my list of questions but in the end it wasn't enough for a good NYC foodie article. We did get photos with the Queen of Queens! Fran was so adorable. "Let's take a few and make sure we all look fabulous" she said. It was a dream come true experience to meet Fran Drescher… twice!
Now if I can only meet Dolly Parton, Billy Joel, Lil Bub and Pope Francis (in no particular order),  I can die a happy woman.