by Paula D.
on
December 29, 2017 12:53 pm
in
Food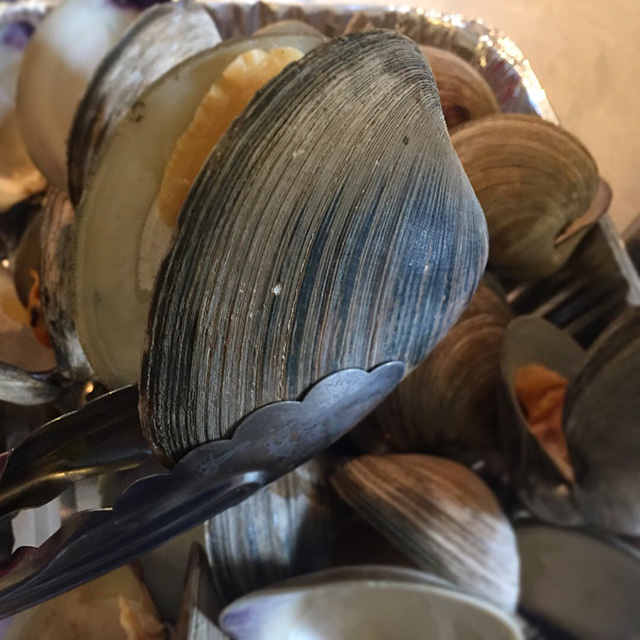 My favorite holiday has always been Christmas Eve, which Italians also call The Feast of the Seven Fishes. It's been tricky to find out about the history, as it's not celebrated in Italy. There's no clear rationale for why it's seven fishes*. The only thing we know for sure is that Christmas Eve is an official church holy day, so you're not supposed to eat red meat. But the paisans beat the system, "No meat, no problemo! Let's deep fry as many types of fish as we possibly can! Oh and let's have a smorgasbord of antipasto! And we can make eggplant parmesan, stuffed shells, sauteed string beans and fried cauliflower too!"
For many years, my Grandpa Ralph was in charge of the deep fryer. He passed the deep fryer "torch" on to my mother, and my mother recently gave my sister Maria her blessing to continue our family's coveted Christmas Eve tradition. Waking up at 6am as a child to the smell of freshly chopped garlic and parsley will always be a meaningful memory to me. We start that early still.  There's much prep work – the peeling, chopping, slicing and breeding. The hardest part about Christmas Eve dinner is timing. You want to wait as long as possible to start the frying. If you begin to early, the fish gets soggy, to late and your guests arrive and you'll have two fishes to go and be an oily mess with flour smeared on your cheeks!  We're always working up to the hour but with my Mother's guidance (E.g – yelling from the couch, "YOU BETTER START THOSE SCALLOPS!!")  we get the job done in time. By 5pm our feet are killing us but the Christmas music is on and it's time to dip the calamari and poor out the wine!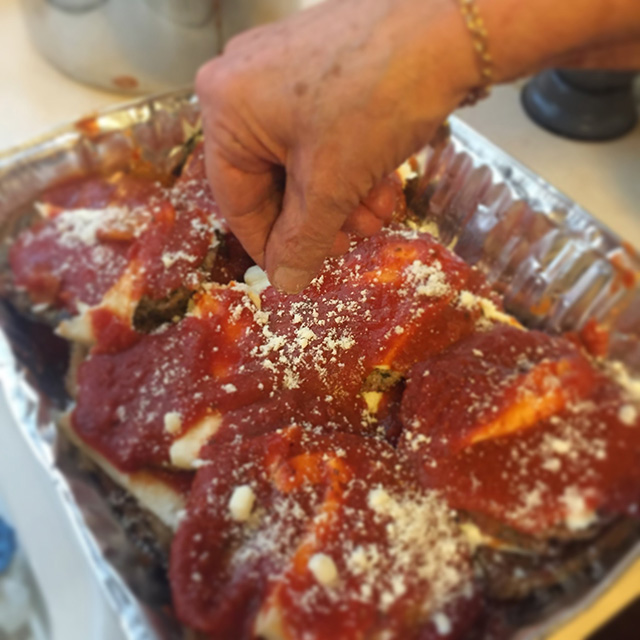 One of my sister Maria's specialties is fried baccalà  balls. One would think dried, salted cod is totally gross but she's got a delicious traditional Sicilian recipe and I want to share it with you (just incase you forgot the seventh fish).  Merry Christmas!
Fried Bacalao Balls (25 balls)
Ingredients:
  3 – 4 potatoes
Salted Baccalà – 2 large pieces
1 cup diced white onion
Parsley
Bread crumbs
Flour
Vegetable oil
3-4 Eggs
Salt pepper to taste
Lemon wedges
Spicy marinara (optional)
Directions:
1. Soak the cod for 24 hours, changing the water every 4 hours (this is the hard part)
2. Boil the cod in milk – 10 minutes, drain and cool
3. Flake the cod using a fork, face down. Pull and drag on the fish so small pieces break off
4. Mash the potatoes
5. Dice 1 cup of white onion, coarsely chop a handful of parsley
6. Mix all ingredients together with 1 large egg, add salt/pepper
7. Make the balls (about 1 inch in size)
8. Flour, egg, bread and fry. For best results use a deep fryer at 400 degrees. Have paper towels ready to catch excess oil
9.  Serve with lemon or a spicy marinara sauce
*A few theories on the symbolism of seven fishes: Seven is the most repeated number in the  bible used over 700 times. It's based on the passage "By the seventh day God completed the work he had been doing, so on the seventh day he rested from all his work." Genesis 2:2:, Another possibility, it's representative of the seven Sacraments of the Roman Catholic Church – Baptism, Eucharist, Confirmation, Reconciliation, Anointing of the sick, Marriage and Holy Orders.