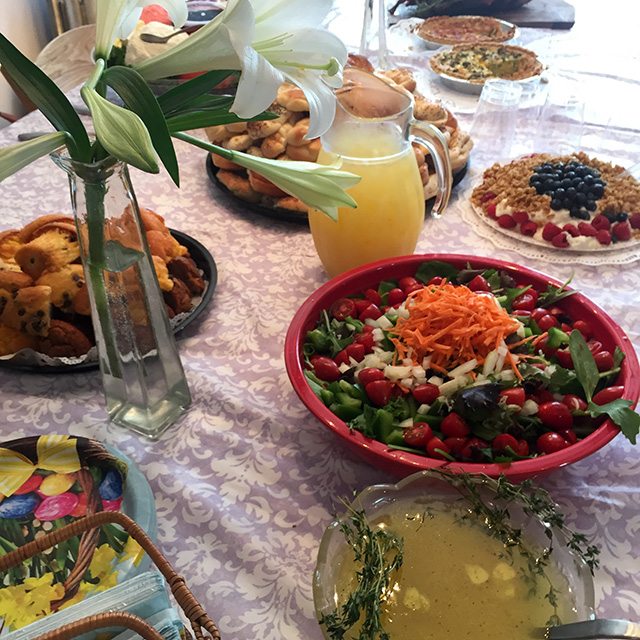 About two months ago I received my Mother's blessing – I was allowed to have Easter. This is now my official holiday.
Christmas Eve is actually my favorite celebration. I start listening to Christmas music in October, and I don't take down the tree until mid-February. Unfortunately, my older sisters, have already been awarded the Christmas festivities. Don't get me wrong, I'm honored to host the holiest of Christian holidays, but I can't get dressed up in a gold-glittered jumper and dance to the hymn, Were You There When They Crucified My Lord. It's a far departure from my best-loved Christmas song, All I Want For Christmas, by my girl Mariah.
It doesn't matter. I'm determined to make my holiday as lavish and brilliant as possible. Picture sparkly easter eggs everywhere, lavender streamers, and fresh flowers on every table. It'll look magical.
And I had a delicious menu planned too. Or so I thought.
Last week my Mom called. Our conversation started out casual, "Are you busy this week? How are the cats?" Then the question I knew would be asked sooner or later, "So… have you thought about what you're making for Easter?"  I told her my plan: brisket with potatoes and carrots in the crockpot with my special sauce, fettuccine noodles, kale quinoa salad with feta, a pasta salad, and a huge antipasto among other things. "Well Paula, I don't want to butt in, but I don't feel this is Easter appropriate. You need to dignify the occasion."
"How does a stew dishonor Easter?" I said.  She skipped explaining herself and jumped right to the suggestions: "May I recommend making sauce, with some ziti, meatballs, eggplant, stuffed shells, oh and stuffed artichokes?" I explained to my Mother that I wanted to try something different. We have sauce at every single party.
She emailed me a few days later with a "great idea." She thought a brunch menu would be a nice change and Easter-appropriate. She called me a few hours later, rambling on about a ham and pineapple display, and how wonderful it would look on the table. I should have just conceded at this point, but the words came out without thinking. "I haven't been eating pork these days."  "What do you mean you don't eat pork anymore??"  "Mom, pigs are really smart and they're saughtered inhumanely." There was silence on the other end of the line.  "…I have to go Paula. The water is boiling."
The next day I started thinking about all this. Tradition, especially with regards to food, is everything to my Mother. It wasn't about the brisket, it was about the yesteryears and how much things have changed since my grandparents passed. It was about honoring our past traditions.
I called my Mother and told her I thought about the brunch idea, and it sounded great to me.  "We can even make penne alla vodka. I think that goes, right?" I could hear the excitement in her voice, "Oh yes, I remember your Grandfather would make penne sometimes on Easter." Then the magic happened. We were bouncing ideas off each other, fine tuning each element of the meal, from cappers to Cadbury eggs. When all was said, we created a wonderful brunch menu that we both agreed on, and that dignified the occasion.