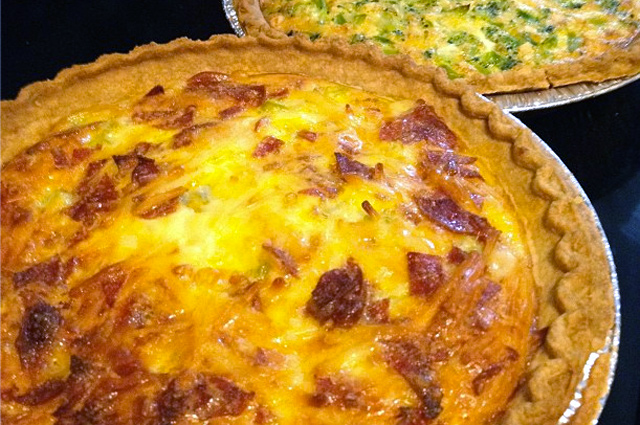 My Grandmother Mary worked at the A&P on Jamaica Ave. at 241st street in Bellerose for 23 years. By the time she retired in the early 90's, Grandma was making about $13 an hour – we used to call her money-bags!
She was a hard worker, taking much pride in her position at the A&P. And people took notice. Grandma had a reputation as the best bag-packer in the whole store. Her line was always longer than the others because shoppers preferred to wait for her service. She made many friends with the customers this way.
There was one women in particular she became close with. My Grandma started to notice the same ingredients this women would buy every few weeks: artichokes, pie crust, pepperoni, mozzarella, eggs and romano cheese. While Grandma recognized all of these items as Italian based, she was confused by the pie crust. One day my Grandmother asked what it was all for. This was the start of her friendship with Elaine* – a conversation about food.
Elaine told Grandma it was for quiche and happily gave her the recipe. My Grandmother didn't know what quiche was at the time, so she called it pie, because that's what it said on the packaging – pie crust.
To my family, this savory quiche will always be called pie in Grandma's honor. This dish has been a staple at all of my family holidays and parties for as long as I can remember. It's a tremendous hit. Here's the recipe – I hope you enjoy!
*I asked my Grandmother about her artichoke pie recipe when she was in her 70's. She didn't remember her friends name but she spoke very fondly of her. For the sake of the story, I called her Elaine.
Ingredients (for one pie):
Mrs. Smith's 9″ Deep Dish Pie Shell
5 large eggs
1 8 oz. can of whole artichoke hearts in water
1/4 cup romano cheese
1/2 cup shredded mozzarella
1/4 cup chopped pepperoni
Directions:
Pre-heat the oven to 350 degrees
Drain the artichokes well. I squeeze them with my hand over the sink. Then flatten the artichokes into the bottom of the pie shell, covering the whole surface. The pie shell comes frozen, no need to defrost.
In a bowl, mix all the other ingredients together, then pour the mixture on top of the artichokes in the pie shell.
Cook uncovered for 40 minutes. The top should be golden brown.
Let the pie cool for 10 minutes. Serve hot or room temperature. You can prepare the pie in advance and freeze it if needed.