This is the first post on our bathroom!  Below is a picture from our appraisal when we bought the house almost 2 years ago.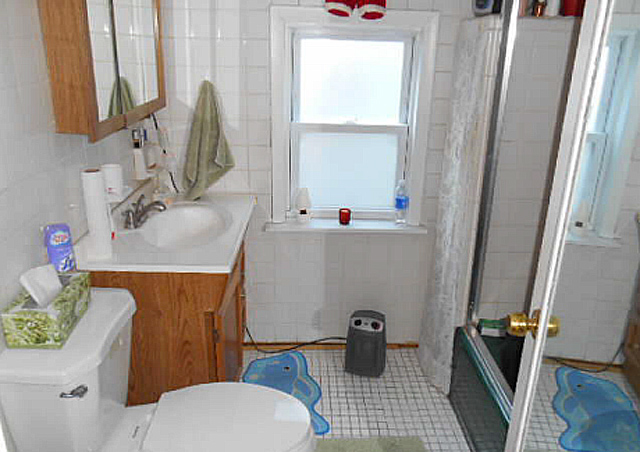 Jared, who designed the layout of our entire house, reconfigured the bathroom. The best decision in the design planing was allowing for two pocket doors (not pictured). One goes to the kitchen and one goes into our bedroom – super convenient. Here's the bathroom gutted.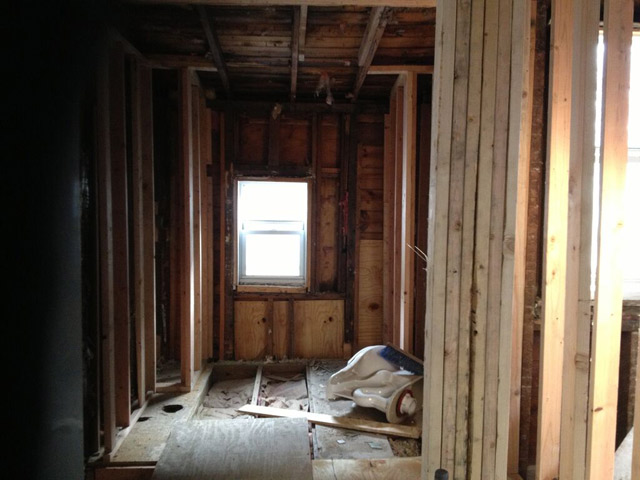 The picture below is from last winter – living  without walls, without heat, with pipes freezing and lets not forget frozen toilet water. Long story short, it was hell! I can't believe we actually got through it.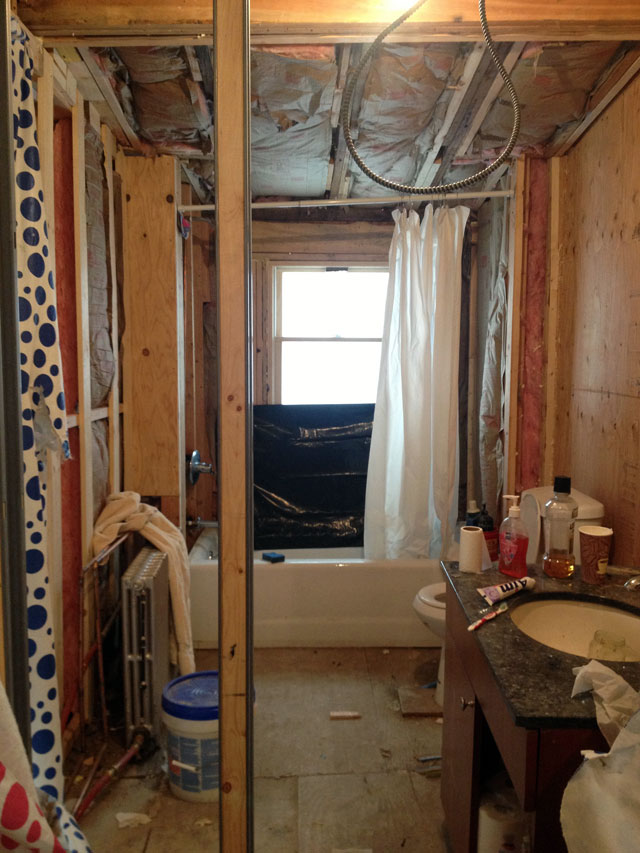 The wine helped…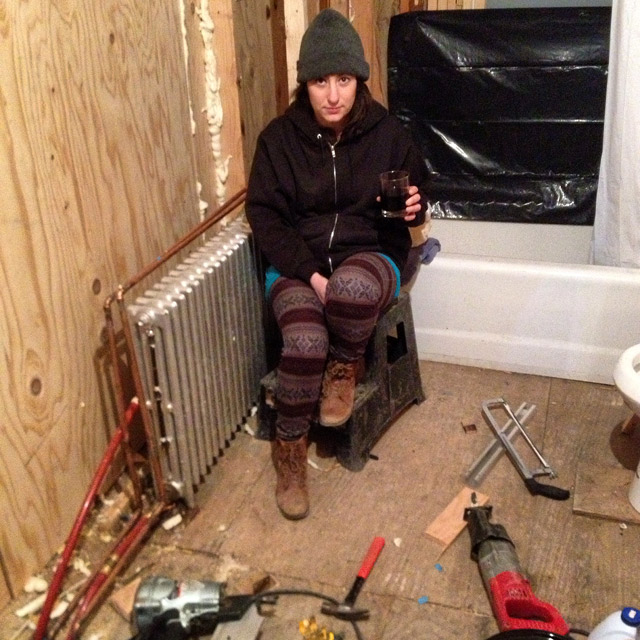 This is where we are today!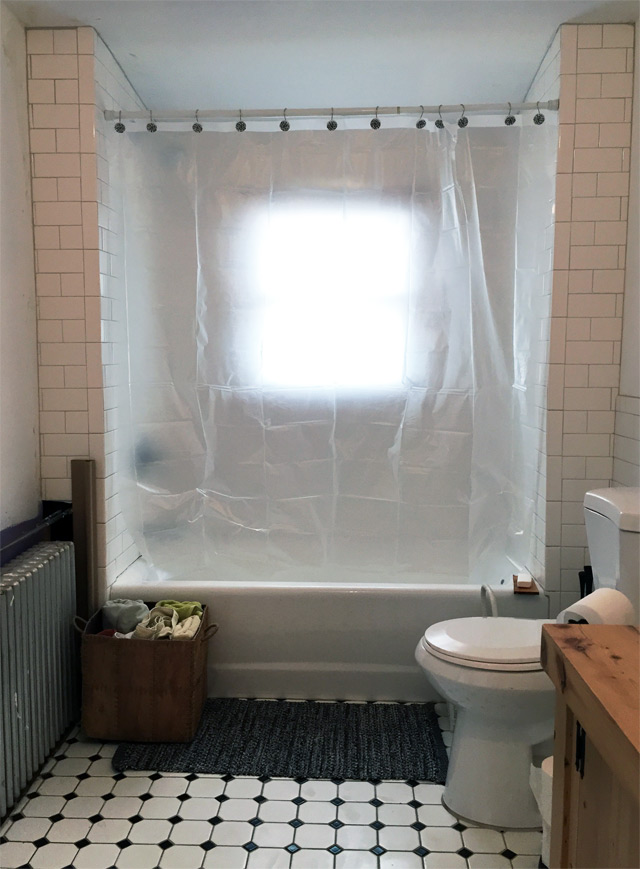 I went with a 1920's style tile. I'm guessing this could have been in the original house. The color scheme will be  black, white, gray and hemlock wood. The accent color will be yellow.
The sink was originally in one of the apartments upstairs. I liked the angles on it and wanted to use it in our bathroom. Matt built a custom vanity made of hemlock. Bill (aka Mule) and Alyda sanded it. I put a few coats of poly-acrylic on it to finish it off.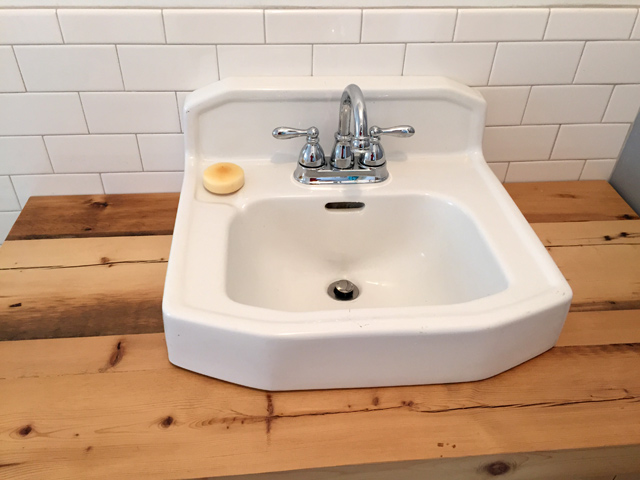 We visited Lancaster PA last winter, touring the woodworking shops of the Amish. We admired their simplistic style and decide to incorporate elements into our house. The cabinet hardware is Amish in form and the shape of the vanity is inspired by their traditional woodworking.
Detail of the hinged: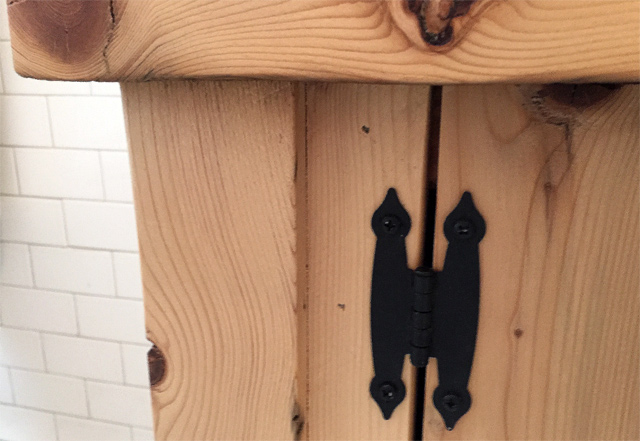 I can't get over how amazing this turned out. Here's the final product: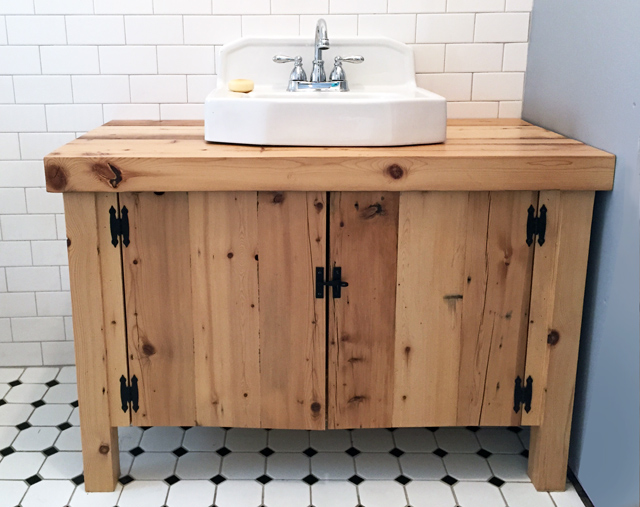 One neat tip Matt learned from putting together his office kitchenette from Ikea… don't build back legs, especially if you know there will be leveling issues. If you ever noticed most of Ikea's vanity and kitchens don't have back legs – this means any piece can be level in any space. To secure the vanity first tilt it, getting it perfectly level. Then drill the back of the vanity into the studs of the wall.  In a house as old as ours (125 years), nothing is level so this technique was perfect for us.
To finish up the bathroom, I need to paint, buy fixtures and plate covers. Matt's list is longer – make a mirror with storage, moldings, put up the doors (yes, we don't have doors in the bathroom!), Make saddles, make a radiator cover and finally make shelving. Sounds like a lot but when you look at were we started, this is nothin!