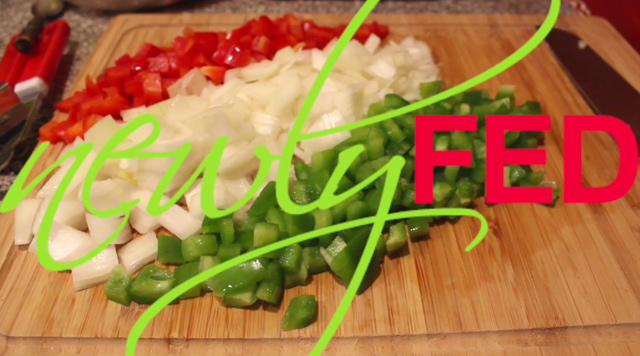 The weather has turned and to be honest, I prefer it. I like to cook and make big meals, which is not what you want to do in the sweltering heat of the summer. Today we are breaking out a hearty recipe from my brother James' kitchen in Ridgewood, the Jumbo-laya. He is a renowned soup maker with his Jumno-laya as his crown jewel (I made that up, but it makes you want to watch the episode, no?). This is a very large serving, so invite a bunch of people over, or prepare to freeze some.
Enjoy this months episode of newlyFED!
NewlyFED: Eating Well, On A Budget from Glorified Tomato on Vimeo.
James' Jumbo-laya
Serves 8-10 people
Ingredients
6 cups water
5 cubes chicken bouillion
2 chicken breasts halved (~1.5 lbs)(optional)
1/2 tsp salt
1 tbsp pepper
1 tsp garlic powder
2 tbsp dried basil
1 tsp onion powder
1/4 cup olive oil
2 large chopped onions
2 green peppers diced
3 cloves of garlic sliced
8 oz tomato paste
24 oz crushed tomatoes
10 oz condensed tomato soup
3 tsp chili powder
12 oz sour cream (optional)
Create the chicken broth by adding 6 cups boiling water and 5 bouillion cubes to a large stock pot (12 QT). Add the salt, pepper, garlic powder, dried basil and onion powder. Add in the chicken and simmer for one hour uncovered.
In a separate large stock pot, heat olive oil. Add onions, peppers, garlic and cook until soft (about 10 minutes). Add tomato paste, crushed tomatoes, condensed soup and chili powder. Bring to a boil and simmer for 40  minutes
After the chicken broth has simmered for one hour, remove the chicken and use one fork to hold and one to shred it. Combine shredded chicken, chicken broth and tomato base
Simmer for one hour uncovered.  The soup will reduce and thicken.
Add in the sour cream to the soup, and serve.
For vegetarian version, omit the chicken and replace chicken boullion with vegetable bouillion or vegetable stock.
For vegan version also omit sour cream