by Maureen
on
April 9, 2015 1:28 pm
in
Recipes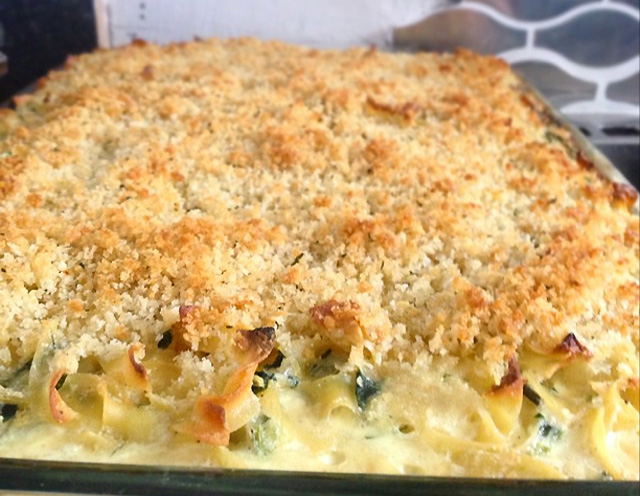 I received the book Make It Ahead – Barefoot Contessa as a gift and I've been using it all the time lately! Cooking in advance is stress-free! Here's one that was a hit at our Easter Brunch.
This recipe is a spin off of a traditional Passover kugel.
Spinach and Ricotta Noodle Pudding
2 1/2 cups seasoned croutons
1 lb. roll sausage
4 eggs
2 1/4 c.milk
1 (10 1/2 oz.) can condensed cream of mushroom soup
1 (10) oz) package frozen chopped spinach, thawed and squeezed dry
1 (4 oz.) can mushrooms, drained and chopped
1 c. (4 oz) shredded sharp cheddar cheese
1 c. (4 oz) shredded monterey jack cheese
1/4 tsp. dry mustard
Fresh herb sprigs and carrot strips (optional) for decoration
Picants sauce or salsa (optional)
Directions: Spread croutons onto bottom of greased 13×9 inch baking dish. (glass is good). Crumble sausage into skillet and cook over medium heat until browned, stirring occasionally. Drain off any drippings. Spread over croutons. Whisk eggs and milk in large bowl until blended. Stir in soup, spinach, mushrooms, cheeses and mustard. Pour egg mixture over sausage and croutons. Refrigerate overnight. Preheat oven to 325 degrees. Bake 50­55 minutes or until set and lightly browned on top. Garnish with herb sprigs and carrot, if desired. Serve hot with picante sauce, if desired. Refrigerate leftovers.