by Clare
on
January 11, 2015 2:43 pm
in
Food
I called a co-worker at home over the Christmas break and as we were speaking he said, "I'm making a risotto right now, and as you know, you have to stir, stir, stir!". I didn't know but he assumed since I cook a lot, risotto was in my repertoire, but it wasn't. A few days later, I asked my brothers girlfriend for some recipes, and she sent me a risotto recipe, which seemed like the universe was telling me to make a risotto. Below is the recipe she sent me, slightly modified and with some notes of my own. The below should take about an hour and serves 6.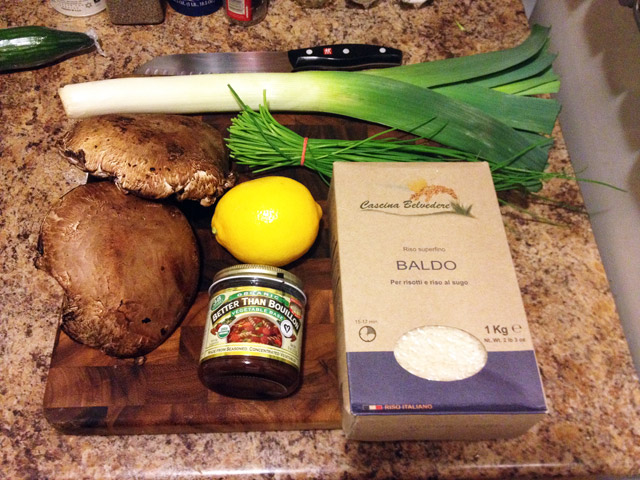 Ingredients
1 cup leek, diced
1 portobello cap diced
2 tablespoons olive oil
2 -3 garlic cloves, minced
2 tablespoons butter
1 small yellow onion, chopped
1 3/4 cups arborio rice
5 cups fresh vegetable stock or 5 cups fresh chicken stock ( you can substitute 1 cup of the stock with dry white wine)
1 lemon, juice and zest of
2/3 cup parmesan cheese
2 tablespoons fresh chives, minced
1/4 cup fresh Italian parsley, chopped (I didn't use the parsley)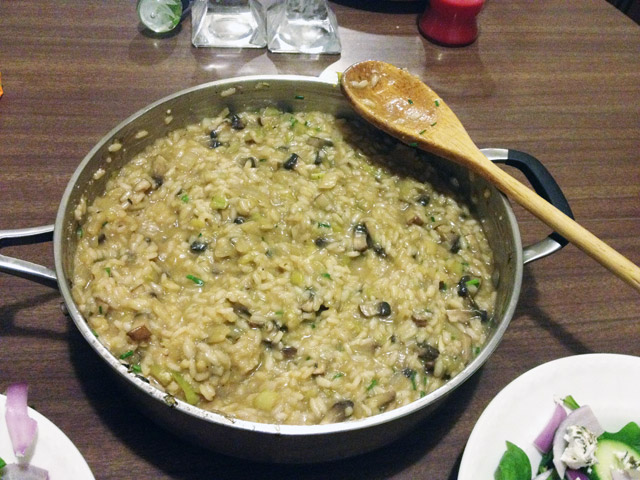 Instructions
Heat the olive oil in a saute pan. Add the leeks and mushrooms, cooking over medium heat for about 5 minutes or until softened. Add the garlic and cook another minute. Remove vegetables from pan and set aside.
Add 2 tablespoons of the butter to the pan and saute the onion over medium heat for approximately 5 minutes.
Stir in the arborio rice and cook for 1 minute. Add one cupful of fresh stock to the pan and cook gently, stirring frequently; until all liquid is absorbed. If you're using 1 cup of wine to substitute for the stock, add the wine first.

Continue stirring in one cupful of stock at a time, until each cupful is absorbed. This should take about 25 minutes. ( it's important to not add in more stock until the liquid you added in is absorbed)
Just before serving, stir in the leeks and mushrooms, lemon juice and zest, half of the cheese, and the fresh herbs.
Be careful not to add in salt at any step and add it in at the end if need be. My risotto came out salted fine but I didn't add any in, I suspect between the butter and the stock, that had enough salt. Add in low sodium stock and unsalted butter to control the salt content.