by Fran Chiodo Honan
on
December 27, 2014 8:54 am
in
Food
Any good cook will sometimes have to improvise with the ingredients on hand when preparing a meal. I always try to have all the right ingredients on hand but occasionally I too, have to make changes. I do not remember my mother ever running out of food when I was growing up. She was always prepared to make her food exactly the same all the time. It was amazing how the meals tasted the same, year after year and always delicious. She would plan ahead by visiting the local Italian bakery in Brooklyn and purchasing dry, plain breadcrumbs made in the stores by crushing the leftover loaves of crusty bread. At home, she would add freshly grated Locatelli Romano cheese, chopped garlic and fresh parsley. That was the basis for veal cutlets, meatloaf or meatballs. Of course, she was horrified, when I began using Progresso Italian style breadcrumbs. It was easier for me and I did not live in Brooklyn, where every other corner was an Italian bakery. So I thought of my mother the other day, when I was returning from Waldbaums to create meatballs for a delicious pot of sauce. I was ready with my large mixing bowl, cooked chopped onions, 2 eggs, assorted seasonings, oven at 350 degrees, chopped beef and breadcrumbs. When I took the lid off of the Progresso breadcrumbs, a few paltry crumbs fell out. I checked the pantry, the basement and no breadcrumbs were found. What to do????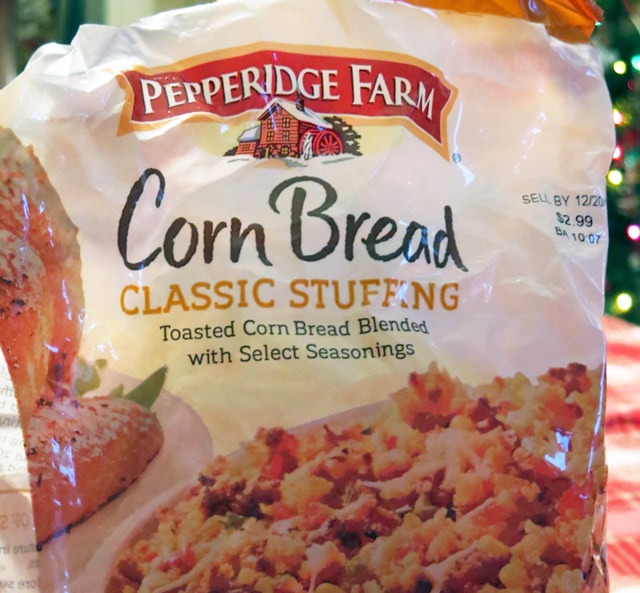 I came across several bags of stuffing that I did not use at Thanksgiving. I looked at the bags and thought, bread, seasoned??? So I tore open the bag, poured cup or so into a bowl and crushed them a little. I added milk to soften then. They quickly absorbed the milk and I got to work. I added the stuffing to the mixture and rolled them into balls, placed on the olive oil drizzled pan and put them in the oven to cook. Then, when they were nice and brown I added them to sautéed garlic and 3 cans of crush San Marzano tomatoes. I simmered this for 2 hours and hoped they were acceptable.
Necessity is the mother of invention and on that day I invented the most DELICIOUS, MOIST and FLAVORFUL meatballs I had ever tasted. They even surpassed my mother`s in flavor. I am glad I ran out of breadcrumbs that day and everyone who ate the meatballs would agree how tasty they were. So do not be afraid to try new tastes and ingredients, because, after all, cooking is all about experimenting and growing as a cook. Try it sometime.