The below is a dip my mom made for Grandma's birthday, another hit like her Fusilli Salad. I made the dip this past Saturday for a dinner party. My only recommendation on the below is to get "cocktail" or "baby" artichokes. I read in Cook's Illustrated once that baby artichokes don't have those harsh inedible leaves like their grown up brother. (kinda like me !) Sometimes in the marinated artichokes, you can get one of those leaves, which isn't fun.
The reviews were consistent the second time around, delicious! Its officially replaced my cheese display in my appetizer line up.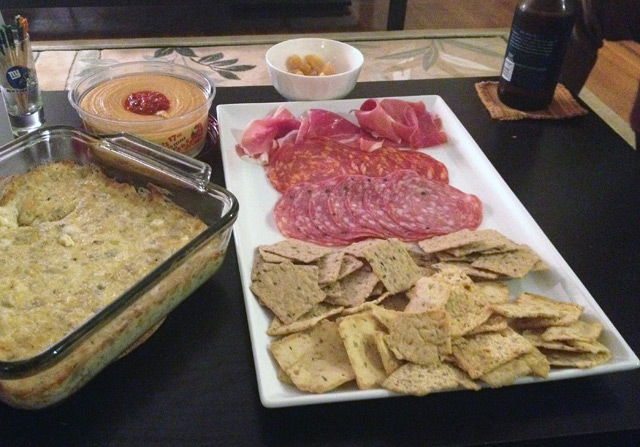 Ingredients
1 (8 oz.) block of cream cheese, softened
1 cup mayonnaise
1 (14 oz) can artichoke hearts, drained and chopped
2 green onions
1/2 cup grated Parmesan
1 cup shredded mozzarella
dash of hot sauce
dash worchestire sauce
salt and pepper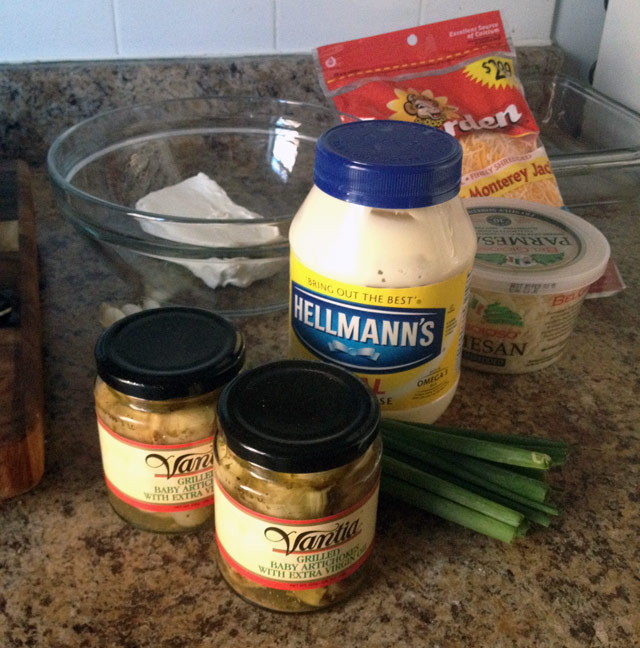 Directions
Preheat oven to 350 degrees
In a large mixing bowl, beat the cream cheese with a hand held electric mixer until smooth. Then beat in the mayonnaise until smooth. Add remaining ingredients and stir together until combined. Transfer the dip to pie plate or shallow gratin dish. Bake in preheated oven for 30 to 40 minutes until the top is golden brown and the dip is bubbling.
Serve hot with crackers, tortilla chips, crostini or veggies­­­ or pita bread.