by Maureen
on
October 22, 2014 3:57 pm
in
Recipes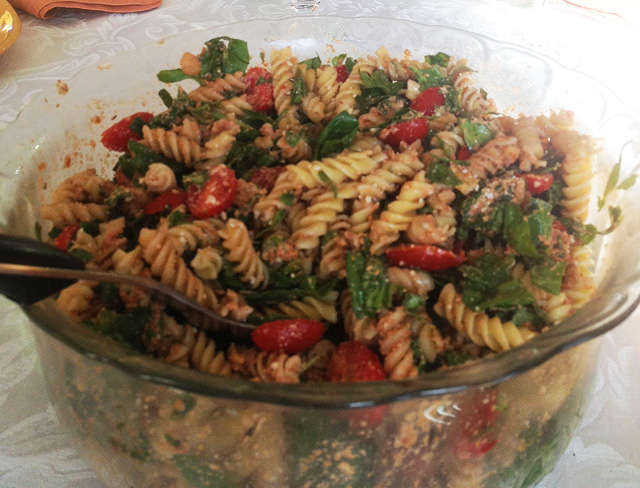 I made this recipe I found on Cooking.com a few weeks ago for Grandma's birthday party. It was a hit! Making pesto is expensive but worth every nickel – it's scrumptious.
As an added zing, you might want to add a cup of chopped black olives to the salad. I always alter recipes to make them my own or cater to my guests.
A little hint: you may want to thin the pesto with a little extra water, since it's thick. Let us know how yours turns out. Enjoy!
Serves 4
This tomato pesto packs a wallop of flavor.  Use it in this colorful pasta salad or toss it with hot pasta instead. Or as a spread mixed with cream cheese on a bagel!
Ingredients:
For the pine nuts: (or walnuts)
3/4 c. pine nuts/walnuts
For the Pesto:
15 drained oil packed sun dried tomatoes, 5 of them chopped
1/2 c. olive oil (or use oil from sun dried tomato jar)
1/3 c. water
1 1/4 tsp. salt
1/2 tsp. fresh ground pepper
For the salad:
1 lb. fusilli
1/4 lb. spinach leaves, shredded (about 2 cups)
1 c. halved cherry tomatoes (about 6 ounces)
1/4 c. grated Parmesan cheese
Directions:
For nuts: In a small frying pan, toast the nuts over moderately low heat, stirring frequently, until golden brown, about five minutes; remove from pan.  Or toast the nuts in a 350 degrees oven for 5-10 minutes.
For pesto: In a blender or food processor, put 1/4 cup of the nuts, the whole sun dried tomotos, the oil, water, 1/2 teaspoon of the salt and 1/4 teaspoon of the pepper. Puree until smooth.
For the salad: Meanwhile, in a large pot of boiling salted water, cook the fusilli until just done, about 13 minutes.  Drain.  Rinse with cold water and drain thoroughly.  In a large bowl, toss the pasta with the remaining 1/2 cup toasted nuts, 3/4 teaspoon salt, and 1/4 teaspoon pepper, the pesto, the chopped sun dried tomatoes, the spinach, cherry tomatoes and Parmesan.