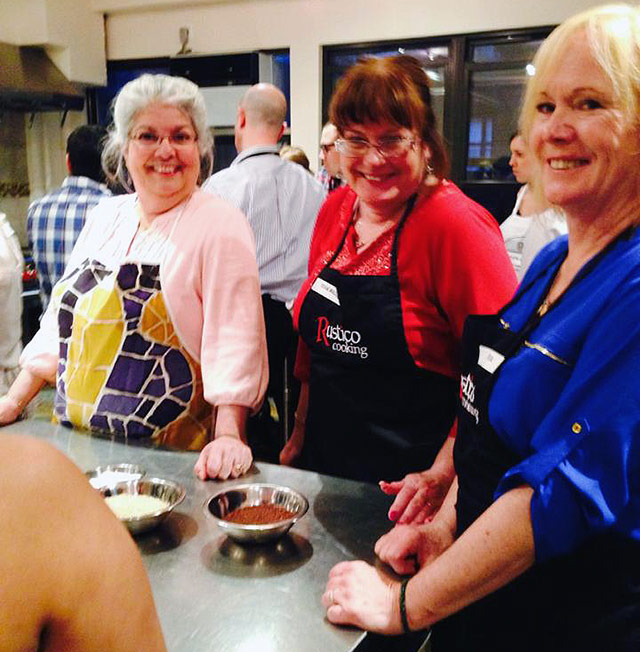 This was my fourth visit to Rustico cooking classes on 39th St. off of 5th Ave. in Manhattan and once again, it did not disappoint. I have gone to the classes alone and with groups of friends. People often ask me why I bother to go to the cooking class, since I am — as I have been told — a pretty good cook. But what is life about if we do not continue to learn something new? And after every class I have learned new techniques or recipes worth repeating. Our chef/teacher Micol runs the Rustico classes like finely tuned machine. She gathered her group of 23 very eclectic mix of people. There were some couples of various ages and I was part of my old friends which included one with celiac, (no glutens) and another who does not eat pork and all of the six of us have various abilities with cooking. Micol's very capable husband Dino is a true partner in the cooking process by keeping it all going along smoothly.
The menu for this evening included a lasagna with a bechamel/bolognese sauce, filet mignon with a green sauce, grilled vegetable with ricotta salata and a flourless chocolate almond dessert. Everything sounded so tasty but I was most interested in the lasagna. As a Sicilian/American, our lasagna is a heavy meal with a meat sauce and then the noodles mixed with lots of ricotta, mozzarella and grated cheese. The recipe at the class was a northern Italian classic that promised to be light and delicious. Micol had previously prepared the bolognese sauce in a large pan. But so we knew how to prepare it, she had the group create a small amount. This was great, so we would have actual hands on in the process. Much of our three hours was spent preparing the fresh lasagna sheets. Now I had take a pasta class here months ago and purchased a lovely pasta machine. After failing miserably at using the machine, I gave it to Paula and hope she learns how to use it better than me.
Back in the class with the help of many hands we were all able to create beautiful, light, wafer-thin sheets that cooked in boiling water for 30 seconds. I will avoid the details of this creation, but I do want to share the béchamel and bolognese recipes that I know I will try again. And if you are very confident in your cooking abilities or think you need some help, you really should check out Rusticocookingclasses.com to learn a thing or two. I highly recommend a great afternoon or evening with friends or even strangers. So I will share with you Micol Negrin`s recipes for the béchamel and ragu bolognese and if you want to learn from a master, try the classes, You will not be disappointed.
Serves 6 
4 tablespoons unsalted butter
1/3 cup unbleached all purpose flour
2 2/3 cups whole or 2% milk
1/4 teaspoon salt
1/8 teaspoon freshly ground black pepper
1/4 teaspoon freshly grated nutmeg
Melt butter in heavy bottomed pot, pour in flour stirring with wooden spoon
Cook for 5 mins for 5 minute stirring constantly- do not let flour overcook
(will change color if it is)
Heat the milk separately, then poor into the butter/flour mix beating vigorously with a wire whisk. Bring to a boil, whisk often and cook ten minutes. Season with salt, pepper, and nutmeg. If lumps strain before using
Ragu Bolognese
3 tablespoon unsalted butter 6 ounces diced panceta
1 medium yellow onion minced
1 medium carrot minced
1 celery stalk minced
5 ounces beef ( not too lean) 10 ounces pork 3 ounces veal (all cubed and diced)
3/4 cup dry red wine 1 cup beef or chicken broth
2 cups chopped San Marzano tomatoes
1/2 teaspoon salt
1/8 teaspoon black pepper
2 cups whole milk or half & half

Use heavy 12 inch saucepan melt butter over medium heat
add pancetta, onion, carrot and celery and cook 15 minutes
they should wilt not color
add beef, pork and veal and cook 15 minutes stirring occasionally
the meat should brown and get golden. do not stir too much
deglaze the pan with the wine and cook 10 minutes more
Add tomatoes, broth, salt pepper and cook until broth is absorbed,
about 10 minutes more
Pour the milk and cover the pan- lower to medium-low and simmer for 1 hour
or until the milk is absorbed and ragu is tender. If the mixture gets dry, add more mile and adjust salt to taste
Cook until mixture is thick, but not dry.
You can make fresh lasagna pasta, if you are brave or take the coward's way out of refrigerated pasta (better than boxed.)
You can figure out the layering with the béchamel and some fresh ricotta and ragu and do okay,
But the class teaches you a finesse and style to cooking that family and friends with totally appreciate.