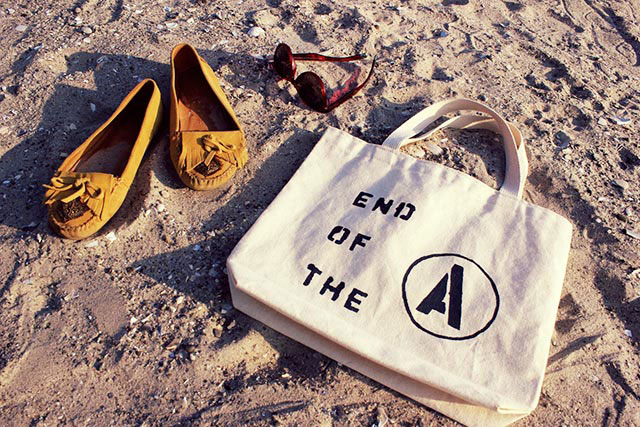 We recently caught up with Rockaway residents Beth Waytowich and Tara Mckiernan, co-owners and creators of  the End of the A Mobile Boutique. Yes, we're talking about an on-wheels fashion boutique servicing the Rockaways! Here's the scoop…
Q: What was the inspiration for End Of The A Mobile Boutique?
The inspiration for the name 'End Of The A' is Rockaway being the last stop of the A train. The idea for a mobile boutique stemmed from Tara and I wanting to turn our love for fashion and the beach into a business. Rockaway has opened its arms to new businesses and we feel a mobile boutique will fit right into the lifestyle of living by the sea.
Q: What types of items will be for sale?
We recently went to Accessories The Show where we purchased clothing from wholesalers in California, we bought necklaces from Texas, and scarfs from Georgia. We have more inventory that we have to purchase like a beach kit that will have sunscreen, lip balm and hair care products. Along with the above, we'll  have head wraps, skin care, jewelry boxes, handmade pottery, and candles for purchase. Not only will we offer items to buy, we want to offer Rockaway residents and beach visitors a new experience in shopping. People can expect great customer service, interaction and just all around awesomeness.
Q: We're a food centric blog, we have to ask (!!)… Where's your favorite place to eat in Rockaway?
Beth – The place that will always have my heart is The Beach Club but that is no longer open. My go to place is Tiberios on 116th. It is a little Italian restaurant that makes you feel like your in nonna's kitchen.
Tara – I have two because I can't just pick one, 1 – 101 Deli, the Thursday special gets me every time, 2 – newly opened Pico on 129th because honestly who doesn't love guacamole all day everyday.
Q: Beth, as a native Rockawayite, can you share with us a special memory from your childhood on the peninsula?
Having lived in Rockaway my entire life (29 years), I have a lot of memories. I would have to say my favorite memory or maybe it's more of a tradition would be the Fourth of July parade that my block has every year. It is titled the most rag tagest parade. It only goes down the two hundred block and the beach block but all the neighbors come out and the kids ride bikes, get pulled in wagons, and skateboard down the block. Once everyone is at the beach wall, someone sings the national anthem. This sentiment is what we want our truck to represent; community, positivity and fun.
Q: When can we expect to see the End of the A Mobile Boutique around town? How can we locate the truck?
Our truck will be hitting the road beginning of June, just as the long awaited summer is finally here. You can find where we will be parked on twitter (@EndOfTheA), instagram and our website.