by Clare
on
November 17, 2013 9:30 pm
in
Food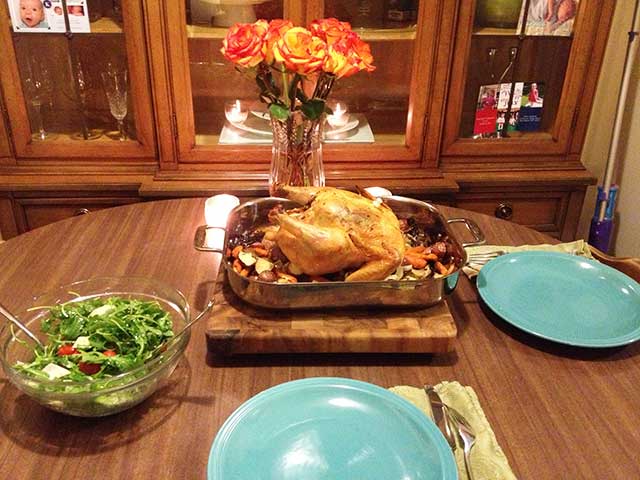 My idol is Ina Garten and one of her favorite meals to make for her husband Jeffrey is roast chicken. I decided to try it out and modified it a bit to my own tastes. Ina uses fennel and I absolutely hate fennel, its really the only food I wont eat.
Ingredients
1lb red potatoes halved
1lb carrots (2in pieces)
1 large onion chopped
5lb Roasting Chicken
3/4 oz Rosemary (about 8 sprigs)
2 tbsps butter (at room temperature)
1 head of garlic halved
1 lemon halved
Directions
Preheat the oven to 425 degrees.
In a roasting pan, put the potatoes, carrots and onion. Coat the vegetables with olive oil. Dice 2 sprigs of the rosemary and mix with the vegetables. Salt and pepper to taste.
Remove the gibblets from the chicken cavity. Usually in a bag like this.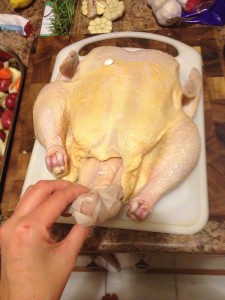 Save the gibblets if you want to make chicken stock.
Put the the lemon, garlic and 5 sprigs of the rosemary in the chicken cavity.
Take 2 tsbps of butter, 1 diced sprig of rosemary and 1 diced clove of garlic and mix. Under the chicken skin, spread the mixture. I take scissors to cut the skin under the breast to spread, like so.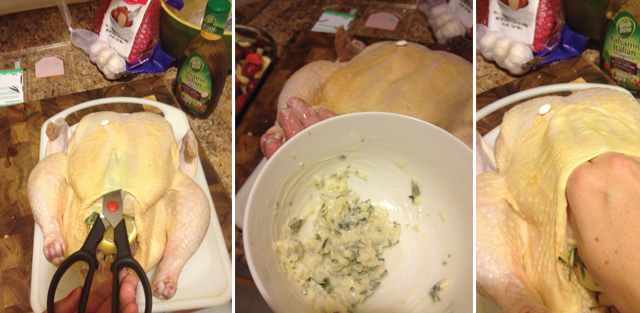 To coat the chicken, you can either use butter or olive oil. I use olive oil typically. Coat the bird with either.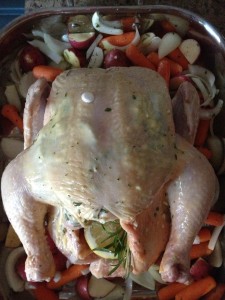 Cook the chicken for an hour and half or until the juices run clear when you cut between a leg and thigh. The internal temperature should be 165 degrees.
The end product should look something like this.