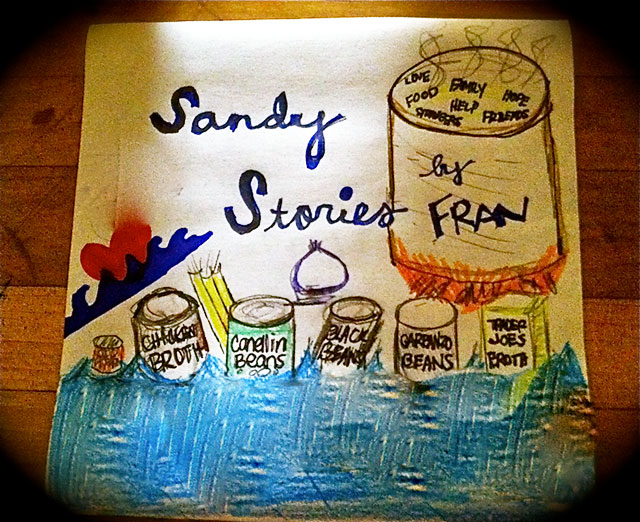 We would like to share with you our posts from this past year, that speak to Superstorm Sandy. And we want to thank you, our family, friends and neighbors who have helped us rebuild our homes and our beloved community.
A water surge and 4 feet of salty smelly sand flooded it nearly to the ceiling. We couldn't save much. It was hard to imagine that all the "things" we had been saving would find their way to the curb and the garbage dump.  In the haste to remove the mess, we all got caught up in the removal and it wasn`t until later, when we looked at the photos we had taken for the insurance company, that we we realized just how much was gone. – Fran
A little note about sandy (that bitch)
So many of our friends and family live in Breezy Point and Rockaway – it's been a difficult, sad, strange week. Having said that, the folks on the peninsula are positive people – who love their community. I was in Rockaway today helping my husband's parents clean out their basement. I heard joking and laughing on the streets, I saw people working hard, shoveling and moving debris. Others were passing around hot coffee and on 116 a bunch of fire fighters were grilling up burgers for anyone who wanted a bite. – Paula
Gothamist feature:
Video: Breezy Point Resident Shows How To Prepare An MRE
Meal's ready to eat, and thoughts on survivalism.
In my mother's house in Breezy Point, we thought we were pretty prepared for disaster. First aid kits, bottled water, canned food, camping gear, even desalinators, all part of our disaster survival kit. And then we stored them IN THE BASEMENT! Needless to say, we were prepared for the wrong disaster. – Susanne
Sandy stories: how to eat without power (or heat)
The bags of carrots and celery and onions that had been in the now empty refrigerator were wilting on the window ledge. So I took the large pot that I had rescued from the flooded basement and began chopping the vegetables….

…When it was done, I had a huge pot of delicious soup.  I shared it with Mike and our neighbors. The hot soup was also served in styrofoam cups to the Sanitation workers who diligently and daily removed the garbage from our streets. It warmed my heart to make them feel a little better. – Fran
I began the comforting task of baking pumpkin bread. As I baked, I distributed the bread to neighbors on the block who worked together to bring our homes back. Each bread brought smiles not seen much these days. – Fran
From 11am to 4am the first Saturday of March Rockaway celebrates and this year  it was well-deserved. Sen. Chuck Schumer at the parade shouted "Rockaway is the best community in New York" – no doubt this is true. – Paula
Our fig tree survived. So did we.
When we finally did check out my beloved fig tree, things didn't look good. There was a grayness, probably from the salt water that seemed to cover the leaves. We had a particularly abundant crop the summer before and now it seemed that it would be our last…

We remained hopeful, though, that it could get back to where it had been — the same hope we felt in our heart about our home, Rockaway.

I started seeing the tree as a symbol of Rockaway: If the sturdy and beautiful tree could rise from the rubble, so could our town. – Fran