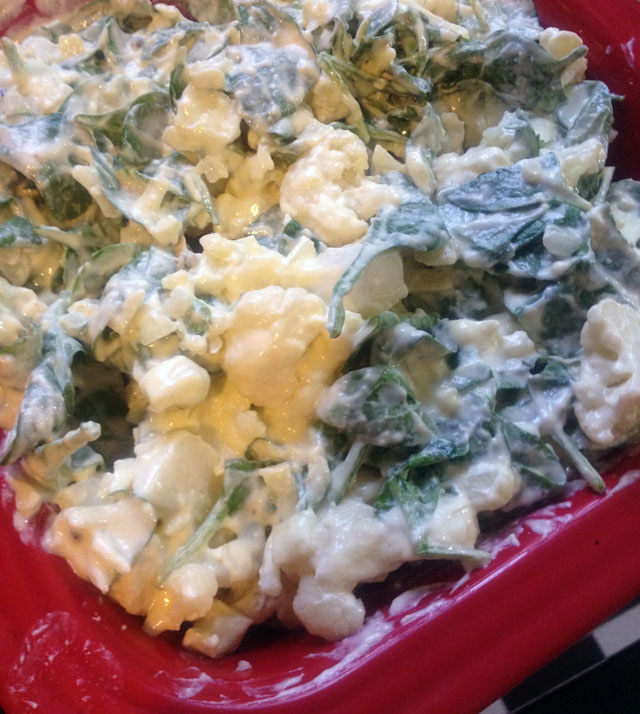 At this point, I can read a recipe and know if it will be good or not. If you cook regularly, I'm sure you feel the same way. I found this spinach casserole recipe on barbellsandbellinis.com  and thought the bulk of the ingredients were great.  Like most Italian cooks, we like to take the fundamentals of a recipe and then modify, making it our own.  Saying you followed a recipe is a little embarrassing, no?
I've been loving cauliflower lately so I thought to add that to the mix, increase the garlic amount (I almost always double for all recipes I "follow"), I decreased the mayo and excluded the parmesan. I'm a Romano kinda gal!
The Greek yogurt/Romano cheese combo has a rich, satisfying flavor, which is impressive for this low-calorie side. Mangia Mangia!!
Ingredients:
1 tub 0% cobalt Greek yogurt
2 heaping table spoons of regular Hellmann's mayo
1 head cauliflower
1 bag spinach
1/2 cup romano cheese
4 cloves garlic – finely chopped
Salt and pepper to taste
A sprinkle of nutmeg
4 table spoons olive oil
1 medium white onion – finely chopped
2 eggs beaten
Note: I significantly changed the original directions to make it easier,  I found no need to fry the garlic and wilt the spinach separately. Big time saver!
Directions:

– Cut  the cauliflower into medium/small florets, Par boil
– Let the cauliflower drain well allowing it to sit for at least 5 min. You don't want excess water in your mixture
– While the cauliflower is draining, combine all other ingredients in a bowl, gently mixing in the spinach last
– Once drained place cauliflower in a casserole dish. Pour spinach mixture over the cauliflower making sure everything is coated well
– Cook uncovered for 25 min at 350 degrees, cool a bit and serve