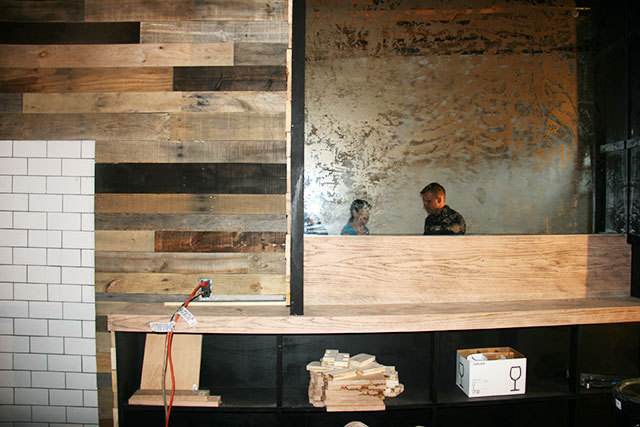 Last Saturday we ran into Patrick Flibotte co-owner of the new wine bar Sayra's, soon to open on 91-11 Rockaway Beach Blvd.
"Want to take a look?" Patrick asked, offering an unexpected invitation which we immediately accepted. Susanne and I were thrilled to get a first peak inside the much-anticipated, first-ever wine bar in Rockaway.
My reaction when walking in was… this place is really special. After talking with Patrick it all made sense. He's an artist with a concentration in sculpture and welding. From the handmade bar stools to the reclaimed pallets that line the walls floor to ceiling, you can see the care, time and dedication that went into creating the space. Patrick explained it was hard to find labor with contractors stretched thin from Hurricane Sandy so he just kept working on it, building the bar practically all on his own.
After admiring the interior, we headed outside to the backyard where picnic tables and planters filled a large lot. There's a movie screen ready to show some  flicks and one of Patrick's sculptures for viewing. The natural, simple feel really works.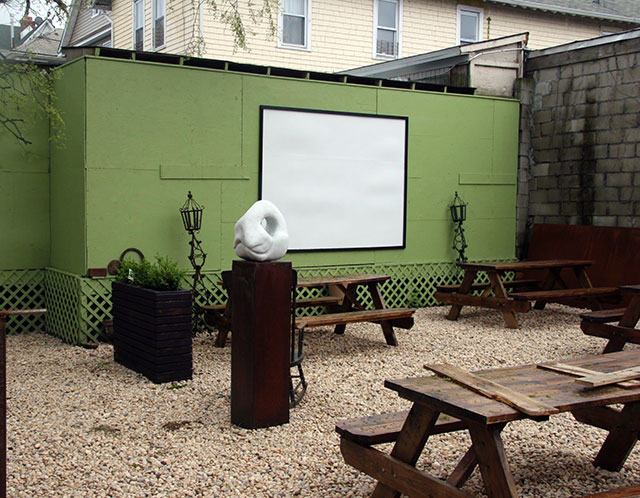 How did this all come about? Patrick met Rashida Jackson bartending in Fort Greene. Jackson, a Rockaway native, had the vision and the business plan for years but funding was difficult. With committed interest from Patrick and funding from a recent art commission, they took a chance and signed the lease for Sayra's… two months before Sandy hit.
Patrick and Rashida were  by no means reluctant to clean up and start construction after Hurricane Sandy took its toll on their new rental.  In fact, they were even more motivated to start building the wine bar – they wanted the community to have something to look forward to and enjoy.
And enjoy we will, when we're sipping wine at  Sarya's Memorial Day weekend – a litte beach, a little bar, can't wait!  And we'll bet you a glass of red that this will be Rockaways new summer hot spot, for locals and visiting beach-goers alike. Look forward to some surfer inspired wine selections, beers on tap, sake cocktails, and a tapas menu. A laid-back vibe is encouraged – flip flops welcome!