by Maureen
on
April 23, 2013 10:03 am
in
Food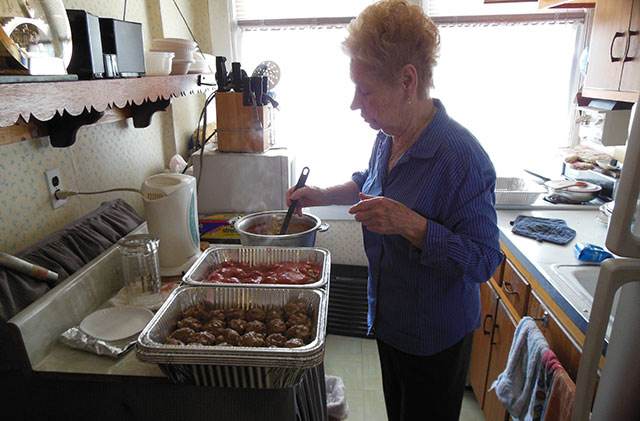 Never before released, this is Granny Martha's meatball recipe. There's something about Grandma's just knowing how to make a delicious Meatball, am I right? I guess it's the years of practice and finesse that lead to the perfect combination of ingredients.
Granny Martha's Meatballs
Makes about 64
Ingredients – Meatballs:
4 – 4 1/2 lbs chuck chopped  80% lean ground beef
1 medium loaf of soft white bread-, discard heels
1 large onion finely chopped
5 cloves garlic finely choppped or minced
1/4 c. salt
1 tablespoon of black pepper
Large bowl of warm water
2 jars of granny's sauces (see below)
For the sauce:
1 can tomato paste
1/2 lard (it comes in a package like butter)
1 large onion-chopped finely
4 cloves garlic-chopped or minced finely
beef bones
2-3 cans tomato puree
1 heaping tablespoon Vegeta (or oregano and basil)
Directions: Melt lard in a 12 quart pot. Add bones and brown on all sided. Remove from pot. Add onions and garlic with the tomato paste. Mix well. Add the puree and vegeta (or basil and oregano) and put bones back in. Cook for 2-3 hours, stirring occasionally.
Directions – Meatballs:
1. Preheat oven to 350 degrees.
2. Soak the bread in a bowl of warm water for a couple of minutes until saturated and mushy.
3. In a very large bowl, take the meat and break it up with bare hands, add the onion and garlic. Mix together.
4. Squeeze out the water from the bread, break into small pieces and add to the mix.
5. Add salt and pepper.
6. Thoroughly work the mix with your bare heads, making sure everything is completely blended.
7.Taste the mix and add more salt and pepper if necessary
8.Take a heaping tablespoon of the mix and roll into a ball with your hands.  It's a good idea to keep a bowl of warm water next to you to wet your hands since this makes rolling the meatballs easier.  Place the meatballs side by side on a greased baking sheet.
9. Bake in the oven for 15-20 minutes or until done.  You know they're done when you lift a meatball and it feels light.  Keep the pan drippings to add to the sauce.
10. Place one row of meatballs in a pan and add the sauce. Use homemade sauce and add the pan drippings for flavor. Bake in the over until the sauce is hot.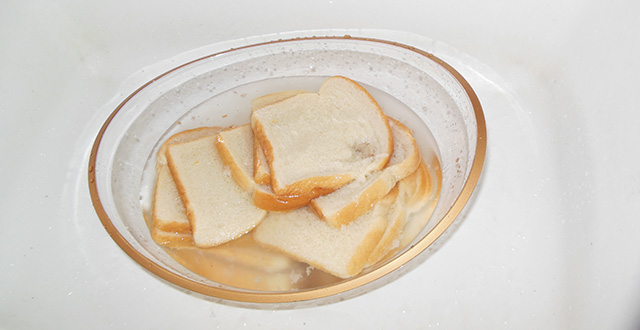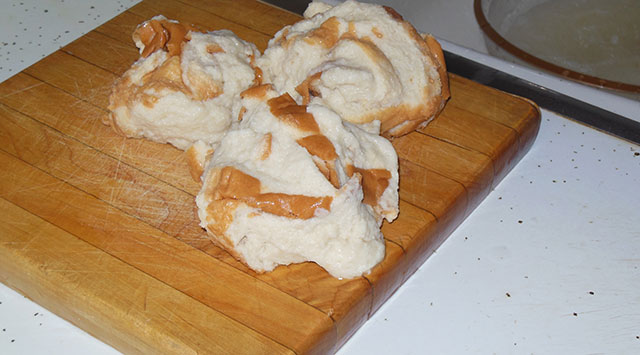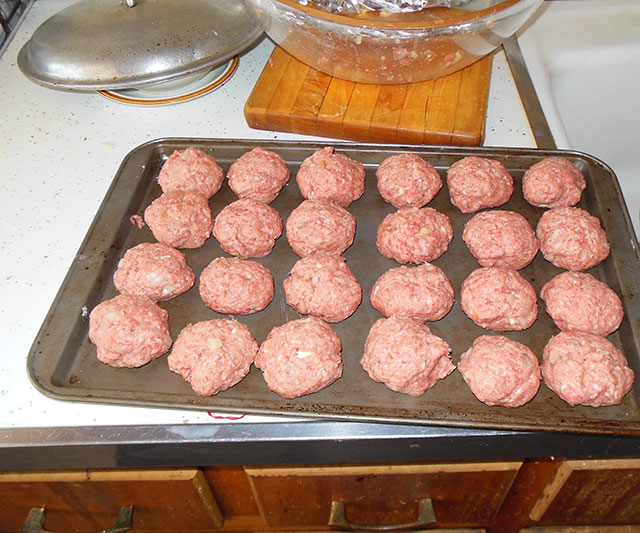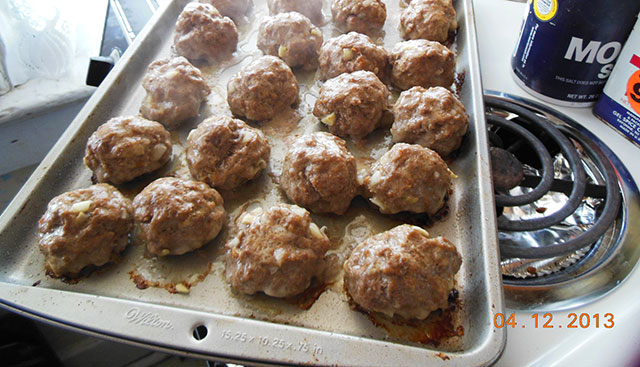 This recipe is great for a party – you can make this a day or two in advance and just pop the pan on the sternoes to heat up. The meatballs can also be frozen without the sauce.
Thanks Grandma Walsh for sharing this with us!