Everyone was raving about these southwestern turkey meatballs with cream sauce I made for Maureen's Rockaway St. Paddy's Day Party. I had several requests to post the recipe. I found it on skinnytaste.com. The name of the site implies this is a low-fat recipe and it is (!!) but for the party instead of baking the meatballs, I fried those suckers!
Since then, I've made more creamy cilantro dipping sauce and used it on chicken cutlets. Total win – my Husband and JUMBO devoured  8 cutlets in one sitting. The sauce is versatile as the base is a ranch mixture.  Try using it on hot wings, pork, or even drizzled over a roasted veggie medley.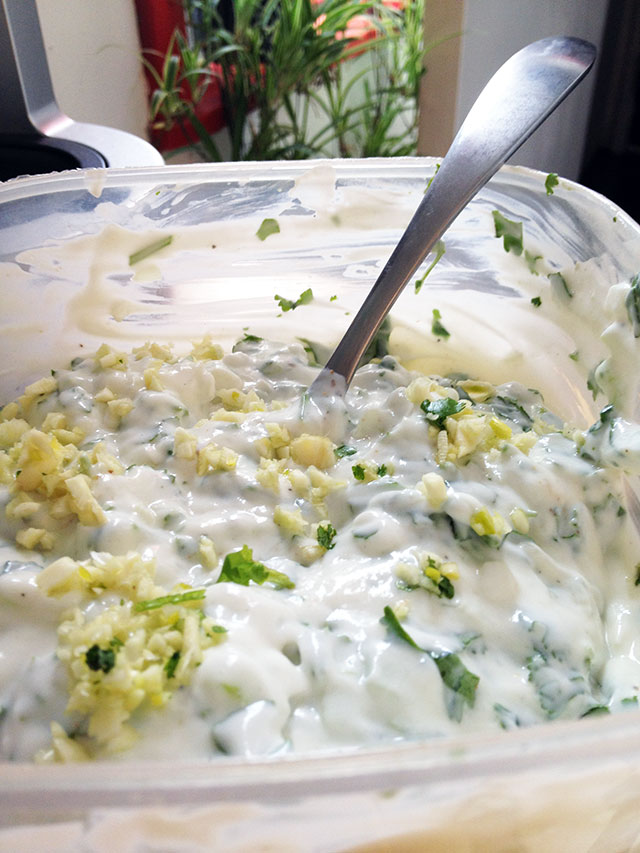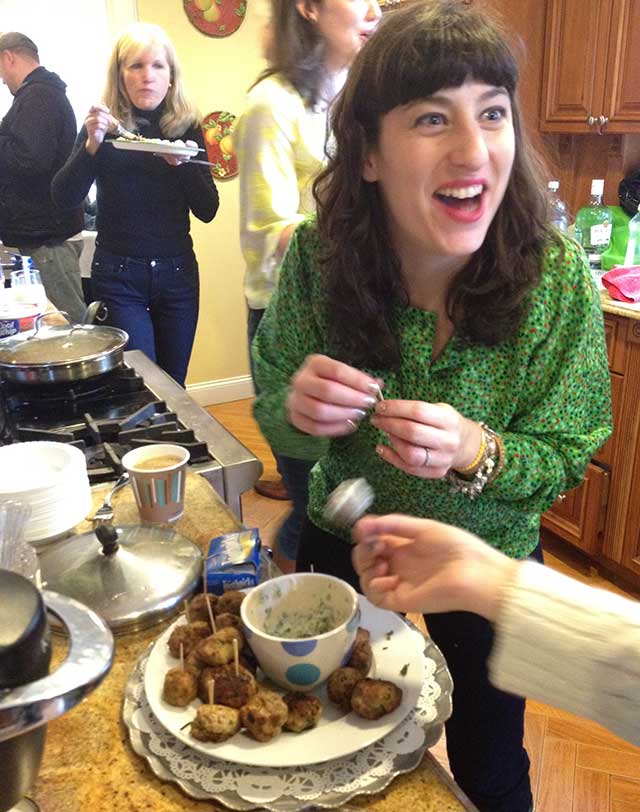 Before I could set up the second tray, people were pulling the meatballs right off!
Creamy Cilantro Tomatillo Dressing
Makes 1-3/4 cup
Gina's Weight Watcher Recipes
Servings: 7 • Serving Size: 1/4 cup • Old Points: 1 pt • Points+: 1 pt
Calories: 43.3 • Fat: 2.4 g • Protein: 2.1 g • Carb: 3.7 g • Fiber: 0.3 g
INGREDIENTS:
1/2 cup lowfat buttermilk
1/4 cup light mayonnaise
1/4 cup fat free Greek yogurt
1 small jalapeno, seeds removed, leave them in if you want it spicy
1/4 cup of fresh cilantro
1 tomatillo, husks removed, chopped
1 clove garlic
1 scallion
juice of 1/2 lime
1/2 tsp dried parsley flakes
1/8 tsp cumin
1/4 tsp fresh ground pepper
1/4 tsp salt
Combine all ingredients in a blender. (I just hand chopped everything)
Southwest Turkey Meatballs
Makes 24 meatball
Gina's Weight Watcher Recipes
Servings: 12 • Size: 2 meatballs (sauce extra) • Old Points: 1 pts • Points+: 2 pts
Calories: 67.1 • Fat: 1.8 g • Carbs: 2.3 g • Fiber: 0.4 g • Protein: 10.5 g
INGREDIENTS:
1-1/4 lbs 99% lean ground turkey
1 jalapeño, seeds removed (leave some in for spicier meatballs)
2 cloves garlic
1/4 cup chopped fresh cilantro
3 scallions
1/4 cup seasoned bread crumbs
1 egg
1 tsp cumin
pinch oregano
salt and fresh pepper
cooking spray
DIRECTIONS:
Lightly spray baking pan with oil. Preheat oven to 400°.Place jalapeño, garlic, cilantro, and scallions into a small food processor or chopper and pulse a few times until finely minced.In a large bowl combine turkey, chopped herbs, bread crumbs, egg, cumin, salt and pepper. Using your hands, mix well and measure 1/4 cup meat, then divide in two so you end up with each meatball 1/8 cup in size. Roll and place on a baking pan.
Bake meatballs at 400° 15 minutes. (I fried!)