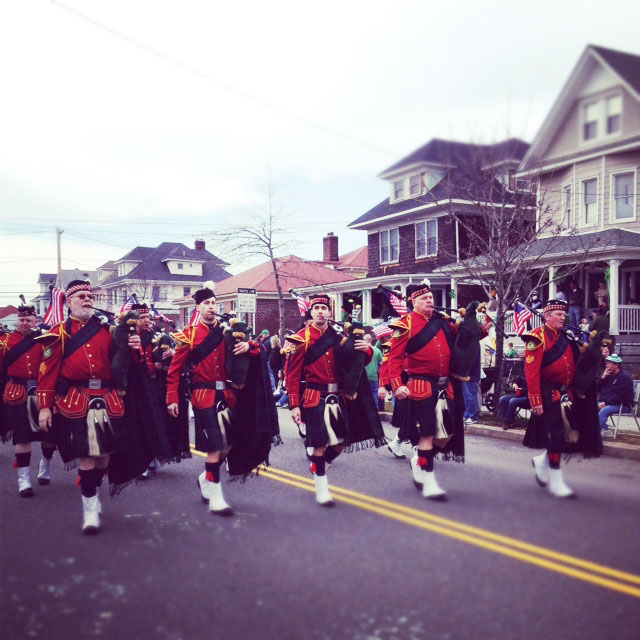 Jambalaya it is for Rockaway St. Paddy's Day!  It's a great dish to make if you're having a lot of big eaters over or if you want to set something up the day before and finish it off the day of.  Add some hearty bread and it's a meal!  This is also good around the Super Bowl or the weekend before Lent starts since it's very New Orleans/Mardi-gras-esque.
This recipe is based on a cooking.com recipe I tried a while ago. They plug their own Capn Butt Kickin Blacken spice but you can use the store brand of cajun spice.  I ordered a bottle of the spice from CapnRons.com and it was about $11!  As it is, this is not a cheap meal to make.
JAMBALAYA
This is a great one pot meal and can be spicy or not depending on how much Cajun spice you use.  Use a 12-16 quart pot.
INGREDIENTS:
1/4 c. vegetable oil, as needed, for frying
1 1/2 lbs. Andouille Sausage
5 lbs. Chicken thighs, boneless and skinless
2 tablespoons Cajun spice, as needed for chicken
2 teaspoons Kosher salt, as needed for chicken
4 medium onions, chopped
2 medium Pablano Peppers, chopped
3 medium carrots, chopped
3 stalks celery, chopped
6 cloves of garlic, minced, or grated
4 medium jalapeno chile peppers, minced, with seeds
6 medium Thai, or Habanero Peppers, minced
2 tablespoons Tomato Paste
2 cans diced tomatoes, 56 ounces total
2 tablespoons Cajun spice
1 Quart Chicken stock
2 cups long grain rice, like basmati
1 1/2 lbs. shrimp, peeled and deveined
DIRECTIONS:
1. Cut sausage into 1/2″ chunks.  Put some oil in the pot you'll be cooking everything in, and brown the sausage.  Remove from the pot.
2. While the sausage is cooking:
Cut the chicken into chunks, and place in the same pot 1/2 at a time (you don't want to crowd the pot, or the chicken will steam instead of browning).  Brown, adding additional oil if you need it.  Remove the chicken and reserve with the sausage.
3.While the chicken is cooking, you can start chopping the veggies.  If you can't find the peppers, use dried ones that are thin and about 2″ long.  Just put them in a blender with enough water to make a puree, then add to the pot.  Turn the pot down to medium heat, add additional oil, if needed and dump in the vegetables.
Cook over medium/high heat, covered, until they're soft.
4. Add the tomato paste and stir until it's all incorporated.  Add the sausage and chicken back into the pot, then the tomatoes and simmer for about 45 minutes, or until the meat is cooked through.
5. At this point, you can either continue, or turn off the heat and finish it off the next day, or later in the day.
6.Add the chicken stock and bring the pot back to boiling.
7. Wash the rice well to get rid of the excess starch that's on the outside of each grain.  You can either put it in a strainer and hold it under running water or put the rice in a bowl and add very hot water and then strain.   Add to the pot.
8. Bring it back to a boil, add the shrimp, bring it back to a boil, then turn down to simmer, covered.  Cook for an additional 25-30 minutes stirring every once in a while to keep the rice from settling on the bottom and sticking.  Taste the rice to make sure it's done.  Let it rest for a few minutes, then serve.  Don't worry if the rice hasn't absorbed all the liquid, the resting will give it a little more time to soak into the rice.
9. Save the leftovers in chinese tupperware in the refrigerator.  To reheat, place the Jambalaya in a pot, add a little water, and simmer for about 10 minutes.  Delicious again!
HINT: I don't like to add the rice to this so I cook it in another pot and let people help themselves.  Otherwise, I find it get mushy, especially when eaten as leftovers.