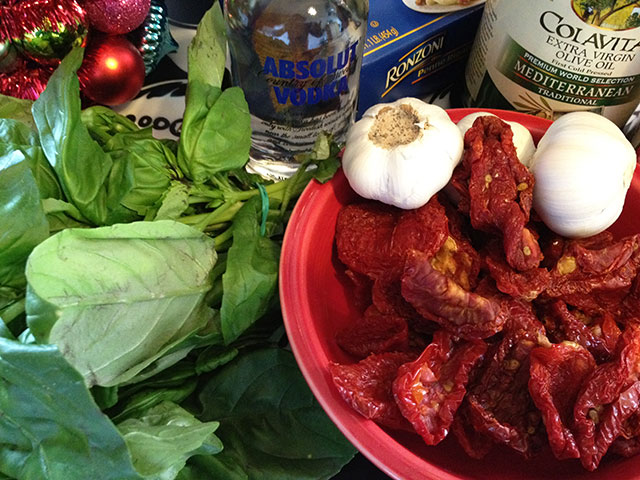 I learned how to make a mean alla vodka sauce from my sister Maria. It's tasteful and rich – her special ingredients are sun-dried tomatoes and the DiGioia red sauce.
Using a base red sauce isn't common. Maria adopted this technique for mass production (for big parties). We usually have sauce frozen in the freezer, so it's also convenient. Note: the taste of your base red will effect the alla vodka dramatically. Make sure it's a tasty batch or you'll be starting off on the wrong foot.
One uber important tip I learned from Maria is to wait until the very last minute to add on the sauce.  The pasta will absorb the sauce quickly. I had an embarrassing incident at the Walsh Christmas party where my penne was dry. I blame it on my wine consumption that day. I forgot to add extra sauce and the tray was sitting on hot sternos for a while – a recipe for disaster.
For 1 pound of penne
Note: the measurements are general, we usually eyeball it and then taste, who really measures anyway…
Ingredients:
4 large cloves of sliced garlic
Extra virgin olive oil – to cover bottom of the pot lightly
Diced fresh tomatoes, 3-4 medium sized
3/4 cup diced sundried tomatoes (not the ones in oil)
About 2 cups heavy cream
Homemade red sauce  (around 1 cup )
1/2 cup vodka
Salt and pepper
Basil to taste
Pecorino romano to taste
Directions:
1. Slice garlic and add to olive oil – low heat
2. Dice fresh tomatoes, add to oil.
3. Dice sundried tomatoes, add to oil
4. Add in some red sauce
5. Slowly add heavy cream until light pink. Stir and  bring to a light boil. Then turn down the heat to  low, cook  for 20-30 min.
Getting the right color/ taste combination is key. Add the heavy cream little by little. The flavors need time to combine. Taste occasionally to make sure it's right.
6. Boil a pot of water, add in 2 tablespoons of sauce and a basil leaf. The pasta will absorb that flavor. Transfer pasta into a serving dish and add a little oil and  sauce so it doesn't stick.
7. Finish up the sauce by turning the heat to high,  add the vodka. There's been so many times that we almost forget the vodka, so don't forget!
8. Remove from stove, pour sauce on penna and serve right away.