To celebrate our 30th wedding anniversary, my husband Mike signed me up for a cooking class at Rustico in Manhattan.
I thought for a second that he was dissatisfied with the food I have been serving him, until he explained why he got it for me.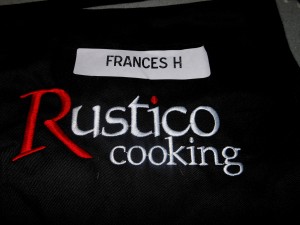 "I thought it would be something different," he said. No longer offended, I checked out the site to see what class I'd choose.
I selected a holiday cookie class. We would make 6 Italian style cookies in less than 3 hours – something I didn't think I could accomplish, but I did.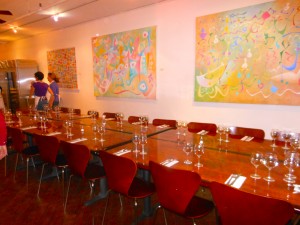 I entered the Rustico cooking area – a wide, bright, cheerful space with large paintings and long tables for us to prep our food. The group was mixed, from couples of all ages to groups girlfriends. I came alone, but felt very welcomed by the enthusiastic people.
We were in the capable hands of Micol, who is obviously an accomplished chef. She told us the 3 hour session would allow us to bake 6 types of Italian cookies and we would still have time for a light lunch.
The cookies were Chocolate Almond Meringues, Crunchy Almond Biscotti, Cinnamon-Scented Fig & Walnut Biscotti, Jam-Filled Butter and Pecan Cookies, Anise & White Wine Biscotti, Sicilian Fig Cookies.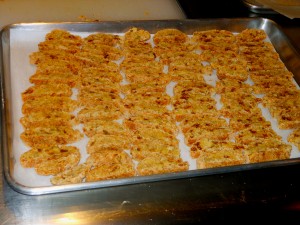 Micol allowed us to be real cooks and we did not use electric or stand mixers.  The 24 of us were divided into 2 groups and we each took a long stainless steel table.  The ingredients were all measured and we all shared in the responsibility of creating the cookies. With precision timing Micol moved us along and kept us on track to mix, shape and bake the cookies.  One by one we watched the cookies come to life.   The time just flew as we helped each other and worked as a well oiled machine.
Micol was very conscious of the need to continually wash our hands if we took pictures or sneezed. Great advice when working with a group in hands on mixing.
As the room filled with delicious smells of the cookies we were all amazed at what was going on. After 2 hours or so of baking we sat down to a delicious lunch of braised fennel and carrots, orrechette pasta with baked cabbage and an arugula salad.We sat down at a long table and toasted with a white wine.
Our dessert was a plate of the six cookies we had created with a lovely red wine and espresso.
I had a wonderful time and when I got home, I perused the web-site of RUSTICO  to check out the great choices for other cooking sessions.
I hope to come back with a group of friends to experience it together. Bravo!