I love to cook but its hard when you have a full time job to cook on the weeknights. I try to make dishes that will last a few meals and will taste better as they age. (If you have any recipes, send some along!) One of the dishes I cook most often is turkey chili. If you follow us on twitter, you've probably seen a couple of tweet pics of me in the process of making turkey chili.
What I generally like to do, is combine the best parts of recipes that I see. I will usually search for a particular recipe and then make sure that the different recipes I am taking from have the measurements. (e.g. for a chili recipe, I'll make sure all of them use about the same amount of meat and sauce) I call this an 'averaging of recipes'. Below is the averaging I did on turkey chili, its pretty good if I must so say myself (and I will!).
Let me know how you like it!
Ingredients:
1 large onion ( or 2 medium) diced
2 cloves of garlic minced
1 red pepper diced
1 green pepper diced
1lb ground turkey ( or beef if you wanted, or leftover shredded turkey from Thanksgiving!)
1 15oz can of corn
1 15oz can of chick peas
1 15oz can of black beans
1 15oz can of kidney beans
1 29oz cans of crushed tomatoes
1 8 oz can tomato sauce
1 6oz can tomato paste
1/4 tsp cayenne pepper
1/2 tsp cumin
1/2 tsp paprika
2 tbsp Olive Oil
hot sauce to taste
Brown the meat in a skillet and drain. Set aside.
In a large pot ( I use a cast iron pot, 4qt should do) heat the olive oil over medium heat. Once hot, put in the onions. Sweat the onions for about 2-3 minutes and add the peppers.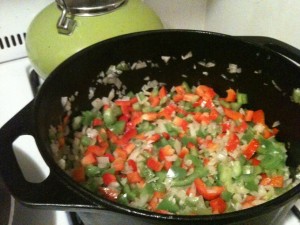 I usually add a pinch of pepper and about a 1tsp of salt at this point. Add the meat, crushed tomatoes and tomato sauce. I usually like chili thicker, so I add in the tomato paste as well. If you like the consistency of the sauce, you don't have to add the tomato paste.
Drain any liquid from the canned vegetables (the corn, chick peas, black beans and kidney beans) and add them in.  I then add the cumin, cayenne pepper and paprika. I think you can switch these spices up and add more or less as you see fit. Depending on what you like you can add red pepper flakes or some hot sauce. I like it hot, so sometimes I throw both of those in.
Stir all the ingredients together and keep on medium to high heat for a few minutes (3-4 minutes should do). Put the cover on and adjust the heat to low and simmer for at least 2 hours. You can eat some after it simmers, but the best is when its sat overnight.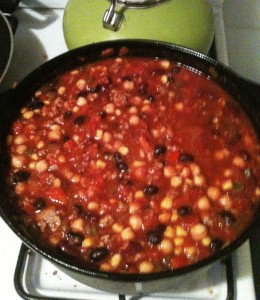 Hope you enjoy!