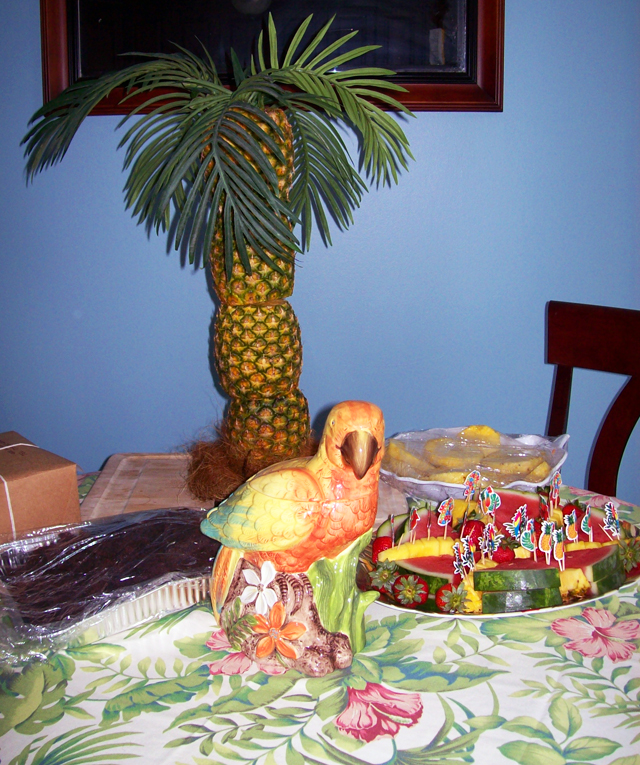 Aunt Brenda came up with a creative decorating item for your next Hawaiian luau party – a pineapple tree!  She created this splendid centerpiece for Aunt Joanie's party this past Saturday – it was a big hit to say the least.
What you'll need… (Try to find most of this stuff around the house or at a thrift store)
Board about 12″x18″ about 1″ inch but it can also be round
Drill with long 7/8″ bit
7/8″ dowel
Screw about 1 1/4″ long
Drill
2-3-4 pineapples depending on how big you the tree
Palm leaves or other foliage from a plant that looks like palm leaves
Cocoa mat like the inside of a hanging planter
Long wood skewers or four-eight sets of chop sticks (or long skinny dowels cut in 12″ lengths)
From the underside of the board, screw the dowel in place so it's upright (perpendicular to the board). Cut the tops and bottoms off the pineapples as level as you can. Drill a 7/8″ hole in the center of each of the pineapples from top to bottom. Take a pineapple and put it through the dowel. Do the same with the second one so one is on top of the other.  Place four (4) skewers  at 12, 3, 6 and 9 o"clock positions on the pineapples as deeply as possible. If you decide to do a third and fourth one do the same but try not to place the skewers in the same place because you want to give the display more stability. Attach the palm leaves (you can also buy these at a craft store or dollar store) with toothpicks or U pins.  Take some seed pods from a plant and make like they're tiny coconuts. Shred the cocoa mat and hot glue it to the board.  Or if you prefer, cut it to size before you put the dowel on the board and hot glue it flat.
You can make the tree 2,3 or 4 pineapples high.  Anything higher is hard to transport and can become unstable.  (In other words, crashing on the floor.)
As you can see from the pictures, it is a fun project. Author Fran Honan is seen with it and is displaying her wonderful Italian cookies from Aliotta's in Brooklyn.  Of course, Frannie made her wonderful, moist brownies.  One day she is going to share her secret to making her brownies – so good!