It's wedding season and I'm a bridesmaid! My childhood friend Jackie is getting married to her fiancé Rich this June. I accepted the invitation to be in her bridal party happily and I'm truly honored to have a special role in my friend's wedding celebration.
The bridal shower was this past weekend and I was delegated the task of creating the wine poem basket. For those unfamiliar, this gift basket is filled with a variety of wines for the newlyweds to share – one each for a special occasion that lies in the couples future. Poem cards are attached to each bottle – first Christmas Eve, first dinner party, first fight, etc. At the shower the bridesmaids read as they present each bottle to the bride. The wine bottles are placed in a basket with ribbons and other embellishments. The wine poem we used is below. If you're a bridesmaid, this is an awesome gift idea!
Two weeks before the bridal shower I headed to Michael's with my 40% coupon. First I choose a basket that I felt worked well with Jackie's wedding theme – Tuscan vineyard. I also purchased green, brown and light pink ribbons, dried flowers, branches, raffia, and fancy sparkled scrapbook paper.
Next the liquor store – Jackie loves red wine so I purchased a nice variety – Ruffino, Coppola, Château Le Vieux Chantre and Moët champagne for the wedding night and first New Year's Eve. Since I had a tall order,  my guy at Seneca Liquors & Wines gave me a  free flask as a thank you – love that place! It pays to be a loyal customer.
The next day I cleared off my kitchen table and got to work.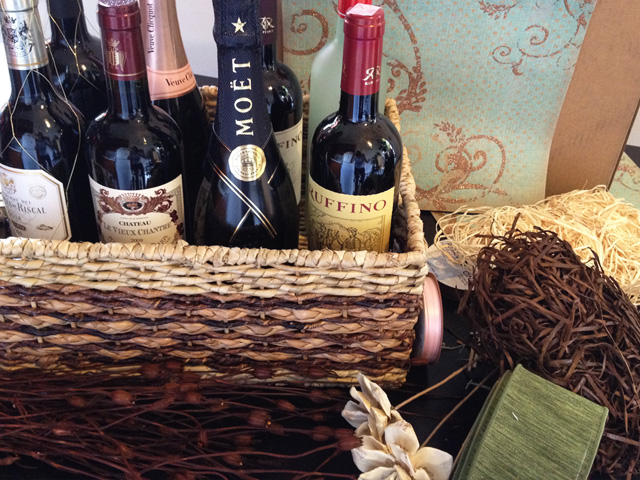 I needed to secure the bottles so I used cardboard in-between for security. The raffia I placed on top to cover the cardboard.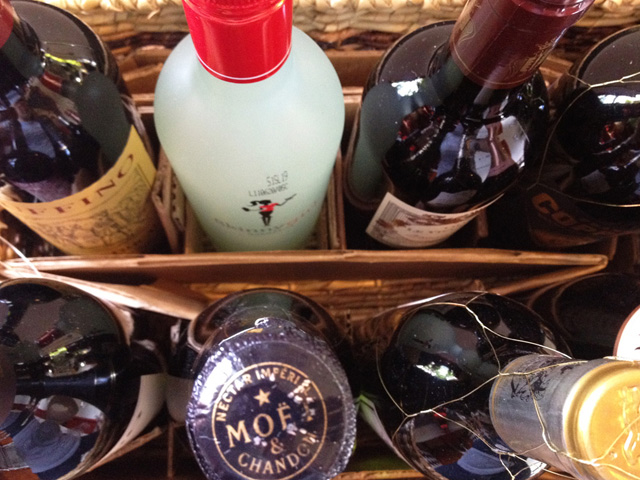 I added the embellishments – thick ribbons, branches, small ribbons and flowers. I went overboard. I needed to scale back. I thought it best to start on the cards and then see how it looked after those were included.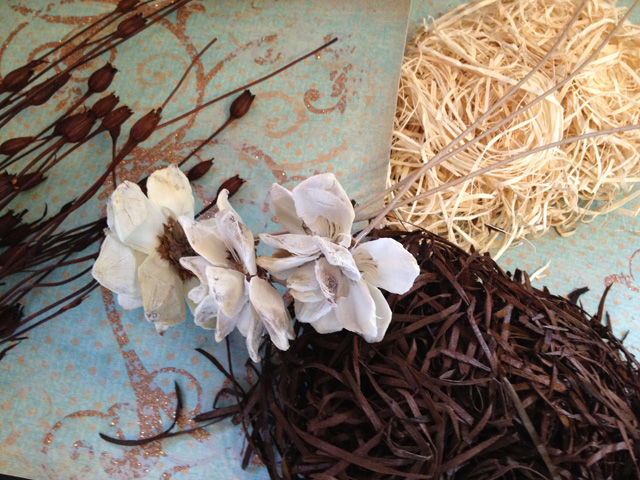 I created 2.25 x 3.5 inch cards in InDesign. I kept the design simple using a san-serif font in a chocolate brown color. I adhered the fancy scrapbook paper to the back with spray mount. I used a hole punch and ribbon to tie each card to the bottles.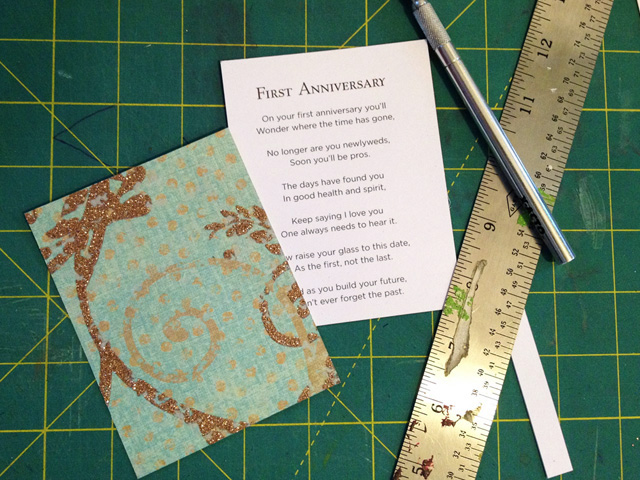 You can layout the text in microsoft word or  feel free to use this PDF template file. I changed the text to a dark gray and left blanks for the bride and groom's name.
Side note: Matt saw the cards on the table and told me "This is the corniest shit I've ever seen. Women are insane." I agreed there is a level of corniness to this, but hey, I would take a basket of wine any day – with pleasure!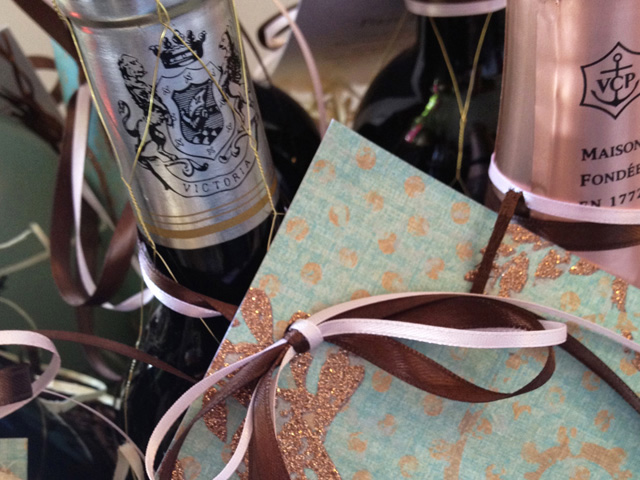 Once the cards were in place, it was clear I didn't need the branches or thick green ribbon. Less is more. The final…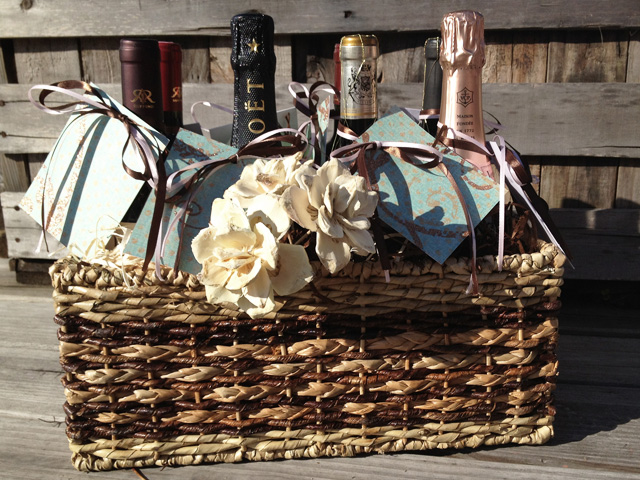 I think Jackie really appreciated the basket and when Rich saw it his eyes popped! Mission accomplished!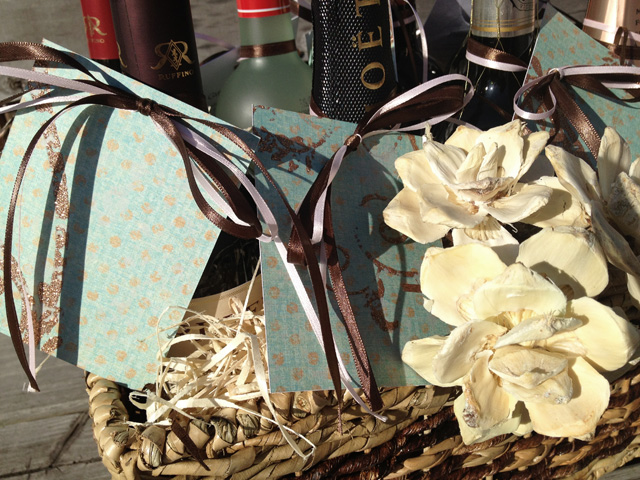 (Add, delete or modify the poems as you see fit – make it personal. We added Christmas Eve because Jackie and Rich are big pisans and love Christmas festivities.)
Wine Poem
Wedding Night
The night you have dreamed
of is finally here,
The future surrounds you
With hope and yet fear.
You've been to the chapel and
Married your soulmate,
So sip this wine and toast this date.
The night is meant for you each to share,
(bride's name)  and (groom's name) —a perfect pair.
First Dinner Party
You'll open your home for guests to eat,
A place for old friends to catch up
And new ones to meet.
When the night is over
Two hosts will share this wine,
Don't sit down just yet,
Pull up your sleeves
—It's clean up time.
First Fight
Love as you might,
You'll have your first fight…
Drink this wine,
While you make up all night.
Girls Night Out
Friends are like a good glass of wine,
You just want to spend more time.
Sipping and giggling like a little girl,
The days long gone by of pretty frills
There's just nothing like a night out
with the girls.
*Skinny Martini
Christmas Eve
A wise man said wine is better than beer,
And now is the season for
lots of holiday cheer.
So pop the cork and relax a bit.
And when the night is through,
Kiss goodnight, close your eyes,
And Santa will be good to you!
First New Year's
On January 1st,
While sharing some kisses…
Drink this bottle,
To toast the New Year
As Mr. and Mrs.
First Anniversary
On your first anniversary you'll
Wonder where the time has gone,
No longer are you newlyweds,
Soon you'll be pros.
The days have found you
In good health and spirit,
Keep saying I love you
One always needs to hear it.
Now raise your glass to this date,
As the first, not the last.
And as you build your future,
Don't ever forget the past.
First Baby
The news that a baby
Will soon share your life,
Will make you a mother not only a wife.
You'll see the child through
good times and bad,
(bride's name) the loving mother,
And Rich the dearest dad.
Now (goom's name) must drink this one alone,
(bride's name) with an empty glass.
Sit back and relax,
Nine months will quickly pass!