I'll admit it, I'm very jealous of my sister-in-law Paula and my brother James. They both have outdoor spaces in Queens, a luxury for apartment living. Of course I would love a RD (thats slang for "roof deck") or a backyard where I could garden and Bill could BBQ and throw back lots of beers, but alas, we are not amongst the privileged.
I have had a few plants in our apartment which were not very successful and by that, I mean they were murdered. There is still some mystery as to who done it, but either way, our track record hasn't been too good. I had a party for my mom's birthday in February, and my hostess gift from her was a starter basil and chive kit. There was a cute silver pot, dirt and seeds. Some weeks after that I actually got around to planting it. I apologize in advance, because this picture is from about week 3-4 after planting, but thats when all the fun starts anyway! Below is a picture of Basil Boy and Chivey (I have named my plants, yes I am a weirdo):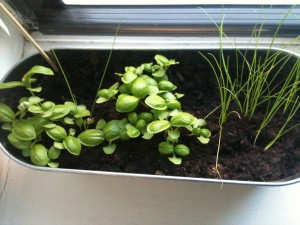 My mom, who is the ultimate gardener, squealed with jealous when I sent her this picture. She said "I can never get my basil seeds to germinate".  I thought to myself, "maybe my planting hex is in my head". And so, that little success I had with the basil and chives, has now formed into my slight obsession about my apartment gardening. Below are some of my newer additions to my apartment shelf. First up is, Nephew, a spider plant given to me by Paula.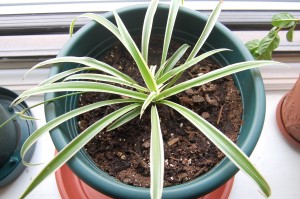 Here is Minty, a mint plant my mom gave me: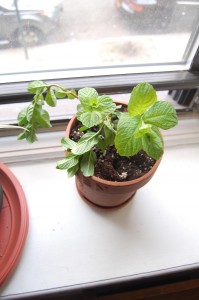 Here are some of the herbs I bought recently. These are Thyme, Rosemary and Oregano. These are good for growing inside.
Oregano: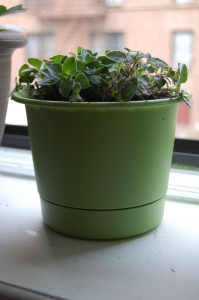 Rosemary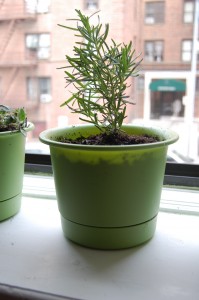 Thyme: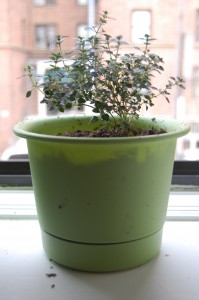 Here is a pretty flower I planted but I'm not sure of the name (I forgot). Any idea tomato fans?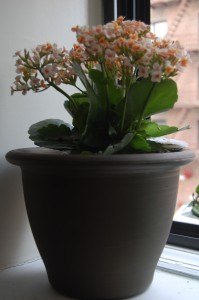 Stay tuned for more progress reports, recipes off these herbs and the step by step on planting your own apartment garden!