St. Paddy's Day is this weekend! Before I share my friend Kerry's recipe, I feel compelled to disclose this super scandalous information… here we go… I'm 1/8 Irish! There, I said it!  I know this may be difficult for some to digest, I will explain…
My grandma Mary (Flo's Ma) is half Irish – with a maiden name of Capobianco you would never guess but in fact, it's true. I'm told my great grandmother Florence was 100% Irish. It was common for the Irish and the Italians to "intermingle" in those days. Both groups started immigrating to New York around the 1850's (give or take).  The Irish, because they were starving – I would too, damn potatoes! And the Italian immigration was all about the clams (the money). Long story short, because of these hardships abroad, my great grandparents hopped off the boat, met, mingled and married. The result, me – and a large Italian nose with large Irish freckles that shine on a sunny summer day (the proof pictured here).
To embrace my Irish heritage, I've attempted (with success) to make Irish soda bread. I wanted an exceptional recipe so I went straight to the source. I asked my very Irish friend Kerry Mullee if she knew of one. She came through – Kerry's mother, Kathleen Mullee has shared her delightful Irish soda bread recipe exclusively for this Glorified Tomato post. Her version, like most you've tasted is Irish-American. Kathleen tells us this variation has a scone-like taste and consistency. Kerry explains to me that soda bread made in Ireland doesn't include eggs, butter, raisins or caraway seeds and as a result doesn't taste as good. In her mother's words, "It's dry and horrible!". Traditional soda bread according to sodabread.us contains flour, baking soda, salt, and soured milk (or buttermilk) – that's it.
Here's some photos of the process and the recipe – thanks to the Mullees!!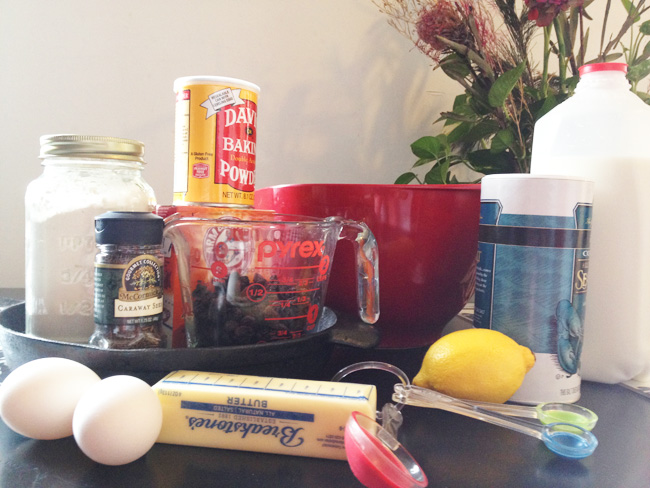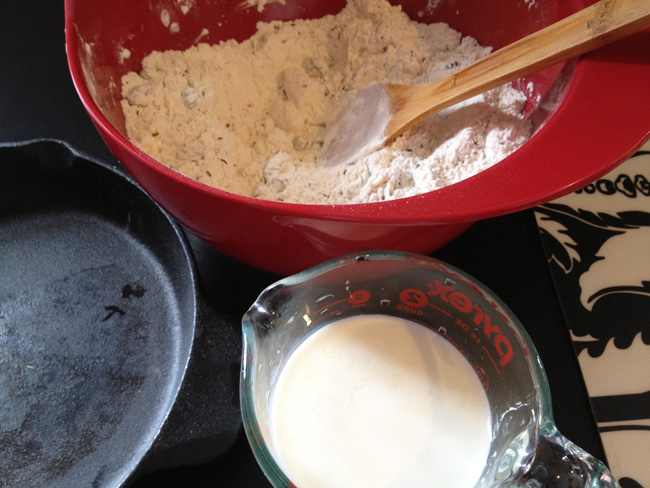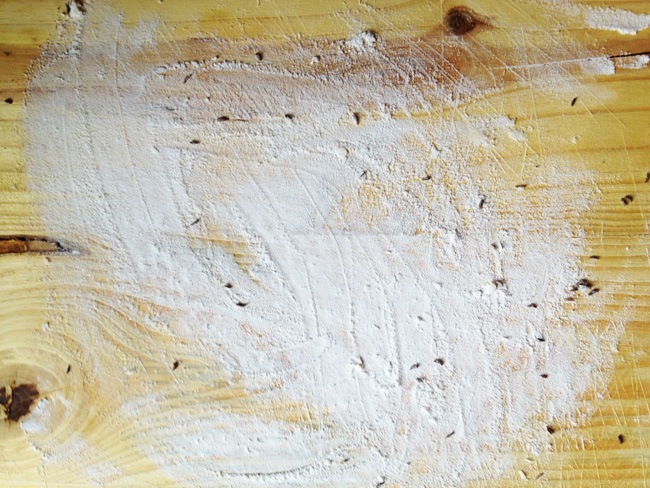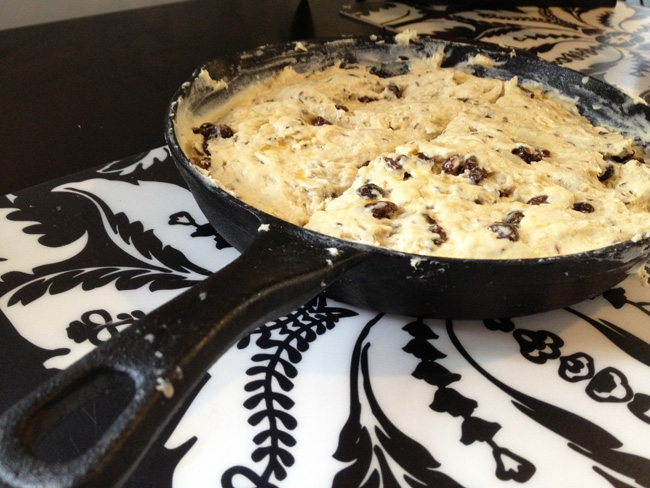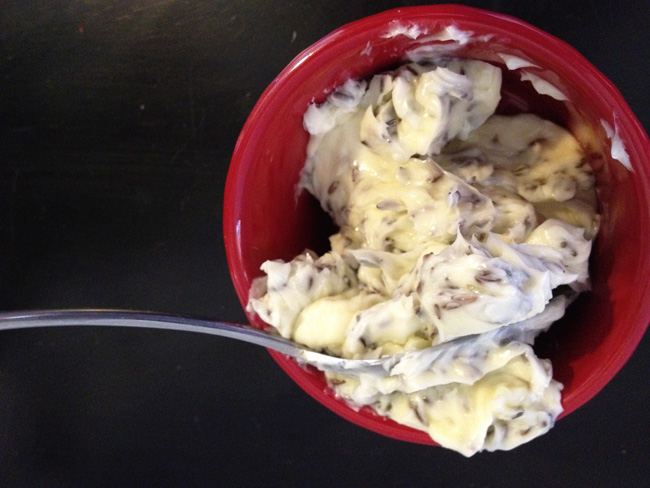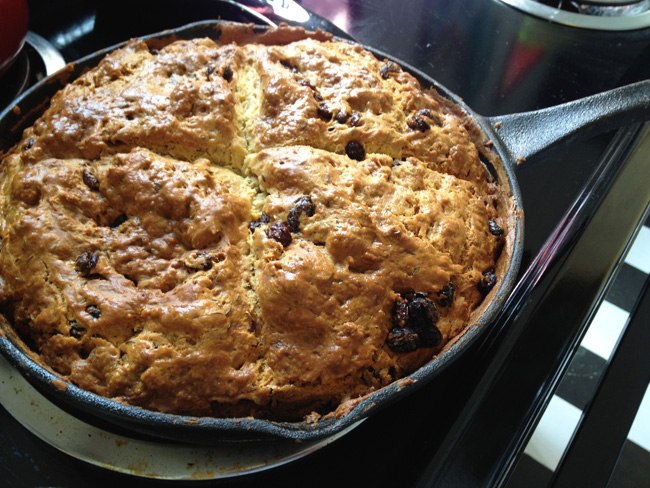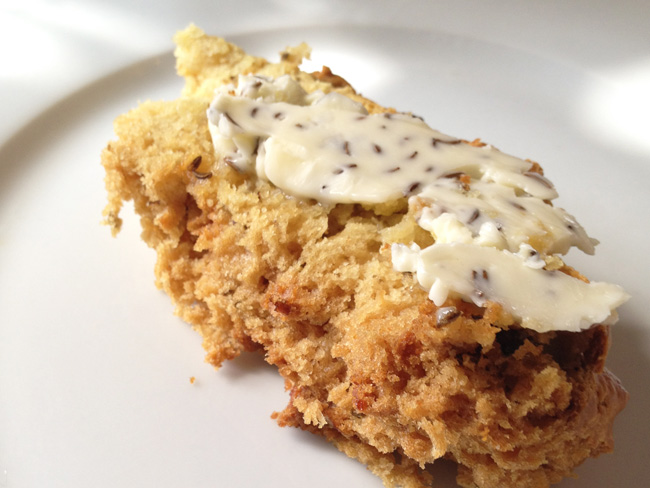 Kathleen Mullee's Irish-American Soda Bread
This makes one large soda bread.
4 cups flour
6 tbs butter
1 tbs baking powder
1 tsp baking soda
1 tsp salt
2 tbs caraway seeds (for all my pisans… they're like fennel seeds – thanks wikipedia.)
1 1/2 cup buttermilk
2 eggs
1 cup jumbo raisins
9 inch cast iron skillet
KerryGold butter or make caraway butter spread (see below)
Directions:
Add baking soda, baking powder, and salt to flour in a large bowl
Cut in butter with 2 knives or a pastry cutter until a "pebble/pea" consistency
Mix in caraway seeds and raisins
Lightly beat eggs with fork and reserve 1 tbs
Add remaining eggs to buttermilk (I made my own, 1 tbs of lemon to 1 cup of milk)
Add wet ingredients to dry and mix by hand
Lay on a floured surface (mixture will still be sticky, don't try to make it drier)
kneed 10 x
Grease cast iron skillet
Roughly shape into a ball and place in cast iron skillet – re-shape to fit skillet
Cut a cross into the top
Glaze with reserved egg
Bake at 375 for 50 minutes
Caraway Butter Spread:
6 tbs butter
1 1/2 tbs caraway seeds
Directions:
Soften butter and mix in Caraway seeds. That's it!