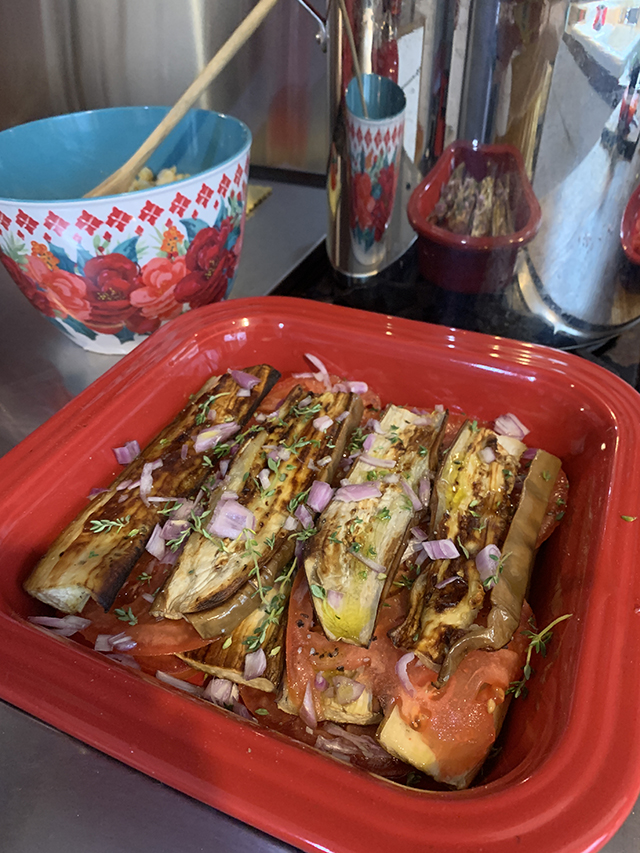 Everyone is wondering what to make with their homegrown garden eggplants… besides heavy eggplant parm. My long-time paisan Rob Di Rico saw a post of mine on Instagram relating to this conundrum. He messaged me, "Paula, I have eggplants too. I made an eggplant-tomato gratin. It was delicious. It's very fresh and light. People think gratin, they think heavy cream. Not always!"
Gratin is a French culinary technique. Ingredients are topped with breadcrumbs, grated cheese, egg, butter or oil to create a browned crust by baking. The term is used for any dish made using this method.
Rob DM'd the recipe and said, "It's based on Jacques Pepin, my favorite. I didn't use gruyere, I used imported Parmigiano and blended it with the bread, chives, garlic, and parsley. Use some EVOO on the breadcrumb mixture so the top browns in the oven. It also says 'use Chinese eggplant' but white eggplant is fine."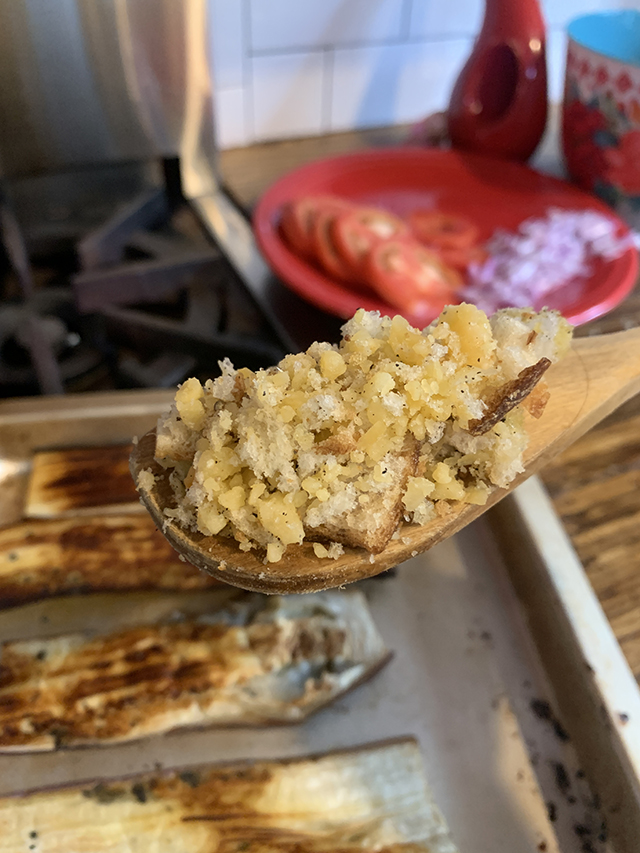 I stuck to the original below, but this recipe, as Rob mentioned, is a great base. Experiment with different cheeses and your favorite herbs from the garden.
Ingredients:
2 eggplants, preferably long, narrow Chinese eggplants
1/2 cup olive oil
2 ripe tomatoes (about 1 pound)
2 cups diced (1/2-inch) day-old baguette
1 cup diced gruyere cheese
3 fresh thyme sprigs
1/3 cup minced fresh chives
Salt and freshly ground black pepper to taste
Directions: Preheat the oven to 400 degrees. Trim off both ends of the eggplants. Cut them crosswise in half, then cut each half lengthwise in half, so you have 8 pieces.
Pour 2 tablespoons of the oil on a baking sheet and put the eggplant slices cut side down in the oil. Sprinkle with salt. Bake the eggplant for 25 minutes, until tender. Flip once. Remove from the oven.
Meanwhile, cut the tomatoes into 1/2-inch slices. Process the diced bread and cheese in a food processor for about 30 seconds, until coarsely chopped.
Arrange the baked eggplant pieces in a gratin dish, alternating them with the tomato slices. Sprinkle each layer with thyme, chives, salt and pepper. Toss the bread and cheese mixture with the evoo and spread on top of the vegetables. The gratin can be prepared to this point hours ahead.
Bake the gratin uncovered for 30 minutes or until crusty and brown. Serve and enjoy!
I brought the Eggplant-Tomato Gratin dish to my Aunt Marie's house for a luncheon. I was a bit nervous because I had never done this and I couldn't taste-test beforehand. Well… let me tell you… All of my cousins and Aunts were ranting and raving about it! The Eggplant-Tomato Gratin was a success and everyone was asking for the recipe (Thank you Rob!). Give this one a try with your homegrown eggplants, it will not disappoint!