by Paula D.
on
July 10, 2023 9:11 am
in
Drinks
"All the Italians in the old neighborhood drank them," my friend Keith said. He remembers his father sitting on the stoop at their home in East New York, 30 years ago. Mr. Vittore would crack open an ice-cold Manhattan Special, gulping the caffeine boost down, during those sultry, dog-days of summer.
The Manhattan Special is the world's most delicious pure espresso coffee soda, says the company's website… and me… and every Italian man in New York over the age of 65.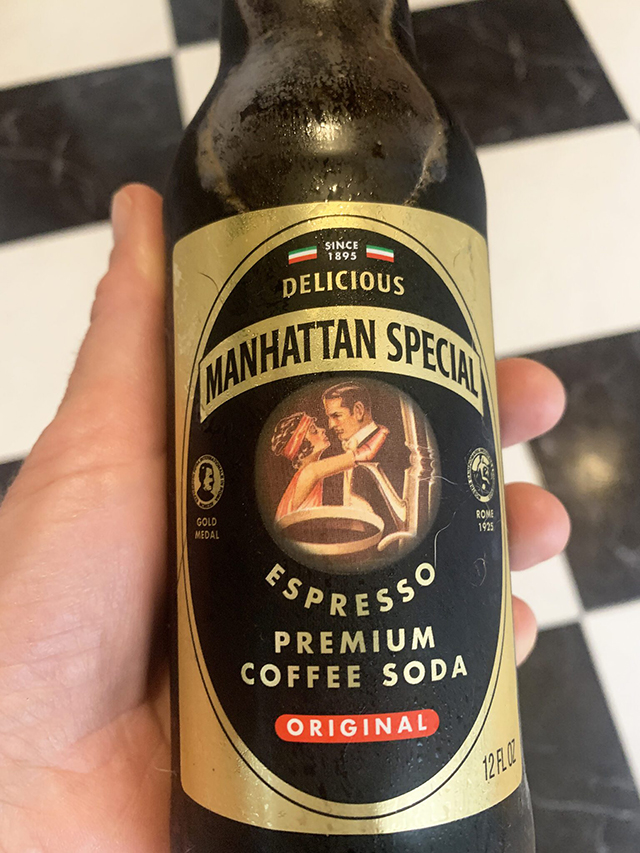 The icon design has not altered much in the 128 years the beverage has been on the market.
The ingredients are simple: hand-brewed espresso, seltzer, and pure sugar cane. The flavor of this forgotten Italian bev is akin to a smoky-sweet, coffee-creamed soda. The precise carbonation component is what elevates this soda to "world's best." Chill it in the freezer for 10 minutes and enjoy the drink ice cold. Don't put it over ice though! Doing so will zap out the special fizz. Make it dessert-y by adding cream or amaretto. The caffeine numbers are a mystery. Those stats are not labeled on the bottle and I couldn't find the count online. But from personal experience, lemme tell ya, it's mad strong.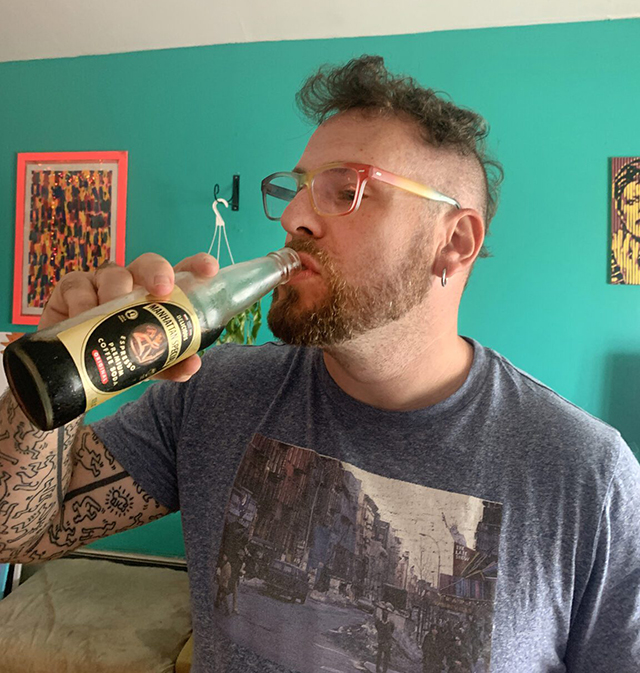 Keith Vittore knocking back a cold Manhattan Special.
The transplants in Williamsburg blindly walk by the bottling factory on the corner of Manhattan Avenue (its namesake) and Skillman, day after day, unaware of the history they pass and the memories held inside. The Manhattan Special bottling plant has been in operation since 1895. Somehow the 4th generation, the family-owned business managed to keep its foothold throughout Williamsburg's transformation. The company is owned by the Passaro family, Italian immigrants who found the American dream in a little glass bottle.
Speaking of the metal-capped bottle, its label is exemplary. It awakens old New York. The gold and black classy design features a 1920s-era couple embracing. They gaze into each other's eyes. In the foreground, an espresso pot and a cup filled with caffè is illustrated. It seems the depiction has not altered much in the 128 years the beverage has been on the market, underscoring its authenticity.