by Paula D.
on
May 18, 2023 9:16 am
in
Family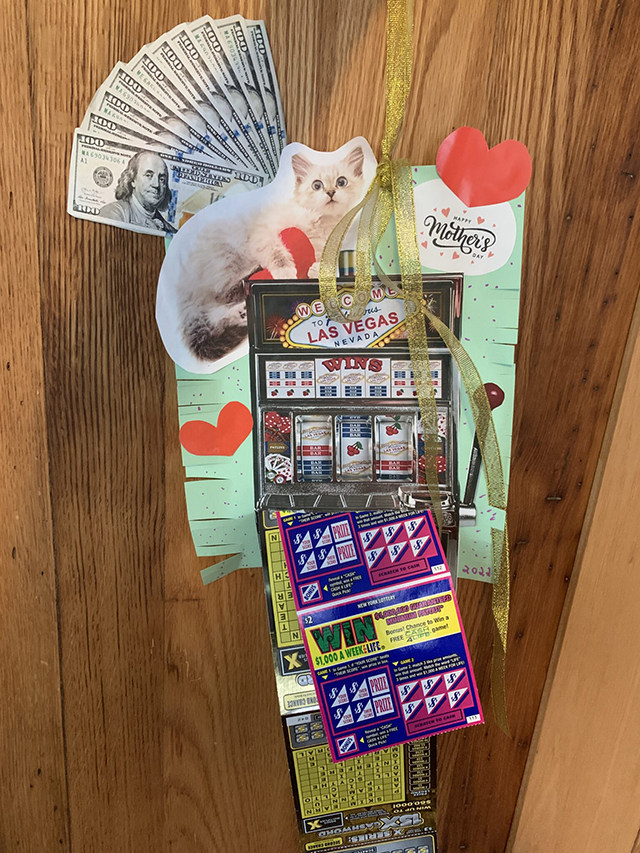 Flowers remind my mother of funerals. I remember her uttering this notion to my father many times when I was a kid. And around the holidays I recall hearing, "Well, so-and-so sent an expensive arrangement but she knows I don't like flowers."
It's the standard mixed bouquet in particular that generates "funeral perfume."  The arrangement consists of dyed carnations, Madonna lily, Peruvian lily, roses, asters, and a few other fillers.
The older you get, the more funerals you attend and you start to take notice of these things. And you know what? My mother is right. I associate the fragrance of a bouquet with funerals. When I first enter Stop & Shop and see the flower section to my right, I think of Grandma Mary's beautiful satin, blue dress she wore to her wake. When I'm in Bushwick passing a bodega and catch the scent of the flowers on the sidewalk, it's a subtle reminder that I really need to write a Will.
Generational trauma?
The point is, gifting my mother a bouquet for Mother's Day is out of the question. In lieu of flowers, I get her scratch-offs. She loves scratch-offs! For many years now, it's what my sisters and I buy her exclusively for Christmas, her birthday, and Mother's Day. And she is very pleased to receive them. Over the years, in an effort to show I care, I've gotten creative with presentation. I've given Mom scratch-offs in a gold satchel. I made a scratch-off Christmas wreath once and perhaps my best… a slot machine that "puked out" scratch-offs.
This Sunday for Mother's Day, we're going to Aqueduct Casino. It's been a mother/daughter outing we've been wanting to do for some time!
If your Mother also associates flowers with death and you're looking for last-minute gift ideas, do not fret, I've figured it out for you…
Shop local: The Swellife has beautiful gifty items for mom, jewelry, candles, clothing, and more. Self-care: Holland Avenue Soap Co. products can be picked up at the last min. this weekend at Fat Cardinal Bakery and Lisena Garden Center. The word Dengo in Portuguese means affection, love, and charm. Dengo Botanic is a new local, handcrafted organic skincare company, sourcing healing ingredients from Brazil. For products and pick-up DM – @dengobotanica
Sweet treats never fail: (unless your mother is diabetic like mine): Pop in Fat Cardinal, Rockaway Beach Bakery, or Ciro's Bakery for fresh breads, pastries, cookies, and cakes.
An experience: If your mother isn't into gambling then Aqueduct isn't in the cards. Alternatives: enjoy time at her favorite local eatery:  Cuisine by Claudette, Bungalow Bar, Super Burrito, breakfast at Brothers or enjoy a coffee together at Greenhouse Cafe. What about a day pass to the sauna at the Rockaway Hotel? Experience a restorative yoga class with your mother atGoodForm Studio. Go birding at Jamaica Bay Refuge with the whole family.
A homemade card: Your mother has everything already, right? Spend intentional time creating a card for Mom. It can be a collage of printed family photos. How about a drawing of a special memory you shared together? Make a funny card, and make her laugh! Write meaningful words inside this card to let her know how much she is loved and appreciated.
Mother's Day is a celebration of all women and our maternal essence. This Sunday reach out to the special women in your life and let them know how much you love them! Happy Mother's Day!