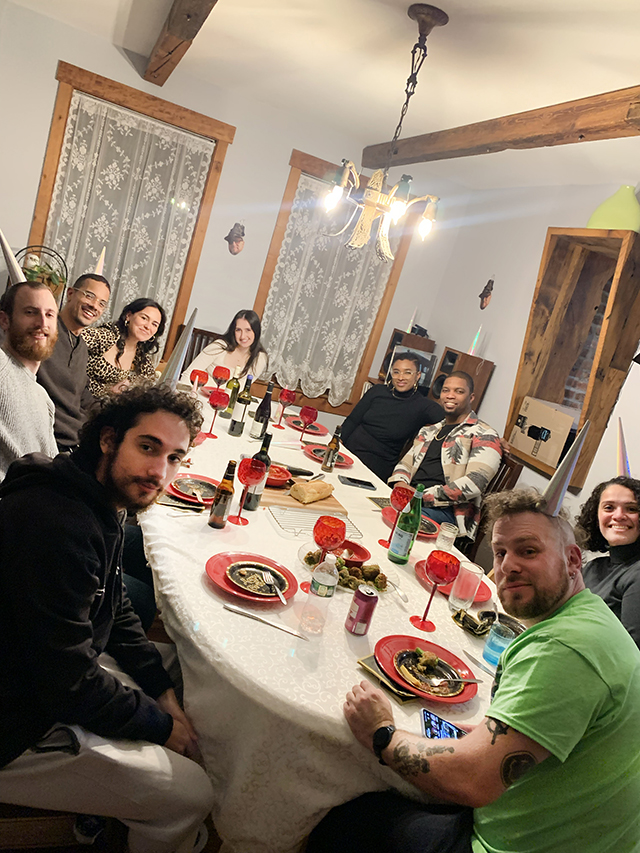 Three days of prep for three hours of perfezione. I learned how to throw a party by watching and helping my mother. We go to extremes. We indulge… we're Italian. Too much food is all part of it. You need abundance so people feel comfortable around the table. You can't have "Look at me, look at you." This phrase I've lived with my whole life. Grandpa Ralph coined it. Here's the best way I can explain…
There are a few morsels left on the table. No one wants to be "rude" and take it, but everyone is eyeing it, looking around the room, feeling out the situation (looking at me, looking at you). The guests are still hungry. Finally, someone says "Oh I'm so full, (obviously lying) you take, we can't let it go to waste, blah blah blah."  This exchange goes back and forth until finally, one person "the lucky winner"  gets the tiny piece of whatever is left.
"Look at me, look at you" is the most embarrassing situation a host can ever face (or someone having sex in your bathroom when there's a line).
I was also taught, you need enough food to offer leftovers. In my family, sharing food is next in line to buying a diamond engagement ring. Feed the people you love. And practically speaking, you're making a huge mess anyway, so you might as well make extra.
I asked my friend Good Keith if I could host his birthday dinner. Yes!, he said. GK asked for ziti but I know his favorite is chicken parmesan. I haven't cooked meat in the house in years. I'm a flexitarian. I'll eat meat if my mother puts it in front of me but I won't cook it, I eat veggies. Here's the flex… they don't call him Good Keith for nothing… so chicken parmesan it was.
It felt so good to prep. I had the whole menu vision, timing, and presentation in my head. I was  "workin the kitchen" for days. Making the sauce, chopping, buying, frying, adorning, and finally plating. I felt like a better, past version of myself and it was lovely to get reacquainted.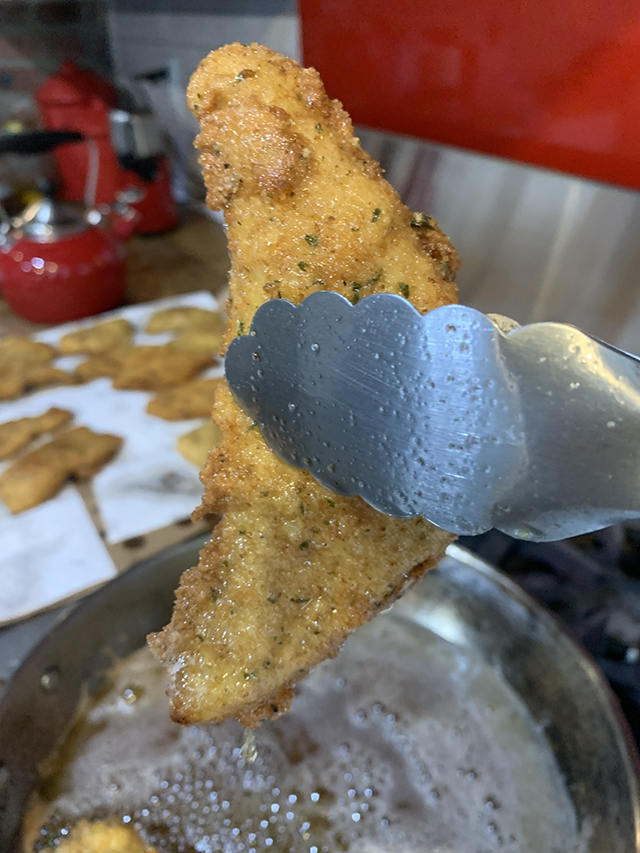 Making the chicken cutlets was like riding a bike.  Here are the DiGioia family's cardinal rules of frying:
Cut the cutlets small. After tenderizing, the cutlets become even wider. Account for that. Make the pieces smaller than you think necessary. My family tenderizes with our wrist, while breading the cutlets. It's the old country way.  It saves time and works better.  It's important to cut each piece to a similar size so the chicken cooks at the same pace.
Salt everything.
The oil needs to be very hot. The chicken goes in and out only to brown. It will cook in the oven (parmigiana). You don't want overcooked, oil-soaked cutlets.
As annoyed as I used to get when my mother would scream at me,  "Don't play with it!"  I learned over the years, she's right. Place the breaded cutlet in the pan and just let it be. Flip once. The more you play with it, the more the breadcrumbs fall off leaving "bald spots" that contaminate the oil. When loose breadcrumbs fall into the oil, they burn quickly and stick to the food. This leads to…
Don't be lazy, change the oil when it gets dirty.  I can't stress the importance of this rule. Use an empty tomato can to pour the old oil into. Whip the frying pan clean with a paper towel and start again.
Let the cutlets drip over the oil for 5-10 seconds before placing on the paper towels to drain. This saves oil, meaning you change it less. More importantly, don't be cheap with paper towels. Drain the cutlets well by flipping and lightly pressing them on the towels. Do not layer/ cover them. They'll get soggy.
For more over the pot, follow me on IG – @theglorifiedtomato.