by Paula D.
on
September 14, 2022 10:10 am
in
Food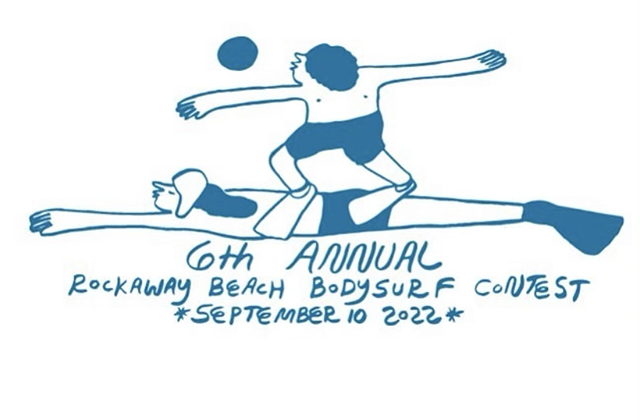 By Matt Johnson
Everyone has that weird obsession that not many other people grok, and mine is bodysurfing. I've been doing it for so long that I don't even remember learning how, but I spent my summers sliding solo until the day I saw a half-dozen torsoless heads (board surfers have torsos) bobbing well past the end of the groin at 84th Street. I'd finally met my people: the Rockaway Beach Bodysurf Underground.
I started to cry, but who could tell, what with the surf breaking over our heads and the snot streaming out of our noses?  Then they told me about the contest: a hundred bodysurfers all on the same break at once? Were there even that many other bodysurfers in the world?  Turns out there are at least that many in the tri-state, with some pros traveling from as far as California to ride our punky little swells.  Fortunately, even when conditions are crap, you can almost always womp one or two.
The athletic prowess and flair in the water are the contest-day headliners, for sure, but the onshore talk story is how friends get made. Thinking about new swim fins? Here, try these on for size.  Sure, take my hand plane out for a bit and see how it feels. Did you know you can repair neoprene with a sewing needle, dental floss, and gasket adhesive?  Remember the full moon when the skimmers were gliding just over our heads?  Remember the time the backwash knocked her off that wave and she did a cartwheel in the air?  Yeah, that was wild.
The beauty of sharing something so niche and so goofy is that there is zero ego in it. There are no bodysurf schools, so the stoke can only be passed from hand to hand.  There are no luxury bodysurfing lifestyle accessories, except maybe that sick paipo your neighbor made in his garage last winter.  Everyone is just plain thrilled that we found each other.
My friend Josh once said, "I love doing surfing wrong." Josh rides a board, but there may be no more wrong way to surf than without one. And I love it, too.
---
Please Join Matt and the community of bodysurfers at the 6th Annual Rockaway Beach Bodysurf Contest, tomorrow, Saturday, Sept. 10th in front of Rippers (Beach 84th street) on the sand. The event begins at 10 a.m. and goes throughout the day. Come early to get a good spot on the beach for viewing. Watching these talented bodysurfers glide on the waves is a beautiful thing.  I'll be at the tent selling swag. Come say hi and support this awesome sporting event by purchasing a shirt or hat!
This contest is organized by the Rockaway Beach Bodysurf Underground – Mike Poindexter, Clare Hilger, Jeremy Jones, and their many surfer friends who volunteer to make this day rad as hell! Follow @rbbunderground on instagram and tag your favorite bodysurfers at tomorrow's contest.
For more on community happenings follow me on the beach –  @theglorifiedtomato.