Purslane (also known as little hogweed, pigweed, pusley) is an annual in our garden zone 7.  This succulent can grow in sandy soil and resists drought. You'll see it everywhere if you look closely – even sprouting out of cracks in the sidewalk. One plant will produce an exorbitant amount of seeds and so, it is here to stay. Purslane has been cultivated since Roman times as a rich food source.  But today, due to its vigor,  purslane is dumped into the sad category of weeds. But the trend may be changing. My friend Kristi said she saw purslane at a farmers market in Brooklyn selling for 7 bucks a bundle! I guess these folks don't realize they should just look down to find it for free.
I asked Melissa if I could harvest some of her purslane. Yes, of course, I could! Melissa explained that all parts of purslane are edible – stems, succulent leaves, and yellow flowers. I gave it a taste right there in the garden. It's tart, salty and juicy. The texture is crunchy!
I went home with my crop and read about this new food find. Purslane is an herb best used fresh but can also be cooked like spinach. Purslane is 93% water. It contains rich amounts of vitamins E and C. It has seven times more beta carotene than carrots! It contains minerals and is a robust source of omega-3 and is low calorie.
Use it like a leafy green. It works well in salads, in lieu of lettuce on a sandwich, atop a taco or layered dip, in smoothies, etc.
An interesting point on harvesting: The plant converts malic acid into sugar as the day progresses. Malic acid is responsible for tartness. If you prefer a more mild flavor, harvest purslane in the early evening. If you like bitterness (bitter is not bad), harvest in the morning. With any foraged food, be mindful of where you're gathering. Be aware of pesticides, exhaust, dogs, etc.
I decided to make a purslane herb spread to use on Italian bread with goat cheese and ripe tomatoes. I added other herbs from my garden for a robust, rich flavor.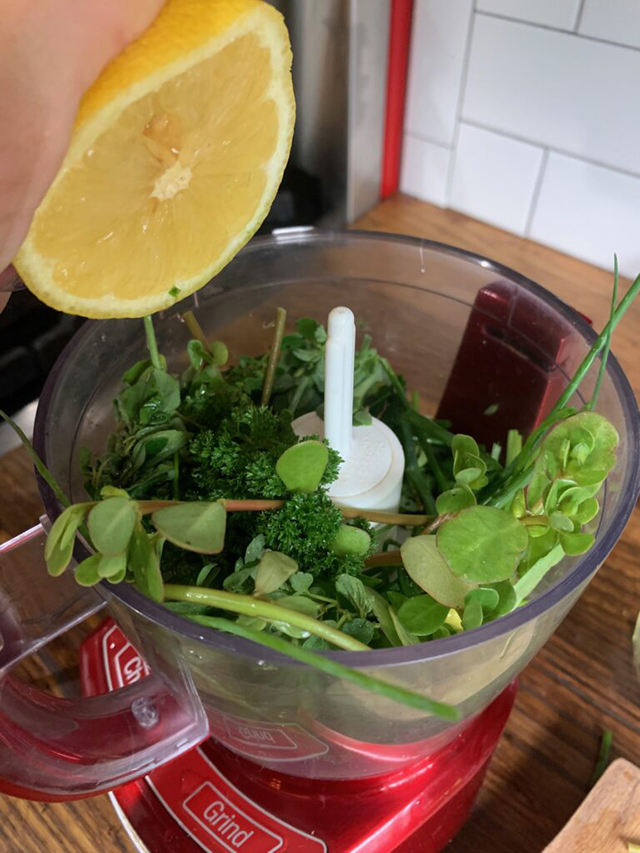 Purslane Herb Spread Over Goat Cheese and Tomatoes
Ingredients for the dressing:
1 1/2 cup extra virgin olive oil
1/2  squeezed lemon
1/2 cup purslane, more for garnish
3 sprigs fresh oregano
4 sprigs fresh parsley
10-15 basil leaves
1-2 ounces of chives
1 clove garlic
Fresh ground pepper, red pepper flakes, and salt to taste
Additional:
Sliced ripe tomatoes
Goat cheese
Italian bread
Directions: Rinse the foraged purslane. Combine all the herbs and the garlic in a food processor with the oil, spices, and lemon. Pulse for 30 seconds. Let the mixture sit for at least one hour before using.
Also, try the purslane herb spread on meats or fish for the grill. It can also be used like pesto on pasta. Enjoy!