Every summer I end up snacking on my serviceberry trees while I'm doing garden work. This year, I wanted to use the fruit in a proper way. I got out the ladder and harvested as many as I could. I left the berries on the very high branches. Partly for the birds and partly out of laziness.  I gathered 9 cups! And there are still more on my tree in the front garden.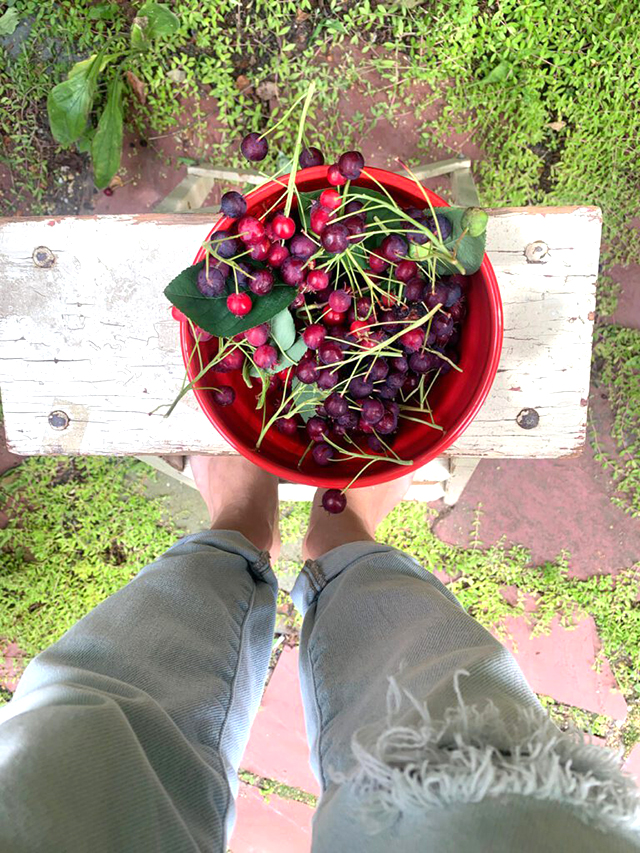 Use a scissor to clip the berry clusters
 I decided to make juice. I muddled the berries and added water, ice, lemon, and mint from the garden. I gave the jar a good shake and let it sit in the fridge for a few hours.The taste of the serviceberry is similar to blueberries but sourer. It's nice to harvest a variety – very ripe dark purple ones and the brighter reds. This combination gives both a rich, sweet flavor and a bold tartness.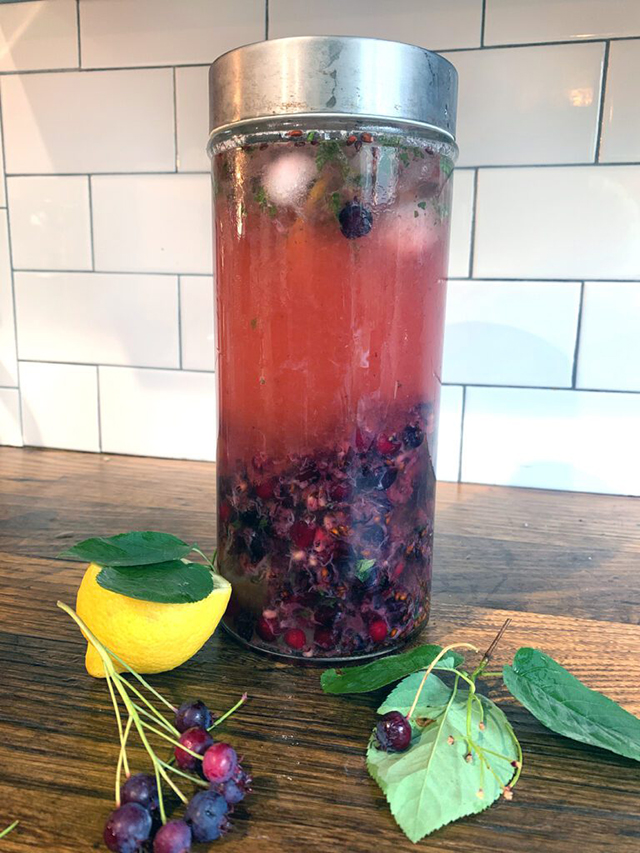 The drink is so refreshing, perfect for a hot summer day.  The lemon and mint complemented each other very well. I may try adding ginger next time. Feel free to experiment, that's the fun part. Here's my recipe:
Serviceberry Cooler With Lemon And Mint 
Ingredients:
1 cup serviceberries
1 lemon squeezed, plus a few slices for ornamental appeal
¼ cup mint leaves
(1 tablespoon sugar, optional)
3 cups water
1-2 cups ice
Directions: Remove the stems and rinse the berries. Muddle the berries and mint. Fill a pitcher or jar with water and ice. Combine the berries, mint, juice of one lemon, and lemon slices into the pitcher. Let the mixture sit in the refrigerator for at least one hour before serving.
Alternatively, for a thicker consistency, combine all the above ingredients in a blender. Store refrigerated for 1 week.
I still had berries left over so I used some in banana bread. I gave one to my friend Anna and another loaf to my friend Juan. It got rave reviews – both said it was delicious!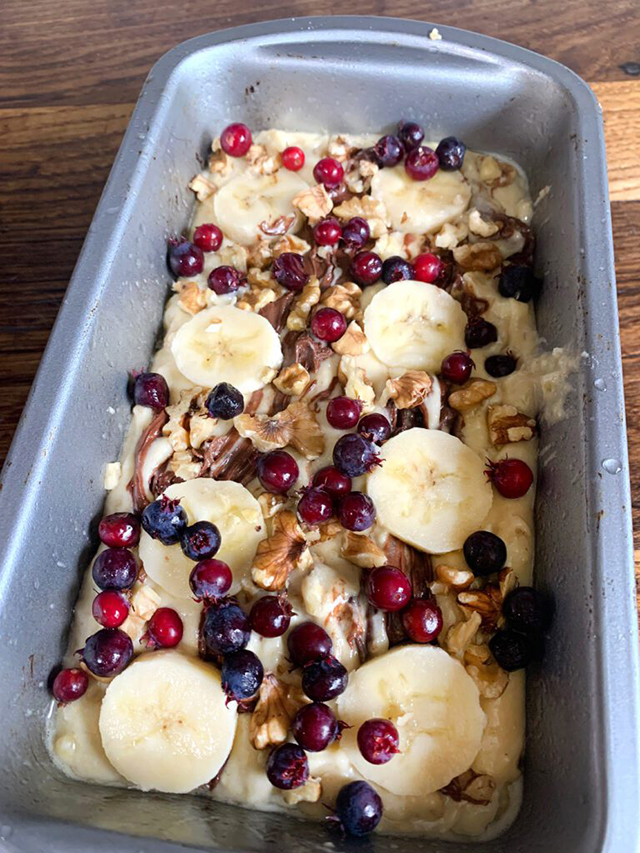 Serviceberries work great in baked breads or pies
I also froze a cup of serviceberries for use as ice cubes. You can do this with any small or chopped fruit. I add the berries to seltzer and create my own sparkling flavored drink. Who needs La Croix…
The serviceberry tree, also called a Juneberry, for its early June fruit, is native to North America. It's in my top five favorite tree list (Yes, I have one). Why is this tree amazing? Because it displays all season long beginning in the spring with beautiful white flowers. Then it bears delicious berries in June. And in its final performance of splendor, the leaves turn shades of golden yellow in October. Keep your eyes open for this tree in Rockaway and forage it! They do well in sandy, light soil and it tolerates salt and drought.  Gardeners in the know, plant them here on the peninsula for all their beauty, bounty, and easy care.
Follow me for the day-to-day on IG – @theglorifiedtomato.