by Paula D.
on
April 26, 2022 7:09 pm
in
Recipes
I was a bit skeptical when I saw the word "anchovies" hit my inbox from NY Times Cooking. But this is one of the few newsletters I actually read and trust… so I clicked. What interested me about this recipe was the cabbage and parmesan – it's an unlikely combination. Also, cabbage has basically zero calories. I thought this would be a healthy, unique one to try.
These days, I flip flop from pescatarian to vegetarian. For this reason, I don't make bolognese. My secret though –  to get that richness in a red sauce we all crave – anchovies. It works like a charm. But I'll admit, I've been apprehensive to use anchovies in other contexts.
Why are we so weirded out by anchovies? Maybe it's that most of us associate this fish as the slimy things on top of Greek salad that look like they have little hairs on them. But how is this grosser than sausage? I dare you to google "How is sausage made…"
My intention with this cabbage recipe was to omit the anchovies. But as I'm preparing the meal, I keep getting this feeling that I should try the recipe in its true form. I remembered I had a random tin of anchovies in the cat food draw. I popped it open.
I decided a little experiment was in order. I used the chopped anchovies on only half of the cabbage wedges. This way I could taste test and compare. The cabbage without was good. The cabbage with anchovies was absolutely incredible. The salty, rich punch alongside the warm, earthy walnuts and parmesan was delicious. And the cabbage topped with herbs gave the dish a fresh dynamic – I'm talkin' restaurant quality, folks. Please put your anchovy apprehension aside and give this recipe a worthy try.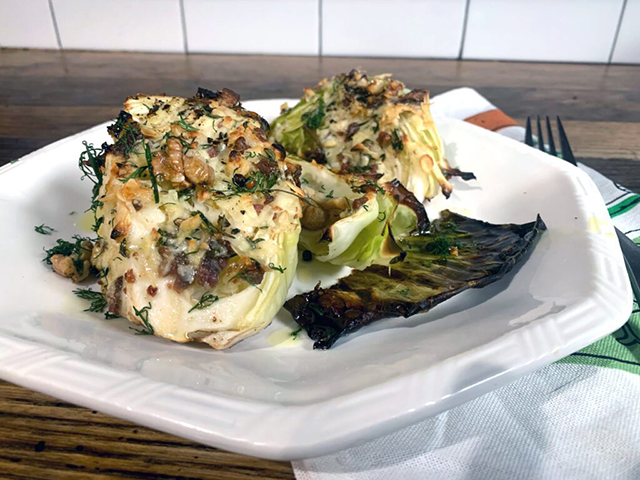 Roasted Cabbage with Parmesan, Walnuts, and Anchovies
Ingredients:
1 medium head green cabbage
½ cup extra-virgin olive oil, plus more as needed
¾ cup finely grated Parmesan, plus more for serving
6 anchovy filets, minced
4 large garlic cloves minced
1-2 tablespoons fresh thyme leaves
⅔ cup chopped walnuts
½ cup chopped fresh dill
Salt and freshly ground black pepper to taste
Directions:
Step 1: Heat oven to 450 degrees. Cut the cabbage in quarters lengthwise through the core, then cut out the cores and stem. Slice the quarters lengthwise into 1 1/2-inch-thick wedges.
Step 2: Place wedges on a rimmed sheet pan, flat sides down. It's ok if the pan seems crowded; the wedges will shrink as they roast, but try not to overlap.  Lightly drizzle them with oil and season with salt.
Step 3: In a small bowl, combine Parmesan, anchovies, garlic, thyme and black pepper. Stir in 1/2 cup oil to make a loose paste. Massage the paste into each cabbage wedge, stuffing the mixture in between the leaves.
Step 4: Lightly drizzle cabbage with a little more oil. Roast until cabbage is lightly browned and a little crispy – 25 to 30 minutes.
Step 5: Remove the pan from the oven and sprinkle walnuts over the top of the cabbage. Roast for another 5 minutes until the cabbage is tender and caramelized and the walnuts are golden.
Step 6: Sprinkle cabbage with dill and more Parmesan and black pepper. Serve immediately.
Follow me for the day-to-day in the kitchen on Instagram @theglorifiedtomato.