by Paula D.
on
February 16, 2022 8:49 am
in
DIY
 
When most of us hear the word oranges, we think of Florida but I think about the hills of Sicily. Blood orange trees grow robustly around Mount Etna between Messina and Catania. This region is known as a microclimate. The soil is fertile and the weather is dry. But what makes this environment so unique is the volcanoes' impact on temperature. It increases the air temperature during the day and in the evening, it drops just below freezing for one hour only. This sudden daily change is necessary to create the brilliant, crimson color of the sweet blood oranges of Sicily.
The pigment or anthocyanin chemical compound offers powerful health benefits. And this is why, high-quality blood orange fruit trees from this area are prized. So much so that it's an EU protected geographical region. This distinction (PGI marked), is granted because the quality and reputation of the fruit can not be replicated anywhere else in the world. The taste and nutritional value can only be produced in this specific geographic location of Italy.
Since the 1600s, Sicilian women have used these exotic blood oranges, along with olive oil as the secret to their beauty. The fruit contains citric acid which is an exfoliant loaded with rich antioxidants that plumps up the skin. Olive oil contains vitamin E which has anti-aging properties that soften and moisturize. The result of using this mixture is a healthy, radiant mediterranean glow.
To make the salve, combine in a small jar, three teaspoons of extra virgin olive oil, the juice of one, small blood orange and one teaspoon of shaved rind. Cap the jar and shake well before every use. Massage the oil on your face, neck and chest. Let it absorb for 1-3 minutes – depending on your skin type. Then rinse with cool water and pat dry.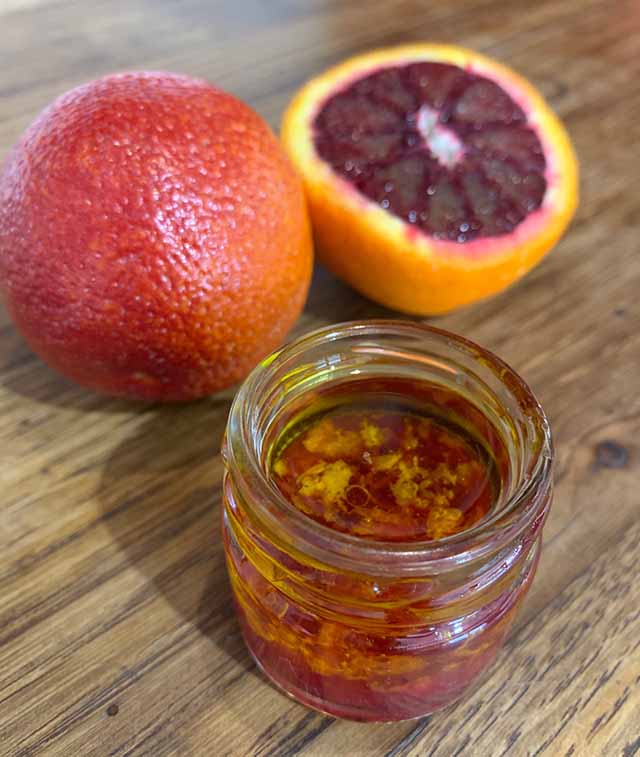 I've been using this treatment all winter and it's prevented dry skin patches, which I normally get under my eyes from the cold winter weather. And my complexion seems vibrant! Besides these benefits, the experience of applying the ointment is relaxing. And the sweet and citrus aromas are soothing. This coveted Italian beauty ritual can make anyone feel like a Sicilian principessa.
Follow me for the day-to-day on Instagram @theglorifiedtomato
 Source www.tlnint.com, www.theguardian.com