by Paula D.
on
December 30, 2021 10:06 am
in
Recipes
I worked at Marzullo's Bakery on Long Island when I was 16 years old. Marzullo was one of those tough Italian types. I felt intimidated by him at that young age. But I respected him and learned a lot from Tony.
He was an incredible cook and baker. Sometimes he'd make us lunch in the back kitchen. I'll never forget this linguine with clam sauce. It was absolutely, perfectly delicious. Other times Tony insisted that I test out foods and pastries he was experimenting with. You just didn't say no to him. This kind of employer / employee relationship probably would not be accepted in today's world!
Besides picking up cooking techniques from him, Marzullo taught me a lot about cleaning. Afterall, it was one of my main job responsibilities. And Italians like everything spotless. I have one memory in particular about cleaning that is very vivid. I had just started working there. I was mopping the floor before closing. Tony came from behind the counter with his arms flailing in the air screaming, "Gagootz,  Gagootz!!!" There was a glaze of muddy water all over the floor and I couldn't get it up. He grabbed the mop from me. I had never used one of those yellow mop buckets where it has that squeegee mechanism. With a scowl, he aggressively started mopping, showing me the correct way, while intermittently yelling things in Italian. I learned fast that day.
Gagootz, if you're wondering, is Italian slang for "crazy in the head" or "squash for brains."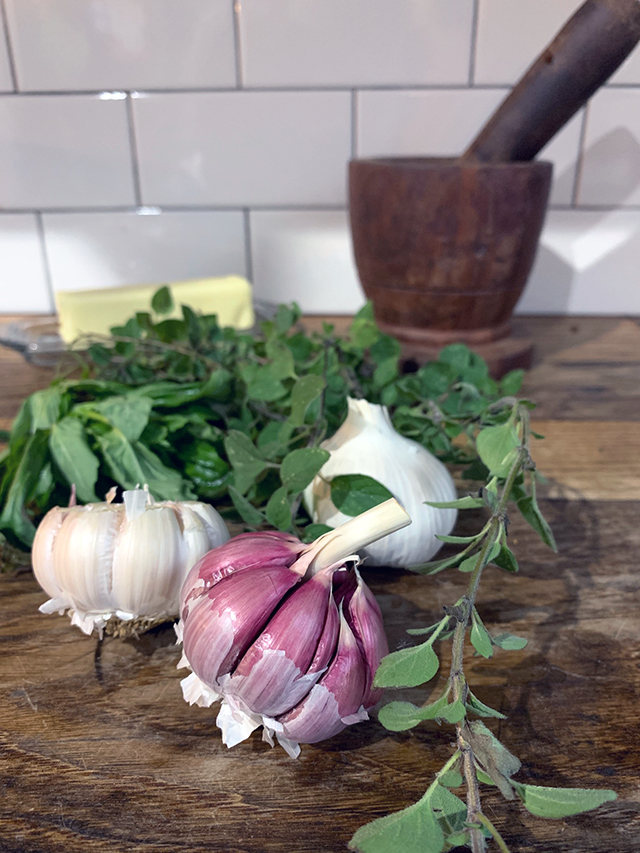 I bring these memories up because the other day at Ciro's Pastry Shop (415 Beach 129th St),  I saw semolina bread and it reminded me of my time at Marzullo's Bakery. Tony got his bread from his guy in Brooklyn but nonetheless, it was always fresh and delicious. My mother always made me bring a loaf home for dinner.
In Tony's honor, I wanted to enjoy a loaf of semolina for its taste, in a simple way. I decided to make garlic bread. Fresh herbs and roasted garlic can take bread to another level. And what's better than bread and butter?  I think Tony would approve this recipe, give it a try!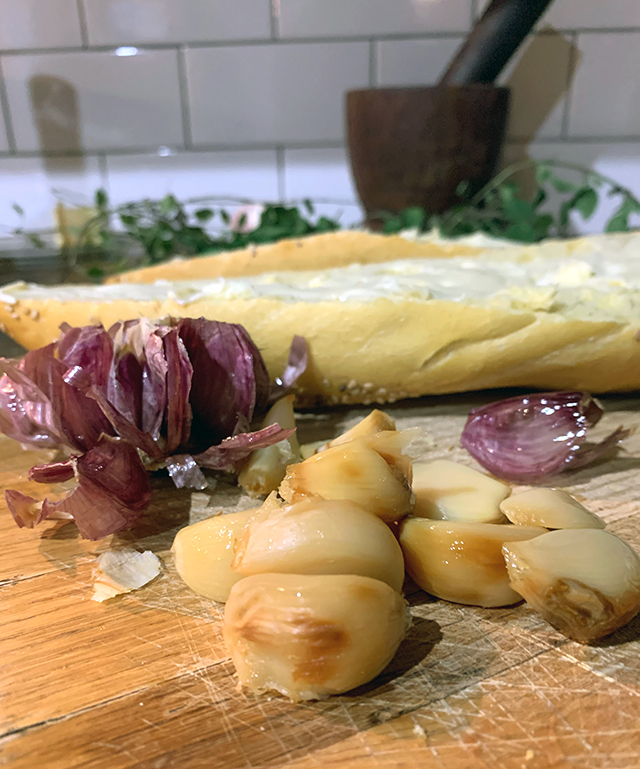 Herb Buttered Garlic Bread
Ingredients:
1 loaf semolina bread
1 stick soften butter
Fresh basil, oregano and chives (or other preferred herbs)
1-2 large garlic bulbs
Salt and fresh ground pepper
Marinara sauce for dipping (optional)
Directions:
Preheat the oven to 400 degrees. Peel the papery part off the garlic. Cut 1/4 inches of the tip off the garlic bulb. Rub the bulb with olive oil and enclose it in a piece of  tinfoil, cut end up. If you'd like to roast several bulbs at once, use a muffin pan. It works so well! Don't forget to cover the top with foil. Roast for 35-40 minutes. Let the carmelized garlic cool to the touch. Then gently remove the garlic cloves from the skin.

Chop the herbs. Slice the bread and liberally butter both sides of the semolina. Smear the roasted garlic on top of the butter. Add the chopped herbs, salt and pepper.

Carefully join the two halves of bread and enclose in tinfoil. Set the oven to 250 degrees and place the bread in for 25 min. Serve with a side of marinara!