by Paula D.
on
November 26, 2021 9:39 am
in
Recipes
I had the idea to convert our spare guest room, where I work, into a legitimate office. It's been a long time coming and now I'm finally getting around to doing it. In the room is a bookcase. I was sitting at my desk the other day and swiveled my chair around. I looked at the bookcase and realized I couldn't remember the last time I pulled a book off the shelf. I notice how many cookbooks I have – 20 maybe more!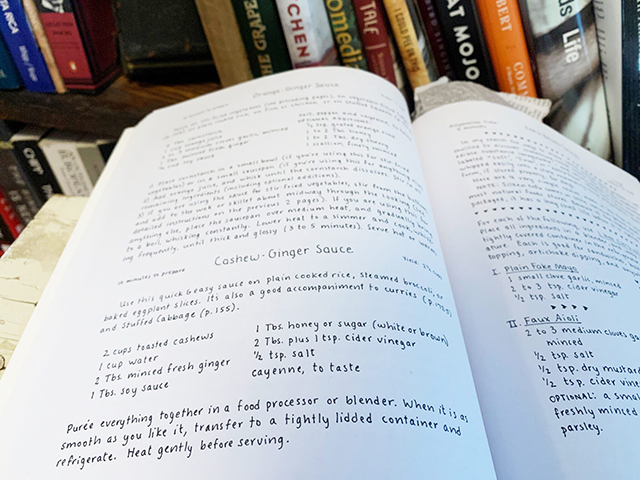 Googling recipes online is our go-to these days. I've forgotten all about the enjoyment of flipping through the pages of an old book, looking for recipe inspiration.
I took three cookbooks off the shelf and sat down with coffee. It felt really good. One of them was the Moosewood Cookbook, 40th Anniversary Edition written and illustrated by Mollie Katzen. Someone gave this to me as a Christmas gift. I think it was my sister-in-law Clare. The book is a collection of cuisine from the Moosewood Restaurant in Ithaca, New York, established in 1970. The recipes originate from the homes, families, and creative people who've worked in the kitchen there, throughout the years – most not professionally trained chefs. Therefore, the book is a compilation of many ethnic foods. It's a strong focus on vegetarian meals evolved from the concept of using locally grown vegetables. At the time, this way of thinking was very new to the cultural vocabulary.
The handwritten text and illustrations are beautifully inviting. In the '70s the group of friends who started the restaurant, jotted down their recipes in a binder filled with loose-leaf paper, to keep stock of their menus. The first edition of the book was photocopies of these notes and Katzen's Illustrations. 800 copies of the spiral-bound booklet sold out in one week. This was the inception of the cookbook which has not been out of print since the 1st edition.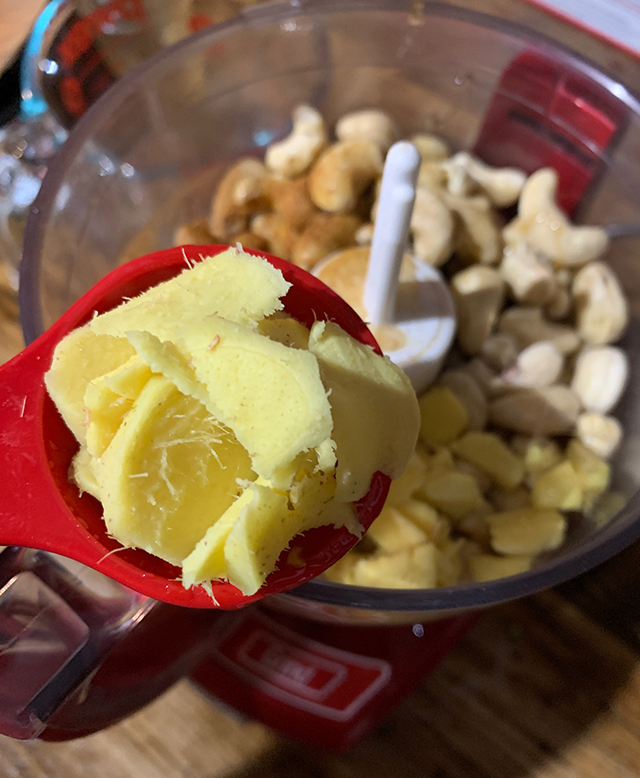 I came across a vegan cashew sauce recipe that looked tasty. Whenever I had great vegan food out at a restaurant, I've always wondered how they make foods creamy without butter or milk. Most often – I read in the book – it's by using cashews.  This is the recipe I wanted to try!
Ingredients:
2 cups toasted cashews
Vegetable oil
1 1/4 cup water
2 Tbsp. minced fresh ginger
1 Tbs. soy sauce
1 Tbs. honey
2 Tbsp. pulse 1 Tsp. cider vinegar
Cayenne and salt to taste
Directions: Toast the cashews in the oven at 400 for 20 min. or until golden. Combine all ingredients above in a food processor until smooth.
If you're looking for a last-minute, unique recipe for all to enjoy this is fast, simple, creamy, and delicious.