by Paula D.
on
October 5, 2021 9:47 am
in
Recipes
I went to Trader Joe's for the first time since the start of the pandemic. I especially get excited over their canned goods, in particular the Grecian eggplant with tomatoes and onions sauce, the chickpeas with parsley and cumin, and — oh!– the canned stuffed dolmas. Spending way too much time in the flower section and buying Trader Joe's herbal soap is another big draw for me.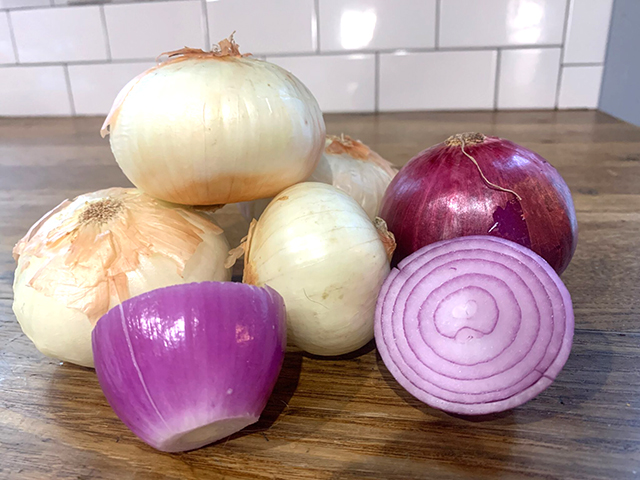 Then you always find the unexpected. I came across the most perfect, clean, and fresh onions. The shape was flat and wide. The label revealed they were sweet onions. You don't see these around too often in Rockaway, so I grabbed a netted bag full.
The next day, I'm reading the NY Times Magazine with my morning coffee. I flip the page and there's a beautiful photo of red onions that looked like a painted still life.
Two days and two different types of onions entered my food sphere. I thought the onion must be my column topic this week.
The article, Raw Onions by Iva Dixit, is an account of the author's journey as an extraordinarily picky eater. Her mother, after struggling with her daughter's aversions, figured out there was one vegetable her child enjoyed – raw red onions. After moving from New Delhi to New Jersey, Dixit found comfort when seeing the root vegetable at markets. And once again, the author writes, the red onion and associated memories got her through the pandemic.
Dixit's favorite – a plain roti with finely chopped red onions, salt pepper, and a squeeze of lemon.
She writes, "When cooked, the onion is a sturdy and gracious supporting character that quietly allows the dish to take center stage. But when consumed raw, sprinkled with a little salt and pepper, a bitter alchemy transmutes its heat into an experience so intense that a single bite contains an entire sensory universe."
Those words! About an onion!. I wanted the experience and intensity. Here is the recipe:
Raw Onion Roti
Ingredients:
Plain Roti (Naan as alternative)
1 small raw red onion
Salt, fresh ground pepper
1 lemon
Side of greek yogurt (optional)
Directions: Very thinly slice half of the red onion. It should be paper thin and translucent. A sharp knife is required. Evenly spread the onion over the roti. Add salt and fresh ground pepper. Use a citrus squeezer to evenly sprinkle the lemon.
This simple recipe has anything but a simple flavor. The taste is fiercely sharp and tart. It will satisfy your salt craving. I'm not a food minimalist, so I would suggest a side of Greek yogurt. This is an exciting dish to eat.  If you're a thrill-seeking food person, make the recipe, no doubt. If you're not, I encourage you to eat outside your comfort zone. You never know what may inspire you.